A vibrant addition to Dickinson's side-by-side line, the color-case harden Plantation SXR is a head turner.
What the new Plantation SXR offers:
Available in 12, 16, 20, 28 gauge and .410 bore, combo 20/28 and 28/.410.
New Hi-Rib model available.
24", 26" 28', 30" barrel lengths.
Automatic ejectors.
English, Prince of Wales or pistol grip stock.
24-lines-per-inch hand checkering on stock and fore-end.
Beavertail or standard fore-end.
Length, Length of Pull, Drop at Heel and Pull optional.
If you happen to have a yen for a shotgun with a classical bent, Dickinson Arms has news for you. The importer of Turkish smoothbores has expanded its side-by-side Plantation line to include a rather colorful option – a color-case hardened SXR model.
AKUS, who manufactured the gun, didn't skimp with the new gun, using the old-school bone charcoal method to achieve the unique finish. Furthermore, the English scrollwork on the receiver and 24-line-per-inch checkering on the stock is done completely by hand. A nice touch. Another feature, at least among those who like a bit of a throwback in their side-by-sides, it comes with an option of a double trigger.
Now comes the clutch your wallet part. As expected of SBS shotgun, the color-case hardened Plantation SXR doesn't come in cheap, Dickinson Arm's MSRP on the gun is $3,195. But given the look and the hand craftsmanship, it's not an overwhelming price tag.
Dickinson Arms has introduced a new model to its distinctive and refined Plantation Series of shotguns. The new side-by-side Plantation SXR gives serious shooting enthusiasts, collectors and hunters what they have come to expect from Dickinson — a rare combination of beauty, engineering and performance. And with

12 GA., 16 GA., 20 GA. 28 GA. and .410 bore models to choose from, there is a quality Plantation SXR to suit the needs of every shooter.

At the heart of the Plantation SXR is a precision trigger plate mechanism with cosmetic side plates and receiver hand engraved with beautiful English scroll. This gun is hand built in Turkey by expert craftsmen who use only the finest materials and components and take great pride in their work. The receiver is finished with true bone-charcoal case hardening that makes each gun an individual and highly functional work of art. The luxurious look and feel of the Plantation SXR is further complimented by Dickinson's use of premier grade Turkish walnut, featuring fine 24-lines-per-inch hand checkering and a hand-rubbed oil or gloss finish. The ability to select an English, Price of Wales or Pistol Grip stock further enhances the individuality of this gun. Special order upgrades to Grade 3/4/5 walnut stock are also available.

The Plantation SXR offers a Single/Double trigger, automatic ejectors and can accommodate 2-3/4" or 3" shells. Availability of 24", 26", 28" and 30" barrel lengths ensures that shooters of all types and sizes can find the ideal Plantation SXR. This shotgun can accommodate fixed or thin wall chokes for different shooting applications.

In addition to this and other Plantation Series models, Dickinson's line of premium side-by-side shotguns also includes Standard and Custom Made Prestige and Estate Series, for the most discriminating shooters, collectors and hunters.
For more information on the color-case hardened Plantation SXR, please visit: www.dickinsonarms.com.
---
More Shotgun Articles: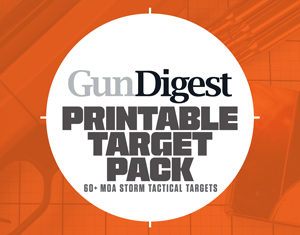 Next Step: Get your FREE Printable Target Pack
Enhance your shooting precision with our 62 MOA Targets, perfect for rifles and handguns. Crafted in collaboration with Storm Tactical for accuracy and versatility.
Subscribe to the Gun Digest email newsletter and get your downloadable target pack sent straight to your inbox. Stay updated with the latest firearms info in the industry.