With Savage's release of three new suppressor-ready rimfire rifles, the company now has nine firearms that accept silencers.
Hear that? That deaden rifle report is the sound of the growing popularity of suppressors.
The shooting accessory, in recent years, has enjoyed a surge of interest from plinkers and hunters alike. And more and more firearms manufacturers have come out with models ready to accept a can.
Bolt-action rifle specialist Savage Arms has been among the companies to embrace silencers. And recently the Massachusetts gunmaker (owned by ATK) has expanded its suppressor-ready offerings.
Savage added three new rimfire models threaded to accept suppressors, expanding their suppressor-ready catalog to nine firearms in all. New to the lineup are three rifles certain to get varmint hunters making a lot of noise.
The company has introduced two new suppressor-ready bolt-actions in the 93R17 FV-SR and 93 FV-SR. And it has expanded it small semi-automatic collection with the addition of a threaded model of the 64 FV-SR.
The bolt actions offer shooters two potent calibers that work well in conjunction with a suppressor. The 93R17 FV-SR shoots the red-hot 17 Hornady Magnum Rimfire, while the 93 FV-SR eats 22 Winchester Magnum Rimfire.
The bolt-action rifles come outfitted with ½-inch, 28-pitch threaded muzzles for quick and easy suppressor installation. To keep the adapter and muzzle crown safe until then, the rifles come with a factory-installed twist-on muzzle protectors.
The bolt-action rifles tip the scales at 5.5-pounds, have overall lengths of 35.25 inches and barrel lengths of 16.5 inches each. Both have heavy fluted barrels for fast heat dissipation to improve accuracy and over-sized bolt handles for fast cycling.
Each rifle comes with a five-round detachable magazine and Savage's AccuTrigger adjustable trigger system. The system allows the trigger's pull weight to be adjusted from 1 1/2 pounds to 6 pounds.
The 93R17 FV-SR has a rate of twist of 1-in-9 inches, and the 93 FV-SR has 1-in-16 inches. All three rifles, like all of Savage's offerings, are button rifled.
The semi-automatic Model 64 FV-SR, a 22 Long Rifle, has the same muzzle-thread specifications as the bolt-actions. It is a tad lighter than the other new models, weighing in at 5 pounds. Its rate of twist of 1-in-16 inches, it has an overall length of 36 inches, and a barrel length of 16.5 inches. It comes equipped with a 10-round detachable magazine.
The rifles appear to be priced to move and leave plenty of extra cash for a suppressor purchase. The 93R17 FV-SR and 93 FV-SR both have MSRPs of $358. The 64 FV-SR comes in at $231.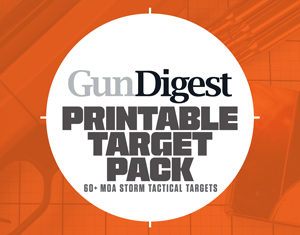 Next Step: Get your FREE Printable Target Pack
Enhance your shooting precision with our 62 MOA Targets, perfect for rifles and handguns. Crafted in collaboration with Storm Tactical for accuracy and versatility.
Subscribe to the Gun Digest email newsletter and get your downloadable target pack sent straight to your inbox. Stay updated with the latest firearms info in the industry.