Ruger is making caliber conversion a snap with a new addition to its piston-driven AR line, outfitting this new SR-556 with a removable and replaceable barrel.
Ruger has made a fair bit of hay in the realm of takedown rifles. But, generally, it has had a narrow focus on this style of firearm.
The New Hampshire/Arizona manufacturer has mainly concerned itself with space conservation when it comes to takedowns. Perhaps the best known example is the company's takedown model of its iconic .22 rifle, the 10/22.
Ruger's latest endeavor into this system, however, shoots to do more than offer shooters a compact package. The company's new SR-556 Takedown also aims at giving them the utmost in flexibility when it comes to calibers.
Ruger's latest addition to its piston-driven line of AR-style rifles allows shooters to jump between 5.56 NATO and .300 Blackout cartridges with little more than a push and twist of the barrel.
This appears to have some definite advantages.
While the ability to switch calibers is baked into the cake of ARs, given their modular design, it does take some doing. On most systems, the entire upper has to be remove, which calls for some tools — at least a bullet to push out the takedown pins.
Ruger's new scheme, however, is completely tool free, with locking lugs on the outside of the barrel's chamber anchoring it to the monolithic upper.
The company has striven to maintain continuity between calibers and nowhere is this seen more than on the front sights. The sights are completely adjustable for windage and elevation, so shooters can fine-tune a zero that stays with the barrel.


The new SR-556 has been outfitted with Ruger's Elite 452 AR Trigger, which should be a leg up on the Mil-Spec variety. The proprietary trigger is two-stage and has a snappy 4.5-pound trigger pull.
The rifle is outfitted with a two-stage piston system, Magpul MOE grip and buttstock and has a chrome-lined cold-hammer-forged chrome-moly-vanadium barrel. The SR-556 ships with three Magpul 30-round PMAGs.
The carbine has an MSRP of $2,049; the .300 Blackout conversion kit is currently priced $449.
SR-556 Takedown Specs
Caliber: 5.56 NATO and .300 Blackout (with conversion kit)
Barrel Length: 16.1 inches
Twist Rate: 1:9-inch RH
Overall Length: 32.75 to 36 inches
Weight: 7.6 pounds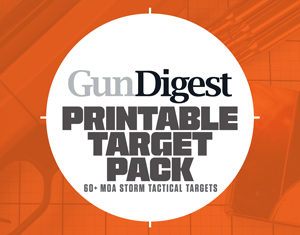 Next Step: Get your FREE Printable Target Pack
Enhance your shooting precision with our 62 MOA Targets, perfect for rifles and handguns. Crafted in collaboration with Storm Tactical for accuracy and versatility.
Subscribe to the Gun Digest email newsletter and get your downloadable target pack sent straight to your inbox. Stay updated with the latest firearms info in the industry.