Mesa Tactical has released an adapter kit for the Beretta 1301 that allows the addition of a telescoping stock and pistol grip.
In the world of tactical shotguns, Beretta may have taken the cake with one of its newest smoothbores. The semi-automatic 1301 is lightning fast, accurate and long on capacity. Perhaps Robert Sadowski described it best in the pages of Gun Digest the Magazine, when he called it a "surgical brawler."
With kudos such as that, it doesn't sound like there's much room to improve the 1301. But Mesa Tactical is giving it a crack.
The California manufacturer recently released its LEO Telescoping Stock system for the Beretta 1301. And with the ability to add a standard adjustable AR stock and grip, the upgrade has the potential to make the shotgun more user friendly.
In particular, the system should make the scattergun more controllable and help to mitigate recoil by tailoring its dimensions to a shooter's frame. This also has the potential of making the gun faster on the first shot, as the length of pull can be adjusted to make shouldering it more intuitive.
Mesa has launched the system with an upgrade that should get the recoil-sensitive cheering. The company is offering a kit with its Crosshair Hydraulic Recoil Buffer Tube, an option that the company said will dampen up to 70 percent of the 1301's felt recoil.
Presently, Mesa is offering three different options for its LEO Telescoping Stock system. The LEO Stock Adapter can be purchased individually and has an MSRP of $80. The company is also offering complete stock kits (MSRP $190), which includes the adapter, a MilSpec receiver extension tube, Hogue AR pistol grip, M4 SOPMOD telescoping stock, AR stock wrench/bottle opener and push-button sling swivel. Mesa also offers another complete kit, identical to the previous, except instead of an extension tube, it comes with a Crosshair Hydraulic Recoil Buffer Tube. The MSRP on the latter kit is $315.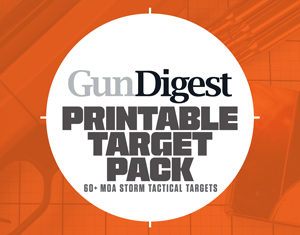 Next Step: Get your FREE Printable Target Pack
Enhance your shooting precision with our 62 MOA Targets, perfect for rifles and handguns. Crafted in collaboration with Storm Tactical for accuracy and versatility.
Subscribe to the Gun Digest email newsletter and get your downloadable target pack sent straight to your inbox. Stay updated with the latest firearms info in the industry.