The Colt Anaconda was reintroduced in 2021. It's new, but has it been improved?
New "Snake Guns" have been rolling out of Colt Manufacturing since the Cobra came out in 2017. Since then, the Cobra line has been expanded to include several versions in .38 Special +P and .357 Magnum. More big news came in 2020 when the Python was reintroduced and again became a bestseller. The biggest news, however, is that after an 18-year absence, 2021 has seen the reintroduction of the Anaconda.
This large-frame revolver is the great-grandson of the Colt New Service, a large-frame swing-out cylinder, double-action (DA) revolver first introduced in 1898. This big wheelgun became the platform for the Colt Model 1909 and Model 1917—both used in wartime by the U.S. Military. It was also issued by the U.S. Border Patrol and the NY State Police among other law enforcement agencies.
The New Service was dropped from the Colt catalog in 1944. Other than the Single Action Army revolver, Colt didn't have a large-bore revolver until 1990, when production began on the Anaconda. Chambered in .44 Magnum and .45 Colt, it looked like an enlarged Python, with its vent-rib, full-underlug barrel. It stayed in the catalog until 1999, was dropped, then reemerged in 2001, only to be dropped again in 2003.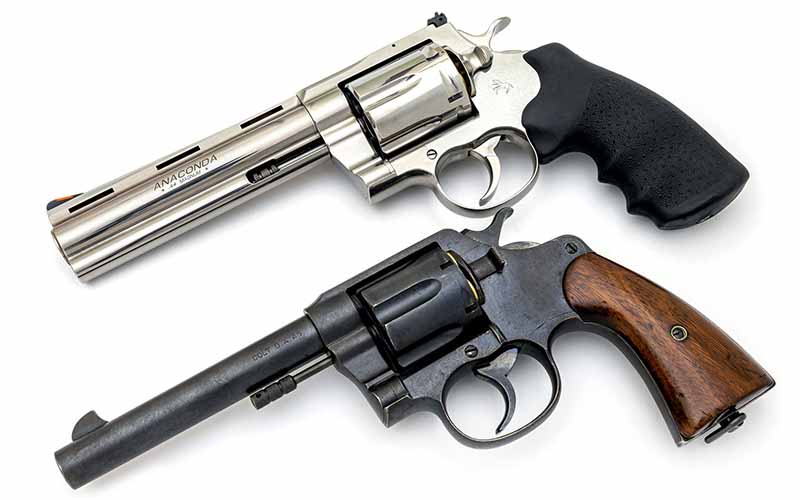 Ever-Evolving Snakes

While the original Anaconda resembled the Python externally, it had a completely different action. The new 2021 Anaconda actually has the same action as the 2020 Python (it has just been enlarged). Using a U-shaped, dual-action leaf spring, the Anaconda—like the Python—has a smooth 9.5-pound DA pull and a single-action (SA) pull weight on my example of 5.1 pounds. Barrel lengths of 6 and 8 inches are available, and my 6-inch version has an overall length of 13 inches, with an empty weight of 59 ounces. That makes for one huge six-gun.
It's forged from stainless steel with a "semi-bright" finish, and, according to Colt, the frame has been "bulked up" to allow continuous use of .44 Magnum cartridges. Of course, you can also use .44 Special and even .44 Russian ammunition for reduced recoil. The muzzle of the vent-rib barrel has a recessed target crown, and the ramp front sight has a red insert.
The sight is replaceable using Allen key and front sight base tapers down from the muzzle to the juncture of the barrel and frame. The blue steel rear sight is fully adjustable for windage and elevation. Beneath the rear sight, the top-strap is drilled and tapped for a Picatinny rail available from Colt as an option. Interestingly, this rail has a center "gutter," which, with the optical sight removed, could act as a rudimentary fixed rear sight.
Typical of Colt DA revolvers, the cylinder release latch is on the left side of the frame and is pulled rearward to unlock the cylinder, so it may be swung out on its crane for loading. The ejector rod is pushed rearward to extract spent cartridge cases and is of sufficient length to do this handily. You'll note that the chambers in the cylinder aren't rebated, as this is unnecessary with modern ammunition.
Besides the Python action, the Anaconda also uses the same 2020 Python configuration for the grip frame. Standard equipment is recoil-absorbing Hogue over-molded, synthetic Monogrips, which are black in color and Colt branded, with pebble-grain side panels and finger grooves. You can also fit your Anaconda with any grip that'll fit on the 2021 Python.
The Anaconda comes in a Colt Blue plastic gun case, which is foam-rubber lined on the inside. Contained within is a security padlock, owner's manual and a sample of Lucas Oil Extreme Duty gun lubricant. Overall fit and finish on the Anaconda was up to standards, and no exterior flaws were observed. The markings on the gun were minimal and tasteful.
Besides the Rampant Colt stamping on the frame below the cylinder latch, the left side of the barrel has the Anaconda lettering and below it ".44 Magnum." The right side of the barrel has a small Colt's Manufacturing logo. Above the trigger, on the right side of the frame, is the serial number. An inch or so ahead of that is a QR code—something to baffle us old-timers.
But, Does It Shoot?

For testing, I wanted to use both .44 Magnum "hunting" ammo and some high-performance .44 Special cartridges suitable for self-defense. For putting down four-legged game or predators, I chose American Eagle (by Federal) with conventional 240-grain JHP bullets, Sig Sauer V-Crown 240-grain JHPs and Remington's hard-charging, 275- grain Core-Lokt JHP.
In .44 Special, I chose some vintage CorBon 165-grain JHP rounds that have an impressive hollow-nose cavity, and some newer DoubleTap Ammunition loads that have what looks like a 200-grain Gold-Dot-style cup-shaped hollow point. I felt these would do the job on two-legged predators, and I was later surprised by the velocity of the CorBon load.
I was interested in seeing how an MRD sight would work on the Anaconda, so I removed the factory rear sight and installed the Colt Picatinny rail. This turned out to be less trouble than expected. Since the sight would be attached to a .44 Magnum, I went with a CTS-1400 from Crimson Trace that's intended for heavy-recoiling long-guns. This reflex sight has a 3.25 MOA red-dot and a wide field of view. It's made of aircraft-grade anodized aluminum and, at 2.9 ounces, doesn't add much weight to the six-gun. It's also shock-resistant and has a coated lens for clarity.
One of its most notable features is an external side-mount battery compartment for a single CR2032 battery. Many MRD sights have to be removed from the gun to replace the batteries; this one doesn't. Dot intensity is adjustable using push buttons on the left side of the sight. They also work as on/off switches, and the sight will deactivate itself if it detects no movement after a short period of time.
Its windage and elevation is adjustable, with one click equaling 1 MOA. With it mounted, it didn't take but a few rounds of American Eagle 240-grain JHP loads to get it hitting a big V-shaped steel plate at 50 yards in both SA and DA modes, sitting and standing. It was undisturbed by the .44 Magnum recoil, and most impressive was the fact that the battery compartment didn't slide open while shooting. I was satisfied with its performance and features, but I removed it and replaced the adjustable sight for the remainder of test.
For my accuracy potential evaluation, I shot the Anaconda from the bench, over a sandbag rest, at standard slow-fire bull's-eye targets placed at 25 yards, with all shooting in the SA mode. Three five-shot groups were fired with each test load, and I measured velocity using my Oehler Model 35P chronograph while punching paper.
You can see the velocity data in the accompanying performance table, but the best five-shot group measured 1.92 inches using the hot Sig Sauer V-crown .44 Magnum. Second place went to the Remington heavyweight, with a 1.96-inch group. In .44 Special, the aged CorBon load shot to 2.05 inches, and the best DoubleTap group measured 2.08 inches.
I shot at the same steel plate at 50 yards, triggering the shots SA using the factory sights and a mix of the .44 Magnum loads, as they shot to point-of-aim better than the lighter .44 Special cartridges at that distance. When I did my part, the steel rang. I felt that if I could get good hits on that target at 150 feet, then I could also score on one of the local whitetail bucks at a similar distance. The gun's weight, combined with the grips, really helped soak up the recoil, and it ran all day at the outdoor range with zero malfunctions.
New…But Improved?

I tested one of the original Colt Anaconda revolvers back in 1993. My test gun then was a .45 Colt; I sure wish I still had it. From what I can recall, I'd have to say the action on this new-version Anaconda is far superior. Colt really did their homework on the 2020 Python action and the resulting increased-size Anaconda version.
The trigger is just wide enough and has three grooves on the face that don't abrade the index finger. There was a small bit of take-up and no over-travel. Fine serrations on the target hammer spur allows good thumb purchase for cocking. Empty cartridge cases ejected with aplomb, with a good rap on the ejector rod, and the revolver held muzzle up. The red ramp front sight permitted fast sight picture acquisition, while allowing for precision—something I can't say for a fiber-optic front sight.
In short: I was impressed with the Anaconda's workmanship and its performance. Like the original Anaconda, I'd like to see it offered in .45 Colt; other than that, I have no complaints. Grab one if you can!
Editor's Note: This article originally appeared in the August 2021 issue of Gun Digest the Magazine.
---
More Colt Snake Guns:
---
NEXT STEP: Download Your Free Storm Tactical Printable Target Pack
62 Printable MOA Targets with DOT Drills - Rifle Range in YARDS
This impressive target pack from our friends at Storm Tactical contains
62 printable targets
for rifle and handgun range use. Target grids and bullseye sizes are in MOA. Ideal for long-range shooting!
Subscribe to the Gun Digest email newsletter and we'll send your print-at-home target pack right away.
Just enter your email address below.
---