Constantly evolving, now available is the Magnum Research BFR .444 Marlin. It's a heavy hitter with a classy-looking bisley grip.
What to know about the new Magnum Research BFR:
Magnum Research's latest iteration of its BFR is chambered in the potent .444 Marlin.
The BFR has an excellent trigger, which breaks around 3 pounds.
BFRs come drilled and tapped for optics mounting.
The gun comes equipped with an excellent, Bisley-style grip.
It's available at pretty good price: $1,184.
I noted some years back that the long-framed BFR (Big Framed Revolver) possessed "comic book proportions." Some folks took exception to my remark as being somewhat derogatory, no matter how I meant my comment to be interpreted. It looks like the revolver was grabbed by the barrel and by the grip and stretched to accommodate a host of long-cased rifle cartridges. Hence the previous comment.
What I didn't tell you then, but I'm compelled to tell you now, is that the long-framed BFR, irrespective of chambering, is a well thought-out, well-executed and exceedingly accurate precision hunting revolver that balances surprisingly well.
There have been some subtle yet significant refinements over the years, and this latest version is the best one ever. Previous iterations utilized a number of Ruger-sourced internal parts, but those days are behind Magnum Research as they are now producing all BFR parts locally. The trigger guard has been lowered and moved forward approximately 1/8 inch to allow for more room for a gloved trigger finger, and the increase in space between the shooter's middle knuckle and the trigger guard during recoil makes for a much friendlier shooting experience.
You might also notice the new hammer profile, allowing easier gloved manipulation and decreasing the chances of your glove getting pinched between the hammer spur and the frame. Note that these are Minnesota cold weather concessions! The steady evolution of the BFR indicates that the Magnum Research management is actually listening to the consumer.
A Mission For The .444 Marlin
When it comes to hunting revolvers, my preferences have always leaned toward compact size and pack-ability (that's a technical term). For me, this has always been a big part of the allure of handgun hunting. While I've dabbled occasionally deliberately in the long-framed BFRs in the past, I recently went to the Dark Side and ordered up a long-framed BFR in .444 Marlin, a cartridge that's not nearly as popular now as it was years ago. But this was no ordinary test I was conducting. No, I wanted a revolver for plains game hunting in South Africa, where my shots would likely be at longer range, benefitting from a flatter shooting cartridge in a platform that could better take advantage of the .444's attributes.
I specified a 10-inch barrel to get the most of the high-velocity potential of the .444 Marlin, along with Magnum Research's new Bisley grip frame, a recent addition in response to all of the requests for a Bisley-type grip. I also specified black Micarta grips to hang on to, a tough yet attractive grip material that's perfect for the less-than-ideal conditions one often encounters in the field, as they are impervious to inclement weather, blood, chemicals, etc.
A Bisley By Any Other Name
A note about Magnum's Bisley: I have heard grumblings from some on the Internet that the BFR Bisley is not a true Bisley as far as the design is concerned. I would remind critics that the more well-known Bisley by Ruger is also an interpretation of the design that originated with Colt as a target-style grip named after a range in England. They're both interpretations of the original design and a better execution in this author's opinion.
As with Ruger's version, Magnum's Bisley was designed to better control and mitigate the effects of heavy recoil. Unlike Ruger's Bisley, however, Magnum Research has provided ample room between the shooter's knuckles and the trigger guard, all but removing the threat of busted knuckles and the potential for developing a flinch as a result. In separate testing, I offered my abusive .500 JRH BFR to a couple of novice shooters to try, and they were impressed with the ease with which they handled the heavy recoil due to the Bisley's superior design. Yes, it's that good.
Custom Care
The revolver came from Magnum Research's custom shop, the Precision Center, and arrived with the fit and finish I have come to expect from them, but the most pleasant surprise was the creep-less, glass-rod-like break of the Precision Center-tuned trigger. When tested, it broke at precisely 3 pounds. The man who does the action tuning for Magnum Research deserves a full commendation for such a smooth and pleasure-inducing action, and it's by far the best trigger I have ever received from a revolver manufacturer. I cannot overstate the importance of a good trigger to build confidence and competent shooting.
The entire revolver is constructed from tough 17-4PH stainless-steel and, like all BFRs, comes with a five-shot counter-bored cylinder — a nice detail that allows for a partially loaded cylinder to be safely shot without fear of frame/loading gate damage from unsupported case heads. Another nice feature is the freewheeling pawl, which allows for easier loading and unloading, as the cylinder will rotate in either direction when the loading gate is open. This is an invaluable feature, particularly in the field where sometimes you need to top your revolver off in a hurry.
Optics-Ready Options
Because my intent was to perhaps shoot at ranges previously treated by me as outside of my comfort zone, I planned on equipping my new BFR with a scope of some sort. A fixed four-power Leupold handgun scope got the nod, mounted on the Magnum Research-provided scope base. BFRs all come drilled and tapped for optics if the owner so chooses. The excellent Weaver-style base comes with the three necessary mounting screws and is a snap to affix. Attaching the scope to the base are a pair of Leupold quick release rings.
Despite my optical enhancements, the BFR comes with an excellent adjustable rear sight sourced from LPA that is a vast improvement over the old Ruger piece and provides a sharp sight picture. I chose a four-power scope to give me significant magnification without exaggerating my wobbles more than necessary! Though, truth be told, it took me some time to get really comfortable shooting with the glass installed.
A Cartridge Of The Kings
If you are unfamiliar with the .444 Marlin, this is a cartridge that was designed by the powers that be at Marlin for use in lever-action rifles. In essence, the .444 Marlin is a .44 Magnum on steroids. The case is straight-walled and was lengthened nearly a full inch over the relatively diminutive .44 Mag. case and is rimmed like the .44 Mag.
While the maximum allowable pressure ceiling for the .444 Marlin (44,000 CUP) is considerably higher than that of the .44 Magnum (36,000 PSI), the .444 features a WHOLE lot more case capacity. Combine the two and you have the recipe for pretty impressive velocities. Like the .44 Mag., the .444 uses a .429-inch diameter bullet. A consideration with regards to bullet selection is that the velocities the .444 is able to generate require a much tougher bullet than the .44 Mag. It's a fact of life.
Next on the agenda was gathering the limited number of factory loads available in this relatively eclectic cartridge. Due to the .444 Marlin's limited popularity, I was only able to source a few different loads. However, I wouldn't be discouraged or dissuaded from getting a BFR in .444 Marlin, as the few loads we were able to get our hands on did not leave us feeling like we needed something more.
Hornady offers LEVERevolution 265-grain FTX loads, and I sourced two different loads from Buffalo Bore Ammunition, a 335-grain hardcast load and a 270-grain JFP load. Keep in mind that Hornady does not recommend its .444 Marlin ammunition be used in a revolver because the thicker rifle primer cup might compromise ignition. That being said, I never experienced anything but reliable ignition with any of the above listed loads.
To fully exploit the capabilities of Magnum's .444 Marlin BFR, one needs to handload. There are a number of powders available that are well suited to the relatively short barrel and cylinder gap such as IMR 4198 and Reloder 7. Monometal bullets, such as those from Barnes, Cutting Edge Bullets and Lehigh Defense, are well suited for this application and can withstand high impact velocities.
Amazing Accuracy
My first trips to the range netted great accuracy. Once I got the scope on paper, I pushed the targets out to 25 yards, then 50, and lastly, at a later date, 100 yards (see accuracy table). As long as I did my part, the BFR delivered. Because this revolver was slated to be my plains game firearm, I was pleased with the accuracy displayed and also surprised by the lack of recoil, particularly compared to the .45/70 BFRs I have shot rather extensively. The kick is there; it's just not objectionable.
So what's next? Practice, practice and some more practice. Also, I'm planning on stretching the .444 BFR out to 200 yards and even beyond. For a no-compromise, high-quality primary hunting revolver, look no further than Magnum Research's latest BFR. This is a really tough combination to beat, offering performance and reliability at a pretty affordable price-point. Price is listed at $1,184.
Editor's Note: This article is an excerpt from the January 2018 issue of Gun Digest the Magazine.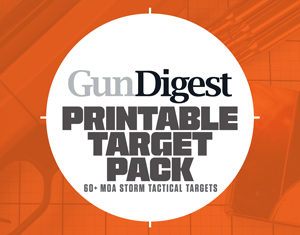 Next Step: Get your FREE Printable Target Pack
Enhance your shooting precision with our 62 MOA Targets, perfect for rifles and handguns. Crafted in collaboration with Storm Tactical for accuracy and versatility.
Subscribe to the Gun Digest email newsletter and get your downloadable target pack sent straight to your inbox. Stay updated with the latest firearms info in the industry.