STI's new DVC Steel 2011 is a sized-down iteration in the line that grazes on off-the-shelf ammo and gets steel targets shaking in their boots.
Serious pistol competition is typically a labor of love.
There's the training end of things, of course. Hours spent at the range, developing a lightning-fast sight picture, learning to deftly transition from target to target and honing silky smooth reloads. But there is also the time whiled away perfecting the pistol itself. Trigger jobs, slide modifications, grip adjustments, anything so that baby shaves off seconds and throws lead worthy of gold.
As running and gunning under the clock has grown more popular over the years, the competitive pistol market has become more sensitive to providing race-ready guns. STI Guns has always turned an eye to this end of the gun world, offering semi-custom handguns born to run the second they hit an USPSA or IPSC course. And when it comes to figuring out the ideal configuration for a pistol to shoot its way to the top, the Texas-based company is still hard at work at the drawing board.
STI's most recent creation comes in its high-capacity 2011 family, a follow up of its top-end DVC Open 2011 Pistol, but without the requirement of major power ammunition. The DVC Steel 2011 is designed to shoot off-the-shelf ammo, and it is constructed to overcome minor power factor handicaps and to terrorize steel shooting competitions.
The DVC Steel's main asset is being slightly more demure than the Open, and, thus, a speedier gun on target transitions. The new pistol is 1¼ inches shorter than the previous DVC, even with its TX1 Compensator, and it comes in lighter than the 48-ounce pistol.
Like its DVC predecessor, the Steel has all the bells and whistles to make it run like a thoroughbred. Some of the more notable features of the pistol — available in .38 Super and 9mm — are its reversible dual detent slide racker, 2.5-pound trigger with minuscule reset, ported slide and titanium nitride-finished barrel that enhances lubricity.
As a 2011 (a configuration STI pioneered), the DVC Steel boasts a 20-round capacity for both calibers, cutting down on reloads. But when it does need to be re-juiced, the reload is expedited by a flared magwell, cutting down on the margin of error.
Like the DVC Open, the Steel has an attractive DLC hard chrome finish that has a tri-tone effect contrasted with the black polymer grips and gold TiN barrel and compensator. The gun also comes ready for competition in the sight department, being fitted with a C-More 6 MOA Dot Sight.
Even though competitors won't have to invest a ton on the backend to make STI's DVC Steel 2011 race ready, like all competitive pistols, there is a sizable up-front cost. Presently, the pistol has a $3,999 MSRP. But for those who are gunning for laurels and less time customizing their gun, it could be a solid option.
STI DVC Steel:
Caliber: .38 Super, 9mm
Barrel Length: 4.15 in., titanium nitride finish
Muzzle Device: TX1 compensator
Sight: C-More 6 MOA
Trigger: 2.5 lbs.
Grip: 2011 DVC stippled, black
Finish: Hard chrome
MSRP: $3,999
Manufacturer: STI International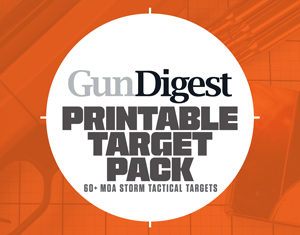 Next Step: Get your FREE Printable Target Pack
Enhance your shooting precision with our 62 MOA Targets, perfect for rifles and handguns. Crafted in collaboration with Storm Tactical for accuracy and versatility.
Subscribe to the Gun Digest email newsletter and get your downloadable target pack sent straight to your inbox. Stay updated with the latest firearms info in the industry.