Flying Circle Bags has earned top marks as a soft luggage manufacturer. Now the Texas-based company is taking aim at shooters, expanding its catalog with a new line of gun cases for every type of firearm.
When it comes to soft luggage, Flying Circle Bags has been a favorite of both military and civilian consumers. Now, the Texas manufacturer is aiming to please gun owners of both communities.
Flying Circle announced recently it is expanding its catalog to include gun cases, a selection that covers nearly every conceivable type of firearm. In all, the company has introduced five new cases, the majority designed purely for firearms transportation.
The company has, however, come up with some solutions for tasks other than getting a gun from point A to point B. One of the most eye-catching is Flying Circle's Concealed Carry Waist Pack.
While off-body carry isn't always ideal, it is sometimes the only practical choice. Flying Circle makes the decision a bit easier with its pack offering a multitude of features right in line with the needs of most people who concealed carry.
Perhaps the handiest feature of the pack is the inclusion of a versatile holster in the main compartment. The inclusion of a removable, ambidextrous holster ensures a handgun is always at the ready, facilitating rapid access to the firearm's grip and a clean draw from the pack. The holster fits nearly any compact or sub-compact pistol and can be further adjusted to present the firearm at the most convenient angle.
The pack is adjustable to nearly any body size with a belt that can fit up to a 42-inch waist. It also comes outfitted with a side release buckle that is concealed to keep it secure.
The pack's padded back with mesh vent fabric adds to its comfort. And it has extra room to store more than just a handgun. A front zipper pocket provides space for keys, wallet and what have you.
The other cases Flying Circle is introducing includes its Scoped Carbine Case, Scoped Rifle Case, Small Tactical Pistol Rug and Large Tactical Pistol Rug.
The carbine case fits firearms up to 34 inches in length, while the rifle case can handle guns up to 47 inches in length. Each boasts a variety of pockets tailored to carry magazines and extra ammunition. And they each are outfitted with Flying Circle's Vehicle Attachment System.
The system utilizes four-point, adjustable webbing and side-release buckles to attach the case to a roll cage or cargo rack, for safe and easy storage and transportation.
The Small and Large Pistol Rugs fit most compact and sub-compact pistols and full-sized revolvers. The small rug accommodates handguns up to 8.5 inches in length, and the large rug can fit guns up to 12.75 inches in length. Each has a side zippered pocket that will hold a couple extra magazines, ammo, or mobile phone.
Flying Circle's gun cases and packs are constructed of durable water resistant polyester fabric or MultiCam ripstop nylon with PVC backing. The material gives structure to the case, making them semi-rigid, without adding weight. Each product features tactile zipper pulls to allow for easy identification by feel between weapon and accessory pockets.
The cases run the gamut of prices. At the low end, the fabric model of the Small Pistol Rug retails for $9.50 on Flying Circle's website. At the high end, the MultiCam version of the Scoped Carbine Case runs $95.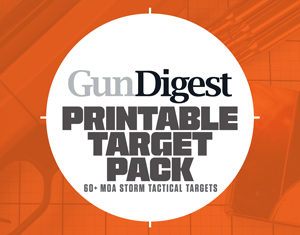 Next Step: Get your FREE Printable Target Pack
Enhance your shooting precision with our 62 MOA Targets, perfect for rifles and handguns. Crafted in collaboration with Storm Tactical for accuracy and versatility.
Subscribe to the Gun Digest email newsletter and get your downloadable target pack sent straight to your inbox. Stay updated with the latest firearms info in the industry.