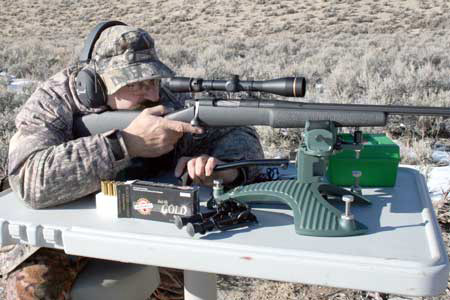 Dave Morelli puts the McMillan Tactical Hunter through the paces at the range. Will this out-of-the-box hunting rifle live up to its accuracy promise?
I always wondered why our tactical guns had to be so precise and shoot one-half-minute groups but it was acceptable for the hunting rifle to shoot one or even one-and-a-half minute groups. I realize that the target area is bigger, but I always thought if a one-minute gun was good enough, then a half-minute gun should be better.
Many manufacturers like Remington and Savage are producing off-the-rack varminters or police rifles with tighter tolerances than the general population of rifles and some guarantee one-half-minute groups. Other choices would include having a gun custom made or having a gunsmith re-barrel and chamber one of your rifles adding components that are known to improve accuracy. Now McMillan offers another choice: a hunting rifle made with one of their custom actions and built with the same care and precision as their high-quality tactical rifles.
McMillan's Tactical Hunter is a lightweight hunting rifle with all the performance of a custom gun. It comes in all the traditional hunting calibers. My test rifle was already equipped with a Leupold scope from the McMillan shop. The rifle they sent was a .308 Winchester caliber and the first ammo I shot through it was the 168-grain variety from Black Hills. The 168-grain bullet is probably the best all-around weight to shoot out of this caliber. I did switch to 175s in my F-Class gun because it holds super sonic speed at 1000 yards more consistently, but that is another story.
The ultra light graphite technology that goes into the McMillian stock gives the hunter a rifle that he can carry all day and not sacrifice strength. The un-scoped rifle weighs in at 7 pounds. It has a one-inch Pachmayr decelerator pad and the barrel is full floated off of a glass pillar bedded action. The barrel has a generous float with plenty of space to keep debris from jamming in between the barrel and stock.
The barrel is a lightweight, hunting contour; however it is made from match-grade stainless steel, fluted with a target crown. The barrel and action are covered in a matte black finish that appear to be tougher than a bag of nails. The 22-inch barrel comes with a 1-in-12 twist, which is a little slower than most .308s where a 1-in-10 is most common.
The action is McMillan custom (G30) and is well built with good lock up and a properly fit bolt. One of the important features of an action is how it is tuned and fitted to the barrel. This action is blueprinted perfectly perpendicular to the axis and the barrel is threaded and hand fitted for a perfect fit, providing bench-rest accuracy in a rifle that can be carried all day.
The action is machined out of premium grade 17-4 stainless steel. It is one of the toughest stainless materials and the machining in non-critical parts is .005-inch tolerance. Critical parts are machined to .0005 inch. That's a half a thousandth! The fluted bolt aids in reliability helping to sweep mud and debris away for smooth action and is pleasing to the eye. The bolt is fitted with a Remington-style plunger ejector and a robust Sako-type claw extractor that has been redesigned by McMillan. It is on the front of the bolt and threw brass clean away with mild working of the bolt.
The raceways are cut and finished with tight tolerances and are polished with no tool marks. The bolt is also designed for easy no-tool takedown. I really like this feature. Most bolt problems I get in my shop are critters that haven't been cleaned because sportsmen don't have the tools or knowledge to disassemble the bolt. I disassemble my bolts about once a year these days but I would recommend more often for a professional marksman. The bolt handle is easily manipulated, and I thought it would lend to a quick follow-up shot if needed.
The action is designed to accept Remington-style triggers. This is great as there are a lot of aftermarket triggers produced for the Remington action. The trigger on the Tactical Hunter was phenomenal. There is nothing like a properly tuned trigger to aid the shooter into placing an accurate shot. There was no creep, a tiny bit of take up and two pounds later it is gone. The trigger is so clean and crisp I was surprised to find it measured out two pounds. I would have thought it was lighter.
The Leupold scope was a 3-9×40 with quick-detach rings and bases. The scope was easy to install and the Leupold quick mounts are rigid and repeatable. The scope can be removed and replaced without losing zero. The only thing I checked before heading in the field was to bore sight it to see if it would get me on paper. I thought it was close enough so off we went.
Using a 1000-yard target center for the first group my bore sight was off about 10 inches left and a couple low. I like using the big target so I can always have a hit on paper for quick corrections and no shots off target to calculate correction. The group was about a minute, and after correction I had it just off center a little. This was good enough for the test. The second group was slightly less than a minute.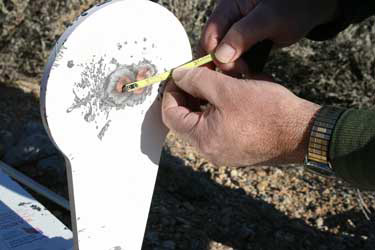 For a light rifle I didn't notice the recoil was any greater than one of my heavier guns. The Pachmayr recoil pad really made up the difference. The rifle was pleasant to shoot and carry. I packed it back and forth to the target without a strap. You could definitely carry this rifle all day.
After shooting several groups and gong targets, it seemed like the groups were getting tighter. My partner shot about a ¾-inch group. I have never used Black Hills Ammo before but it proved to be some accurate stuff.
I used one of my .308 ballistics charts to calculate elevation for longer shots and came in pretty close, hitting the 5-inch popper out to 300 yards. The only other factory stuff I had around was Federal 168-grain hunting loads, which gave the same sized groups. I believe a little loading savvy would tighten them up a bit more. I did manage to group around an inch on the popper at 200 yards.
The 10-inch gong was hit over and over with ease out to 400 yards. Under a minute is plenty of accuracy for a tactical rifle and now is the standard for a hunting rifle. Normally I shoot heavy-barreled guns, I might not have let the barrel cool enough for this rifle as it had a thinner hunting type barrel. Usually in a hunting scenario the first shot is the most important with the possibility of a follow up shot.
Barrel heat is not as much of a concern. Usually the temperature when hunting is much cooler, also. I have heard some hunters go through a box of shells while in the woods. I would think that after about the fifth shot the barrel was warming up enough to throw most of the following shots off quite a bit. I think they call this phenomenon canyon busting.
I give the McMillan Tactical Hunter an A, as it gives the hunter the confidence of a custom rifle with the weight of a hunting rifle. Now the custom hunting rifle can come to you right out of the box.
This article appeared in the May 10, 2010 issue of Gun Digest the Magazine.

---
NEXT STEP: Download Your Free Storm Tactical Printable Target Pack
62 Printable MOA Targets with DOT Drills - Rifle Range in YARDS
This impressive target pack from our friends at Storm Tactical contains
62 printable targets
for rifle and handgun range use. Target grids and bullseye sizes are in MOA. Ideal for long-range shooting!
Subscribe to the Gun Digest email newsletter and we'll send your print-at-home target pack right away.
Just enter your email address below.
---