For a beginning muzzleloader, the CVA Optima Pro makes a good impression in the field. Its features make it easy to use when that special muzzleloader season rolls around.
The story behind this week's Field Gun – a CVA Optima Pro – involves two whitetails, neither of which I killed. The first, a late-season shed-antler buck, was taken in eastern Iowa by 15-year-old Tannor Peska, a young neighbor on his inaugural deer hunt. The shot was made at approximately 40 yards in an open field; the 295-grain PowerBelt hollow point put the buck down as if the proverbial rug had been pulled out from underneath him. No chasing that one – and perhaps best was we could drive right to the fallen whitetail, and load him up simple as that. As one ages, factors such as that become quite significant.
The second, I'm sad to say, was accomplished in my absence; still, I was able to relive each and every second of the hunt via the hunter's father. As the story goes, this young hunter dropped the hammer on his whitetail, also his first, at an estimated 70 yards. Though the shot was a bit high, the big Iowa doe nonetheless dropped on the spot, the PowerBelt – this one a solid AeroTip style – performing perfectly.
Impressive, yes, that these two young men did so well; however, equally as impressive was the performance of the rifle in the hands of these young nimrods. The gun was a .50 caliber Connecticut Valley Arms (CVA) Optima Pro muzzleloader, which I more than happily loaned the boys. This gun is as fine an introductory frontstuffer as has come down the pike in recent years. Oh, and did I mention accurate?
Technically Speaking
Before I begin, let me throw out one important note about this particular muzzleloader – it's no longer available. Now before you throw your hands up and shout "What!" allow me to explain. The Optima Pro, i.e. the one I currently own, is no longer available; however, a new version is on the shelves, and doing quite well.
"We first introduced the Optima in 2003," said Dudley McGarity, CEO for the Georgia-based Blackpowder Products, Inc. (BPI), umbrella company to CVA. "This was the turning point for CVA in terms of unit sales. Bottom line is the Optima rifles were the right guns at the right time."
And, it seems, at the right prices, as the company's dollar sales doubled between 2002 and the introduction of the gun in 2003. But all good things, as they say, come to an end. "The original Optimas were put out to pasture in late 2009," continued McGarity, "and the new Optima presented to the public at the 2010 SHOT Show." New technology, as is often the case, was the cause for the demise of the original Optima. "We decided it was time to update the Optima before it got stale in the marketplace," he said. "But we still inventory all the parts for the original guns."
My personal Optima, aka The Old Gun, is fundamentally as simple as they come. Technically, she's a break-action. Think Topper single-shot 20-gauge but as an in-line .50 caliber muzzleloader, with a 1-in-28 twist.
A grooved barrel release, or breeching lever, located at the rear of the trigger guard opens the gun, revealing a removable breech plug into which a #209 shotgun primer fits. Cocking the hammer, extension included, is the final act prior to firing the piece; an internal transfer bar style safety prevents and accidental discharge. Both the ambidextrous Monte Carol stock and forearm are of composite, and the barrel is lightly scored with five 13.5-inch flutes. Fiber optic front and rear sights are standard, as are integral sling swivels.
The new Optima differs from the old largely in aesthetics and niceties; options such as a stainless steel finish, thumbhole stock, and standard DuraSight scope mounts (thumbhole stock only) being but three. There are, however, three significant changes to the new model. These include BPI's patented Quick Release Breech Plug (QRBP), which allows the plug to be removed without tools – fingers only – after the gun has been fired.
Other easy-out plugs exist; however, removing them after the rifle has been fired has, until now, been questionable or impossible. Secondly, the breeching lever has been relocated to the front of the trigger guard, while the third is a slight redesign of the hammer. Have these modifications created a better beast? If conveniences translate into improvements, then perhaps the answer is yes.
My Personal Report Card
To be brutally honest, I've not had the opportunity to spend any time behind the trigger of the new Optima; however, I have had the model in hand, and have come to one rather unscientific – and perhaps biased – conclusion: I like my Old School model much better. Not, mind you, that there's a world of difference between the two.
Yes, the Second Generation Optima does feature some nice-to-have bells and whistles, e.g. the thumbhole stock option, and a slimmer, more streamlined appearance. And while for some, the quick-release breech plug of the new model might seem an absolute necessity, for me, a fanatical cleaner of guns, it's an improvement somewhat lost personally.
By now, all you folks know how I feel about firearms and simplicity, and if you don't, my mantra is as follows – The Simpler, The Better. And that, I believe, is what I like best about the Old School Optima, and to damn near the same extent, the Second Generation model; they're basic firearms, with very few things to go wrong.
Visually, I like the looks of the Old School gun more than the new. There's just something, well, ruggedly handsome about it; nothing fancy, gaudy, nor high-tech, but not mud fence homely either.
The barrel flutes, at least to me, add to the appearance, but whether or not they contribute to significant heat dissipation is a mystery. As for weight reduction – well, there too, I don't know how much actual metal has been removed, plus by the time most hunters are finished hanging aftermarket accessories on their Optima, it's still a 10-pound gun, give or take a couple ounces.
Aesthetics aside, though, my personal Optima is an accurate little rifle, capable of maintaining regulation baseball-sized, or three-inch, groups at 100 yards when stuffed with two 50-grain Pyrodex pellets and a 295-grain PowerBelt bullet.
Interestingly enough, point of impact doesn't change between hollow points and the polymer-nosed AeroTip style bullets; I had thought it would, at least to some degree. At 50 yards, my Optima prints two inches high which, according to the company's trajectory tables, brings the 295-grain PB back to zero at not quite 150, or in plain English, plenty of distance for most Midwestern whitetail situations, and then some.
Oh, and as for the bane of many a blackpowder shooter, the cleaning – well, and I mean no disrespect here, but if you're capable of changing an ordinary light bulb, then you're more than intellectually suited for maintaining the Optima, old or new.
A half-inch socket – or the supplied tool – removes the breech plug, which is dropped into a Mason jar with a couple inches of #13 black powder solvent. A spritz of bore cleaner, a .50-caliber brass brush, a little elbow grease, and a light coating of Bore Butter tends to the barrel. The breech plug gets scrubbed, the threads lubed with Anti-Seize, and replaced. A final wipe-down of the exterior – and maybe some Viz-Wiz on the scope lenses – and she's ready for the rack.
Accuracy, aesthetics, simplicity; what more could a hunter ask for, except perhaps a killer bargain? Well, there's that, too. Digging around on the Web, I found one Old School Optima, a .50 caliber identical to mine, listed on The Sportsman's Guide site (sportsmansguide.com) for a club price of $197.
Hell, even the non-member price of $249 seems to me a clear cut case of money well-spent. New versions of the Optima range in price from $300 for the gun only (midwayusa.com) to Bass Pro's (basspro.com) kit that features a scoped and bore-sighted .50 caliber, plus a padded case, for $400. In this day and age, when a tank full of fuel that's gone in a week can cost $110, $300 for a firearm that lasts a lifetime is a damn good deal.
By the numbers
Make/Model – Connecticut Valley Arms Optima Pro
Caliber/Gauge – .50 caliber
Action/Firing mechanism – Exposed hammer; break-action
Ignition system – #209 Primer; in-line
Weight – 9.13 pounds (with scope)
Barrel length – 28 inches; fluted
Overall length – 44.25 inches
Trigger pull – 2.5 pounds
Sights – Adjustable fiber optics
Scope (as tested) – Cabela's Alaskan Premium 3-9×40
Stock length – 13.25, with pad
Finish – Matte black
Recoil pad – one-inch;
ventilated rubber
Safety – Transfer bar
This article appeared in the February 28, 2011 issue of Gun Digest the Magazine.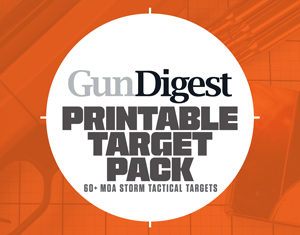 Next Step: Get your FREE Printable Target Pack
Enhance your shooting precision with our 62 MOA Targets, perfect for rifles and handguns. Crafted in collaboration with Storm Tactical for accuracy and versatility.
Subscribe to the Gun Digest email newsletter and get your downloadable target pack sent straight to your inbox. Stay updated with the latest firearms info in the industry.