One online gun store is enjoying a late summer sales surge of gun parts.
Geno Valenti—Midwest Gun Works
Internet retailer Midwest Gun Works (MGW) does a steady business in selling gun parts, both for repairs/replacements and upgrades.
"This time of year [late summer] with trap shooting in full swing and the hunting season upon us, shotgun parts, parts kits and performance upgrades are in high demand," MGW's customer service manager Geno Valenti said. "Many MGW customers order OEM [original equipment manufacturer] parts for quick repair while others will be stocking up on parts as spares, should a problem occur in the field. High performance Shotgun parts upgrades are always big sellers. Sure Cycle systems for the entire line of Benelli shotguns always remains a top seller."
For handguns, trigger upgrade kits and aftermarket grips are selling well. However, Valenti points out, "The most popular upgrade for pistols that we sell has to be new sights. Between adjustable rears and night sight sets, we regularly have customers sending in the slides for their guns for us to install the sights for them."
Mini red dot sights, by Insight, are strong sellers here, starting at $459, while Tritium night sights by AmeriGlo are always popular.
For AR shooters, top replacement parts include spring, pin and bolt component kits. A very big seller in this line is the DPMS Field Repair Kit for just over $22.00.
Editor's Note: This brief originally appeared in the October 2015 issue of Gun Digest the Magazine.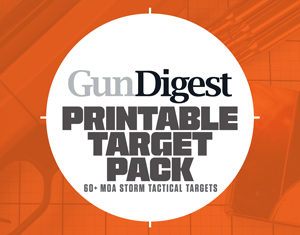 Next Step: Get your FREE Printable Target Pack
Enhance your shooting precision with our 62 MOA Targets, perfect for rifles and handguns. Crafted in collaboration with Storm Tactical for accuracy and versatility.
Subscribe to the Gun Digest email newsletter and get your downloadable target pack sent straight to your inbox. Stay updated with the latest firearms info in the industry.