El Paso Saddlery offers the Bearcat Shopkeeper owner an exquisite and authentic option to holster their .22 revolver.
It would be a shame to carry a beautiful Ruger Bearcat bird's head Shopkeeper in anything less than a quality western-style rig, like those provided by El Paso Saddlery.
A popular rig for those who want both period aesthetics and in-the-field functionality is the hybrid #44 Outfitter holster and belt. The holster has a rollover lining for an easy draw and the belt is sewn rough-side out so it will stay put on your waist.
But could a #44 rig be pulled together for a diminutive 3-inch barrel .22 revolver?
The answer was yes; it would not be a problem at all. The holster was trimmed down and the belt sewn with .22-friendly cartridge loops instead of the usual .45 caliber loops. The result was a handsome holster and belt that are a perfect match for this gun.
Investing in quality like this means they can be used and enjoyed together for years to come.
El Paso Saddlery offers a variety of holster and belt options for cowboy action shooting, concealed carry, and hunting handguns. They are willing to work with their customers to make the changes needed for a perfect fit.
Modifying the design or finish of an El Paso Saddlery carry system may change the delivery date or price point, but for what you get, it's well worth it! For more information, visit epsaddlery.com, or call 915-544-2233.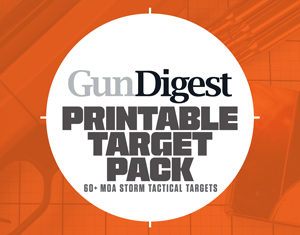 🎯 Exclusive Offer: Get Your FREE Printable Target Pack!
Dive into precision shooting with our 62 Exclusive MOA Targets featuring DOT Drills. Perfect for both rifle and handgun enthusiasts, these targets are designed for accuracy, especially for long-range shots.
Why You'll Love This Pack:
🎯 Expertly Crafted: Brought to you in partnership with the renowned Storm Tactical.
🎯 Versatile Use: Suitable for both rifle and handgun range sessions.
🎯 Precision Design: Target grids and bullseyes meticulously measured in MOA for the best shooting experience.
Bonus: By grabbing this offer, you'll also be subscribing to the Gun Digest email newsletter, keeping you updated with the latest in the world of firearms.
Don't miss out!
Simply enter your email below, and we'll send your downloadable target pack straight to your inbox.