Training without PPE is a bad idea, so here's a look at the best shooting glasses for protecting your peepers.
Shooting is one of the most dangerous hobbies in terms of the kind of damage it can do to your eyeballs, so shooting glasses are a good thing to have.
We'll be going over exactly why using them is a smart idea, the various types in existence and some features to consider before buying a pair. Finally, we'll look at our top picks for the best shooting glasses out there.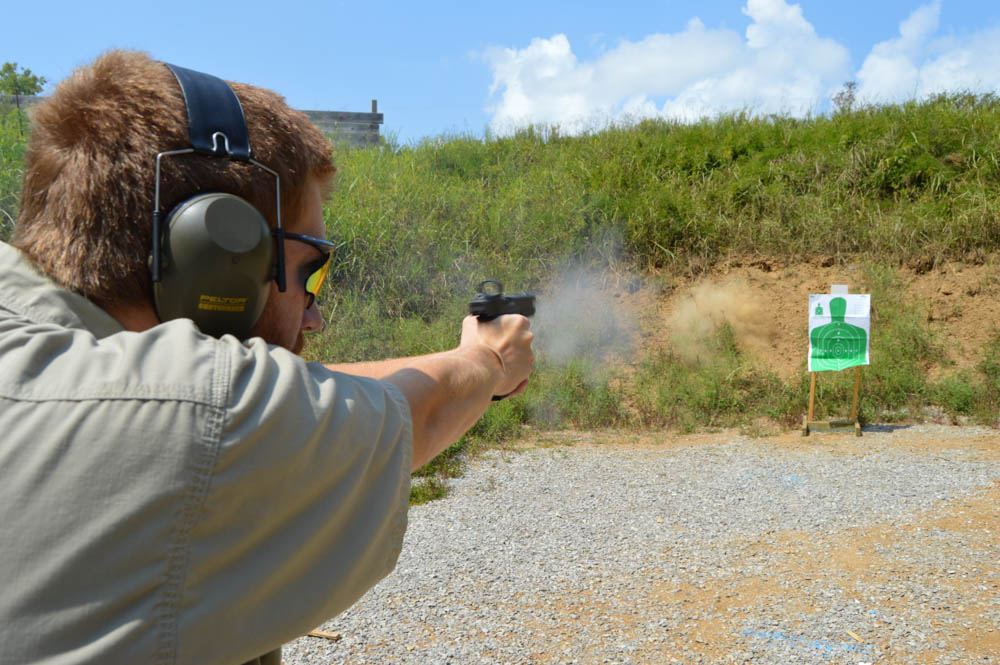 Why You Should Use Shooting Glasses
It's estimated that up to 30,000 eye injuries occur around shooting sports every year.
Those injuries range from corneal abrasion/corneal edema, sclopetaria (a bruised eye), hyphema (blood in the eye), traumatic cataracts, traumatic optic neuropathy (optic nerve damage) and even globe rupture.
Any of these can occur when something touches your eye that shouldn't, and when it comes to shooting guns, opportunities for that to happen are unfortunately plentiful. As a cartridge detonates, carbon and other detritus can be launched toward the shooter's face. If it's a semi-auto, the hot brass may be ejected at a dangerous angle as well. When the bullet hits a target, some or all of the bullet may come back the way it came in the form of shrapnel or a ricochet. All of these dangers exist when the firearm is working as it should, and many more can occur when a gun malfunctions.
If Kentucky Ballistics hadn't been wearing his eye protection when his .50-caliber Serbu RN-50 exploded, there's a good chance he would have lost an eye in addition to almost dying.
In short, the permanent damage that can occur while training just doesn't make eschewing shooting glasses worth it.
What To Look For When Picking Shooting Glasses
The first consideration is obvious, but your shooting glasses need to fit your face. The nose bridge should be just tight enough to hold securely, but not so tight that they're uncomfortable. The frames should find your ears naturally, without having to flex to fit. The more uncomfortable your glasses are the more likely you are to take them off during long sessions at the range, so it's best to try different models until you find a pair that you can forget you're wearing over extended periods of use.
Secondly, your shooting glasses should be of the wraparound style. This is because a study found in the journal Ophthalmology determined that having both frontal and side protection greatly reduced the chances of skeet and trap shooters sustaining an eye injury if anything should be directed back at them. Whether you're trap shooting or testing your pistol skills on steel, protecting the eyes from all angles is a must.
The next important consideration is the protection rating.
At a minimum, you want shooting glasses that meet or exceed ANSI Z87.1, the industrial standards for eye protection. This will include most eye-pro that you can buy at the hardware store.
However, if possible, you should purchase shooting glasses that pass or exceed MIL-PRF 32432 Ballistic Fragmentation standards. The military standard subjects eye protection to seven times the impact force of ANSI Z87.1, meaning that any goggles with this rating must be capable of withstanding a .22-caliber projectile at 560 fps and spectacles (glasses) must be able to withstand a 3.88mm projectile at 640 fps.
If you must purchase eyewear that is only ANSI-rated, look for those rated Z87+. That rating indicates a high-velocity impact rating. For prescription safety glasses, the high-velocity impact rating is Z87-2+.
To see if eye protection has passed military certification, it will be on the Authorized Protective Eyewear List. The APEL list can be found here, and the glasses will be marked APEL on the frame as well.
For those of us with four eyes instead of the customary two, there are the questions of whether you can A.) get away with just wearing your glasses, and B.) whether you should get over-glasses or chunk up for prescription shooting glasses.
Most polycarbonate prescription eyeglasses pass basic ANSI standards (but not high-impact standards) and seldom protect the sides of your eyes. Therefore, it's not a good idea.
As to whether you should pony up or deal with goggles that go over your glasses, prescription lenses are better. Not all goggles or over-glasses will fit over your glasses, and they are not comfortable to wear.
Since you should always be wearing both while you're at the range, it's important to choose eye protection that's comfortable to wear with your favorite hearing protection as well.
What Kind Of Shooting Glasses Are Out There
Shooting eye protection essentially breaks down into two categories: glasses and goggles.
Glasses/spectacles are just what you think they are, and many are little more than generic safety glasses marketed to the shooting community. Some, however, do have some extra touches for shooters including thin frames (for use under earmuffs) and coatings to prevent scratches and visual distortions that are commonly seen with the hardware store variety.
Goggle variants are barely any different than snow goggles, and none would look out of place on the slopes. The advantage is that these have much thicker lenses than glasses, providing them with increased durability.
While common in the military, they are a bit much to deal with for the typical civilian shooter. Since they're also more expensive, you might as well not bother unless you have a good reason to prefer them.
As for shooting glasses features that are unrelated to safety ratings, it mostly come down to personal preference. Do you want the ability to swap lenses, or are you fine with lenses that are permanently clear or tinted? Do you need them to work in conjunction with prescription glasses or night vision, or will a more basic pair satisfy your needs? The answers to these questions can only be determined by you, so keep them in mind as you peruse the options.
So, with that said…what are the best shooting glasses to get?
The Top 10 Shooting Glasses
Oakley SI Ballistic M Frame 3.0
The M Frame 3.0 uses a modular lens that can be swapped for clear or tinted for use as sunglasses.
You can purchase replacement/additional lenses from Oakley, or get a kit version (called an Array) with multiple frames and lenses. All lenses have a coating for UV, anti-scratch and anti-fog protection. They are available with prescription lenses through specialty retailers as well.
The Array kits can be found for $250 to $300, but single pairs (usually black frames with clear lenses) can be had for around $100 to $130. 
Champion Traps And Targets Youth Clear Shooting Glasses
Kids need eye protection too, and Champion Target makes these "fold smart" youth shooting glasses with clear lenses and many frame color options. The lenses are full-wrap, have a scratch-resistant coating and are ANSI Z87.1+ rated for impact protection.
They're available for around $10 through most retailers. 
ArmouRx 5003 Safety Glasses
ArmouRx glasses are available in prescription and non-prescription form with an ANSI Z87+ high-impact rating. They're available with multiple lens and frame colors and can generally be had for around $30.
They have a side shield, a UV/anti-scratch coating on the outside and a durable polymer frame helping them stay lightweight.
Honeywell UVEX XC Safety Glasses
Honeywell UVEX XC safety glasses have two excellent attributes. They're on the APEL, meeting military standards for spectacles, and they're easily found for less than $20.
UVEX XC glasses have interchangeable lenses, much like the Oakleys, and similarly have a coating that guards against scratches and fogging as well as provides UVA/UVB light protection. Multiple frame and lens colors are available, including clear and tinted.
The only drawback is they aren't available with prescription lenses. The frame can extend to fit over glasses, and Honeywell does make an RX lens insert to attach RX lenses to them, but that's it.
Radians Clay Pro Shooting Glasses
Sporting clay shooters have long been a specially catered-to market when it comes to shooting glasses. Radians Clay Pro Shooting Glasses are a great entry-level set for the shotgunner, though they may turn some people off.
The Radians Clay Pro comes with a vermillion (kind of a pink color) tint, with full wrap lenses and spring hinges for a secure fit, with no top frame to keep vision from being obstructed. The thin (almost wire-like) frame fits easily under any earmuffs.
They're rated at ANSI Z87.1+ for impact protection. As a bonus, the vermillion tint is supposedly beneficial for people with red/green colorblindness. A solid entry-level set that goes for about $15.
ESS Crossbow
ESS, a subsidiary of Oakley, is an eye protection manufacturer that specializes in ballistic eye protection and has models listed on the APEL. The Crossbow series is a good mid-shelf option.
The lenses are swappable and have a UVA/UVB blocking/anti-fog/anti-scratch coating, however, only the Clear and Smoke Grey lenses and Black frames are APEL-approved. Prescription lenses are available as well.
Prices start around $40 for a basic black frame with clear lenses.
Caldwell Adjustable Pro Range Glasses
Caldwell Adjustable Pro Range Glasses are ANSI Z87.1 certified for high-impact resistance, have UV-blocking lenses that wrap around the side and have an adjustable nose piece to dial in the fit.
Best of all, they meet the basic requirements for less than $10, and less than $5 from many retailers.
Magpul Rift
Magpul knows how to make some seriously tough gear out of polymer, including safety glasses. The Rift model, available with both standard and Rx lenses, is ANSI Z87 high impact rated and is billed as being compliant with MIL-PRF 32432, but is not on the APEL.
They have side protection, UV-blocking and scratch-resistant lens coating (as well as anti-fog) and can be had with several different lens/frame options including polarized and non-polarized lenses.
They also look a bit like vintage Ray-Bans, so you are guaranteed to look cool. Everyone knows that makes you shoot better. Non-polarized lenses start at around $100, and polarized lenses start at around $140.
Wiley X Romer 3 Shooting Glasses
Wiley X is an eye-pro brand that is on the APEL, including the X Romer 3 set. They're designed to be wearable under ear muffs and with NVGs if needs be, and can be ordered with prescription lenses so long as your PD (pupillary distance) is more than 64mm.
They have all the usual specs, including UV-blocking and anti-scratch coating on the outside, and an anti-fog coating on the inside. The non-prescription set has interchangeable lenses should you want to switch between smoke (tinted) and clear lenses.
Prices are between $70 and $100, depending on the options.
Howard Leight Genesis Sharp Shooter By Honeywell
Howard Leight, a division of Honeywell (the industrial safety equipment manufacturer) is another rock-solid budget option that is ANSI Z87.1 rated (high-impact) and passes military standards.
The Genesis Sharp Shooter glasses are available with or without tinted lenses and have anti-fog, anti-scratch and UV-blocking coatings. The thin frame will work under earmuffs and the frame can be adjusted out to wear over eyeglasses, but can't be had with Rx lenses.
You can find them for around $10 to $15 per pair. 
---
More On Personal Protective Equipment:
---
NEXT STEP: Download Your Free Storm Tactical Printable Target Pack
62 Printable MOA Targets with DOT Drills - Rifle Range in YARDS
This impressive target pack from our friends at Storm Tactical contains
62 printable targets
for rifle and handgun range use. Target grids and bullseye sizes are in MOA. Ideal for long-range shooting!
Subscribe to the Gun Digest email newsletter and we'll send your print-at-home target pack right away.
Just enter your email address below.
---