Gun Digest editor Luke Hartle takes a look at what the Honda Pioneer 1000LE brings to the table for shooters and outdoorsmen.
What is the Honda Pioneer 1000LE packing?
The Pioneer 1000LE is fully automatic.
It can be driven in manual at the flick of a switch.
The off-road vehicle boasts a 999cc engine.
The Pioneer features versatile seating and cargo stowage.
Whether it's traversing the backcountry on a hunt or setting up a shooting course on the back 40, off-road vehicles and shooting have always had a close relationship. Gun Digest Editor Luke Hartle takes a look at one of the most versatile ways for a marksman or woman to get to their target in the above video.
The Gun Digest editor gets wowed by the 2017 Honda Pioneer 1000LE after a couple of days tooling around in the cutting-edge side-by-side. From the 999cc engine to the i4WD to the automatic dual clutch transmission and independent wishbone suspension, Hartle discovers there's little that stands in the way of the off-road vehicle. On top of that there's the Pioneer's versatility — in seating and cargo storage. It's everything you need to create your own adventure.
As Hartle points out, the Honda Pioneer 1000LE runs toward the top end of the powersports market price-wise. But he makes a good analogy concerning the money it costs. Like a Smith & Wesson Perfomance Center M&P10 6.5 Creedmoor, you'll pay a little more for a lot more. Not to mention, you'll get to your shooting destination in style.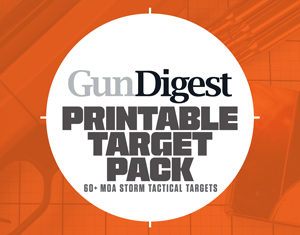 Next Step: Get your FREE Printable Target Pack
Enhance your shooting precision with our 62 MOA Targets, perfect for rifles and handguns. Crafted in collaboration with Storm Tactical for accuracy and versatility.
Subscribe to the Gun Digest email newsletter and get your downloadable target pack sent straight to your inbox. Stay updated with the latest firearms info in the industry.