Don't want to go deaf? Here are our picks for the best shooting ear protection you can buy.
Whether you shoot guns regularly for hobby, sport, sustenance or any other reason, it's one of the noisiest pastimes that a person can have. If you intend on preserving your hearing, always wearing shooting ear protection is a must.
Choosing the right pair for you may not be as simple as it sounds, however, as there are many different styles and manufacturers.
This buyer's guide should help you narrow it down.
The Science Behind Shooting Ear Protection
You need to wear ear protection while shooting, or you will go deaf. Period.
Hearing loss can occur if subjected to any noise louder than 85 decibels (dB) for a sustained length of time and almost certainly will occur if subjected to any noise louder than 140 dB. Typical gunshots produce 160 dB or more.
The most tell-tale sign that you've sustained some hearing damage is tinnitus, the ringing in your ears. It's a sign that hearing damage has occurred and is the single most common type of disability among veterans. However, because it can happen gradually, damage to your hearing isn't always instantly perceptible. Just because you've shot without ear pro before without noticing any lasting effects doesn't mean that your hearing wasn't hurt in the process.
The mechanism of hearing starts with the cilia (specifically the stereocilia), the tiny hair-like cells that line the cochlea. They sense motion in the cochlea caused by sound pressure and then transmit the resultant vibrations to your brain. These vibrations are what we perceive as sound.
If subjected to too much sound pressure, the cilia will break, resulting in hearing damage.
What Kind Of Hearing Protection Is Best For Shooting?
The best kind of shooting ear protection is whatever reduces the noise exposure to the greatest degree.
In general, ear pro is either worn in-ear or over-ear and provides either passive or electronic protection. Any style can work fine, but they also have some pitfalls and best practices that you should be aware of.
Both passive and electronic shooting ear protection block sound passively, but electronic protection also uses microphones and speakers to amplify all sounds quieter than a gunshot. This feature allows you to hear the world around you while still protecting your hearing.
There is another category of passive ear protection called filters (usually earplugs) which use a diaphragm inside the plug that only allows in so much sound pressure.
Regardless, the most important aspect is the seal. The less penetrable the physical barrier between your ears and loud noise, the better protected they are. That is first and foremost.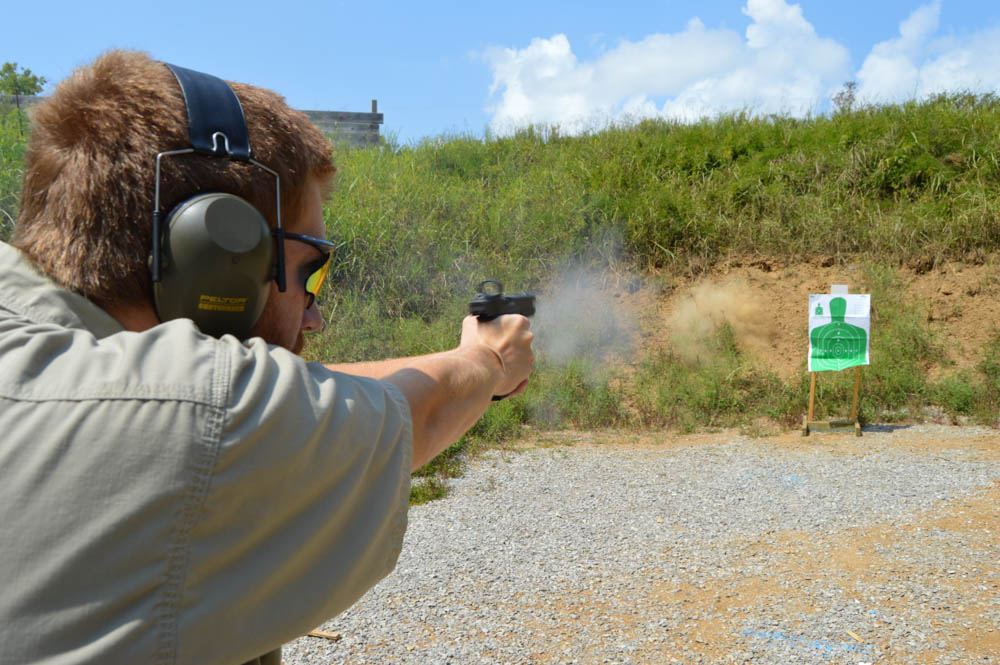 Ear protection is rated in Noise Reduction Rating or NRR. The higher the number, the more noise is blocked.
Electronic ear protection typically has a passive NRR of about 22 dB, and it doesn't amplify any noise above about 80 dB. With an NRR of only 22 dB, it's a good idea to double up with earplugs when using them. With that said, decent electronic ear protection is now a lot more affordable than it used to be.
So, what kind of shooting ear protection is best? Most people tend to prefer electronic these days, but you can use whatever you find most comfortable as long as they A.) fit your ears effectively to block noise, and B.) provide the greatest amount of protection (in terms of NRR) that you can get.
What Kind Of Hearing Protection Do I Need?
For most shooters' needs, a good pair of high NRR plugs and a set of either electronic or passive muffs will have them set.
Where the higher end of electronic hearing protection begins to be worth it is if you shoot indoors or in outdoor covered bays, in areas with high wind, or in matches or classes where you need to clearly hear commands.
After that, determine what other features you need. Bluetooth compatibility lets you pair it with your phone to pipe in some tunes, and audio jacks allow you to link a comm system.
With electronic or passive earmuffs, consider the type of guns you shoot a lot. Large earmuffs can interfere with a cheek weld or get knocked out of position by the stock, so look for low-profile muffs or in-ear shooting ear protection if you shoot long guns with any frequency.
Also consider what overall battery life you need and if the design features an automatic shutoff. Many electronic earmuffs have a four-hour auto shutoff that may want to be avoided for certain purposes.
Good ear cups are a must, and it's a bonus if they're replaceable. Same with padded headbands.
As with anything else, the harder or more specialized your use, the more features you'll want to have.
The Best Shooting Ear Protection You Can Get:
Howard Leight Impact Sport
Impact Sport earmuffs use directional microphones to amplify sounds under 82 dB but nothing over that level, and provide a 22 dB NRR passively. These are the default entry-level electronic ear pro for all purposes and can often be found for as little as $50.
They have a slim profile, with recessed controls and a cheek weld cutaway for shooting long guns. A 3.5mm input jack is included for comms, the ear cups are replaceable and a padded headband is included for comfort.
Peltor Sport Tactical 500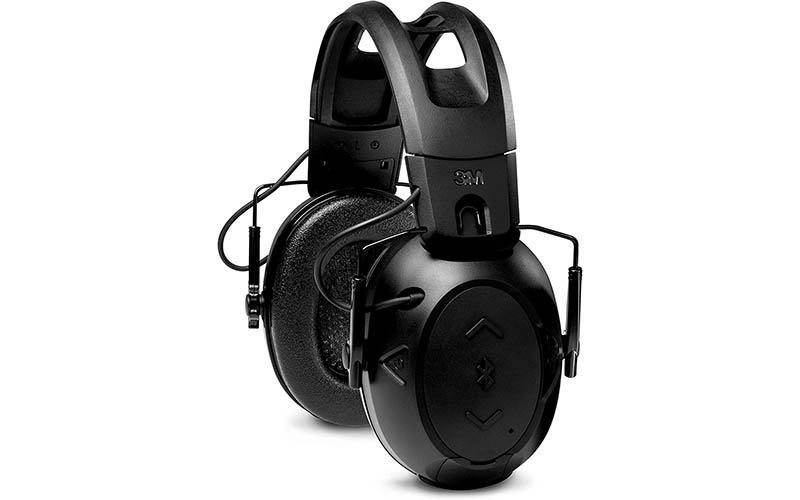 Peltor Sport Tactical 500 electronic earmuffs have advanced noise canceling for a better response shooting indoors and to better pick up voice while activated, an especially important feature for competition shooters. They have a 26 dB NRR.
The earmuffs are contoured to work with long guns, and controls are recessed for a lower profile. The ear cups are replaceable and the headband is ventilated for comfort and ease of wearing a hat. These are one of the most popular sets for competition shooters, and they can be found for around $150 online.
Peltor ComTac VI Electronic Ear Protection
These are the earmuffs used by professionals; they have been and are taken to war. Slim profile ear cups are made to work with any weapon platform (including and especially modern service rifles) with smart noise attenuation to reduce noise exposure in any environment.
They integrate fully with comms and feature a headset for communication, as well as Bluetooth. Prices range from $700 to over $1,000 depending on the exact model, but that's expected of what is generally considered to be the best shooting ear protection.
3M E.A.Rsoft Yellow Neons
A solid backup to have in your shooting bag is some of 3M's industrial earplugs. The E.A.Rsoft Yellow Neons are foam plugs with a 32 dB NRR, almost the highest rating attainable.
These are the earplugs that OSHA rates for working use. They're also incredibly cheap. A box of 200 pairs will run you $30 on Amazon, or you can get single pairs at almost any hardware store for a few dollars. Figure out how to fit them, and they work incredibly well.
Decibullz Ear Plugs
Decibullz earplugs are incredibly popular and work very well…if you configure them correctly. You have to soften the plugs to mold them to your ears for a secure fit. The hitch is that you must find an earplug that fits your ear canal to form a tight fit, so you may have to buy different foam tip sizes to get them to work correctly (Decibullz sells extra foam tips for about $3 each).
As long as you do your part, they work very well, with an impressive NRR of 31. MSRP starts at $25.99.
SureFire EP4 Sonic Defenders
SureFire EP4 Sonic Defenders are passive earplugs with filter caps. The Sonic Defender series uses a pressure diaphragm that blocks out noise above 85 dB. You can insert the caps to block out ambient noise as well. With the caps installed, they have a 24 dB NRR.
The EP4s can be ordered to fit your ear canal (small, medium or large) with a triple-flange tip to get the best seal inside the ears. They're an excellent choice for hunting if you don't want to wear a headset, and are also fantastically good for concerts. MSRP is $16.95.
Axil GS Extreme 2.0 Ear Buds
Axil GS Extreme 2.0 Ear Buds enhance ambient sound while attenuating any that is over 85 dB. They have sport hooks to get the best fit over the ear, and multiple sizes of tips to get a good fit. They have Bluetooth connectivity, volume control and up to 25 hours of run time with USB charging.
MSRP is $199, but they're frequently on sale.
Walker's Silencer 2.0 Ear Buds
The Silencer 2.0 ear buds have directional microphones to reduce wind noise and variable gunshot suppression to block the loudest noises. They have their own charging case with
an onboard battery, just like Bluetooth ear buds, and come with sized earpieces to get the correct fit. They're available either without Bluetooth connectivity (MSRP $249) or with Bluetooth (MSRP $319.99).
Peltor EEP-100 Ear Plug Kit
Peltor's EEP-100 electronic earplugs have a short instruction manual as they are a simple on-off design. The volume level is adjusted automatically, and the buds come with a charging case and a micro-USB charger, with a run time of up to 16 hours on a full charge. The triple flange ear tips help you get a good tight fit and are replaceable. They can usually be found for about $200.
Caldwell Range Muffs
If you want that classic pair of passive earmuffs with the most hearing protection possible, Caldwell Range Muffs have it with an NRR of 33, about the most you can get with passive protection. A padded headband and generously padded ear cups seal tightly over the ears and block out any noise imaginable. As a bonus, they go for only about $20.
---
More On Shooting Ear Protection:
---
NEXT STEP: Download Your Free Storm Tactical Printable Target Pack
62 Printable MOA Targets with DOT Drills - Rifle Range in YARDS
This impressive target pack from our friends at Storm Tactical contains
62 printable targets
for rifle and handgun range use. Target grids and bullseye sizes are in MOA. Ideal for long-range shooting!
Subscribe to the Gun Digest email newsletter and we'll send your print-at-home target pack right away.
Just enter your email address below.
---