Serious competitive trap, skeet and sporting clays shooters can be pretty selective in terms of the shells they use for competition. They demand a lot from their shotshells, and one of the brands that has found tremendous success with competitive shooters over the years is Federal Premium's Gold Medal line.
However, Federal Premium has recently announced that it will be rolling out a new offering in the Gold Medal line for 2017: Gold Medal Grand. The new Federal Premium Gold Medal Grand shotshells represent an improvement on the already-great standards set with the Gold Medal line. According to Federal, these new shells offer less felt recoil, more reliable ignition, improved shot hardness and an easier reloading process, while still providing the same great performance shooters have come to expect from Gold Medal shells.
New Federal Premium Gold Medal Grand shells will be available in 10 different loads. Each Gold Medal Grand shotshell features Federal's two-piece wad with SoftCell technology to decrease felt recoil, as well as provide more uniform patterns than single-piece wad designs. And the integral base wad in each shell helps make reloading easier for those who prefer to do so.
The new shells also incorporate a rigid PrimerLock head for increased primer sensitivity to ensure reliable ignition, even in the event of a lighter-than-normal hit. The lead shot in the new Gold Medal Grand shotshells is also engineered for the perfect blend of hardness and density, resulting in even patterns and maximum downrange power.
The brand new Federal Premium Gold Medal Grand shotshells will be available for $10.95 per box. Shipments of the new shells should be going out to dealers in January.
For more information, visit the Federal Premium website.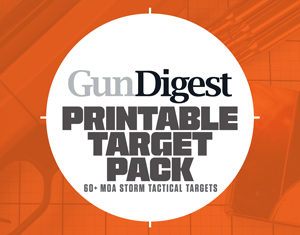 Next Step: Get your FREE Printable Target Pack
Enhance your shooting precision with our 62 MOA Targets, perfect for rifles and handguns. Crafted in collaboration with Storm Tactical for accuracy and versatility.
Subscribe to the Gun Digest email newsletter and get your downloadable target pack sent straight to your inbox. Stay updated with the latest firearms info in the industry.