Muzzleloaders have come a long way from the days of Daniel Boone and Davy Crockett.
Perhaps the only similarity between today's firearms and those used by the famous woodsmen is how they are loaded. From muzzleloaders' ignition systems to the powder they burn, the guns are light years away from their predecessors.
Federal Premium aims to take another element of the muzzleloader a step further from its Kentucky and Hawken Rifle roots – its ammunition.
What Federal has attempted to do with its Trophy Copper Muzzleloader Bullet is deliver the performance of a sabot bullet, with the convenience of a belted round. The company believes it has found the middle ground with the B.O.R. (Bullet Obturating Ramp) Lock MZ System.
The heart of the B.O.R. Lock MZ System is a polymer cup that is permanently attached to the bullet's base. Its function is similar to a sabot, creating a seal in the bore and engaging the rifling when the muzzleloader is fired.
The system functions by the force of ignition pushing the cup forward onto raised bands, called obturating ramps, along the bullet's shank, expanding its diameter. The system, according to Federal, helps provide 200-yard accuracy, but it does more than keep a muzzleloader on target.
The B.O.R. Lock also aids shooters in one of the more challenging aspects of a muzzleloader – the follow-up shot. The system is able to offer quick reloading of the firearm in two ways.
First, the Trophy Copper Muzzleloader Bullet and the B.O.R. Lock cup have a slightly smaller diameter than the a muzzleloader's bore, making it easier to load in the first place. Second, the cup has a hard, fiber-reinforced polymer ring at its base that functions as a fouling scrubber. This decreases the need to clean between shots and makes it easy to seat the bullet at the exact same depth for every shot.
Similar to other projectiles in Trophy Copper line, the copper-alloy bullet features a polymer tip, with a deep, hollow cavity and skiving that allows for consistent, devastating expansion. The high ballistic coefficient also flattens trajectories and minimizes wind drift.
To be sure, Federal Trophy Copper Muzzleloader Bullet promises a mouthful – in loading ease alone. And if the bullets deliver it could mark yet another moment when the muzzleloader further broke from its forebears.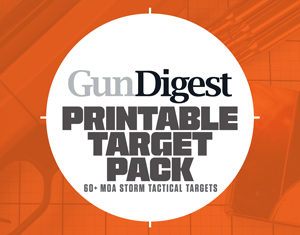 Next Step: Get your FREE Printable Target Pack
Enhance your shooting precision with our 62 MOA Targets, perfect for rifles and handguns. Crafted in collaboration with Storm Tactical for accuracy and versatility.
Subscribe to the Gun Digest email newsletter and get your downloadable target pack sent straight to your inbox. Stay updated with the latest firearms info in the industry.