With a tough exterior housing, Aimpoint's new ACRO P-1 is as resilient a reflex optic as there is today.
How the ACRO P-1 is tougher than the other red dots:
A 1x optic with a fully coated lens.
Components enclosed in a tough aluminum housing.
Impervious to rough use, dirt and moisture that plague open systems.
3.5 MOA dot fully adjustable for windage, elevation and intensity.
Fully compatible with night-vision.
Fast and dead-on accurate, there are few complaints about what red-dot optics bring to the close-quarters shooting game. That's not entirely true. Some shooters — tactical operators and civilians alike — are head shy over potential missteps and malfunctions commonly associated with reflex sights. In the heat of the moment, a protruding optic is a perfect candidate to snag clothing or tangle in a sling. On top of that, early examples had a frustrating tendency of losing their zero at just the thought of a stiff breeze. Resiliency wasn't their selling point.
Thankfully, those days are behind us. There has been a revolution in red dots in recent years, with the aiming solutions growing smaller and tougher than anyone could have ever imagined. All the while, they haven't sacrificed a lick of functionality or accuracy, giving shooters everything they expect out of an aiming upgrade. Nobody's arguing they've made iron sights obsolete by any stretch of the imagination. But these new small packages are explosive performers, going a long way at running on par with traditional aiming systems when it comes to convenience and dependability — beyond when talking accuracy.
Aimpoint continues to remain at the cutting edge of red dots and moved the niche forward recently with the release of its ACRO P-1 optic. Tailored for use on pistols, but more than comfortable on carbines, the Advanced Compact Reflex Optic is flint tough, capable of withstanding extreme shock, temperatures and rough use that would rattle more traditional optics to their core. At the same tick, it produces the pinpoint accuracy required for deadly accurate up-close-and-personal shooting.
Elegantly simple, the advancement Aimpoint conjured up with the ACRO P-1 is enclosing the optic, making it impervious to bumps, bangs, dust and moisture. Even with the additional material (high-strength aluminum), the optic remains negligible in size, weighing in at 2.1 ounces and measuring a shade under 1 inch in length. Of its more notable features, the unit has a 3.5 MOA dot (fully adjustable for windage, elevation and intensity), a fully-coated lens and night-vision compatibility. The ACRO P-1 runs off one CR1225 battery and is an energy sipper. The unit was tested for one year of continuous use off one battery. Aimpoint has yet to release an MSPR on the new optic.
For more information on the ACRO P-1, please visit: www.aimpoint.com
ACRO P-1 Specs:
Magnification: 1x
Dot Size: 3.5 MOA
Aperture: .63″x.63″
Battery: CR1225
Power Intensity: 4 NVS, 6 Daylight
Length: 1.9 inch
Width: 1.2 inch
Height: 1.2 inch
Weight: 2.1 ounces
MSRP: N/A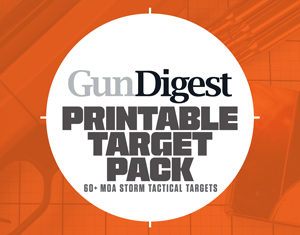 🎯 Exclusive Offer: Get Your FREE Printable Target Pack!
Dive into precision shooting with our 62 Exclusive MOA Targets featuring DOT Drills. Perfect for both rifle and handgun enthusiasts, these targets are designed for accuracy, especially for long-range shots.
Why You'll Love This Pack:
🎯 Expertly Crafted: Brought to you in partnership with the renowned Storm Tactical.
🎯 Versatile Use: Suitable for both rifle and handgun range sessions.
🎯 Precision Design: Target grids and bullseyes meticulously measured in MOA for the best shooting experience.
Bonus: By grabbing this offer, you'll also be subscribing to the Gun Digest email newsletter, keeping you updated with the latest in the world of firearms.
Don't miss out!
Simply enter your email below, and we'll send your downloadable target pack straight to your inbox.