The Bushnell Forge optics proves equal to New Zealand's rugged backcountry.
The advantage offered by the Bushnell Forge line:
Includes two riflescopes models, binoculars and spottingscope.
Scopes available in 2.5-14x, 3-18x and 4.5-27x variable powers.
Each has a 50mm objective lens.
Side parallax adjustment.
Exo Barrier lens coating scratch and fog resistant.
Coating also increases light transmission.
Depending on model, prices range from $750 to $950.
I had problems keeping up with the little New Zealand goat at first. Known for being exceptionally nimble in some the nastiest terrain on the planet, the sure-footed chamois had covered more than 75 yards before I could get settled prone across my pack. Settling wasn't easy — it's a rare challenge to commit full mental attention to making a shot when I couldn't get my mind off the 200-foot drop less than 5 feet to my right. To further test my mettle, my feet were higher than my head. There I was: Slightly inverted, at the edge of a cliff, trying to settle in for a shot at a tiny target.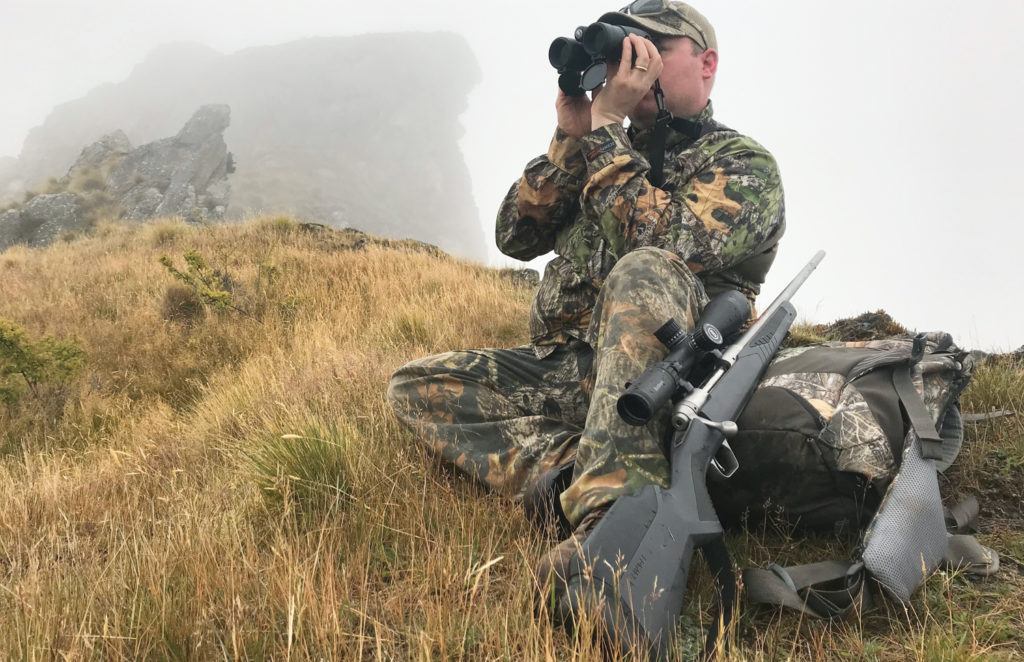 I learned a true appreciation for a throw lever at that exact moment. Every time I'd finally settle in, the chamois had moved just far enough that I'd have to reposition — and there was no way I was repositioning without coming off the gun slightly and keeping an eye on that cliff. This went on for a minute or better, during which I used that throw lever to work back and forth between 3x and 18x at least a half-dozen times.
And to further strain the quickly growing neck cramp, my guide was having a hell of a time trying to figure out if the chamois in my crosshairs was a buck or a doe. They look an awful lot alike, but there is only one way to tell for sure when trying to distinguish between males and females of any mammal species…
So began the search for the, um… accessories, and it was at that moment I gained yet another appreciation for ultra-clear lenses. I had traveled half-way around the world and my hunt had come down to being able to spot a pair of peanuts at 350 yards — and that wasn't easy.
Though shooting cross-canyon, I had a slightly elevated position and my retina was close to burning a hole through the lenses of the Bushnell Forge. I watch, and waited … and finally confirmed that the chamois was indeed a buck and clicked the safety to fire. That's when the debate began.
"I can see them clear as he walks away. When he turns broadside I'm going to send it. Give me the shoot-to distance."
"I'm not sure," he said. I took my head off the rifle and looked at my guide. He was tucked in directly behind me, staring through a pair of $2,500 binoculars of the same magnification as my Bushnell Forge — and he couldn't see what I needed him to see. "Are you sure?"
I got back on the rifle, worked the throw lever and waited for the buck to leave full broadside and turn away so I could reconfirm.
"I'm 100 percent positive."
"Your shoot-to distance is 253 yards. When you're ready."
I depressed the blade of the AccuTrigger and waited for the buck to turn back broadside, and when he did, I disrupted the silence of that steep mountain face.
As it turns out, even after all the evaluating, making that shot was the easy part.
A Land Like No Other
The folks at Bushnell believed they had developed a massive victory with the birth of the Forge Optics line, and right out of the gate, they were more than willing to put everything they'd built to the test in some of the nastiest terrains on the planet.
Everything about New Zealand is a paradox. Never have I been to a place where the vistas were so magnificent yet the terrain so relentless and unforgiving. The Lord Of The Rings comments got old quicker than a 15-hour plane ride, but I do get it… there's no way to describe the vastness of the country. The best any of us could come up with was "epic."
As a hunter, New Zealand offers game and terrain unique to only this little corner of the world. From chamois to red stag to Himalayan tahr, it simply can't be replicated like parts of Africa can be "cloned" in Texas. For the shooter, cross-canyon above-the-clouds vistas can make it exceptionally difficult to focus on the target.
And for an optics test — well, the weather and the near vertical terrain were going to make every piece of the gear step up and earn it.
Upon bullet impact, my guide and hunting partner, Jake Edson, watched the chamois tumble at least 1,000 feet before we lost sight of it in another ravine — and there was no indication of it slowing down. I didn't see that coming. We collected our gear and began searching for a scalable way to navigate down the cliff I was so nervous about toppling off while making the shot.
The road to that chamois was non-existent, as we slipped, scraped and clawed our security out of each step we took. Never in my life have I been to a place where each step had to be strategically calculated in the name of self-preservation. There were times when a single misstep would've meant a multi-hundred-foot fall ending in serious manglement or permanent lights out.
It took us nearly 3 hours to locate and get to the buck, and during those 3 hours, gear preservation was not at the forefront of anyone's mind: personal preservation was. We snapped some pictures, packed up the chamois and made the hike back up the way from which we had come. There simply were no other options.
Back up top, we took water and inspected gear and ourselves. Though no scratches were deep enough to challenge the integrity of the rifle, the stock looked as though it had gotten into a fight with a rabid bobcat.
My Bushnell Forge had no less than a dozen small dings and scratches across its entirety, and Jake's — well, there was one particular life-saving slide on a rock mogul course that ended with a pretty hefty dent on the end of the objective bell.
With Jake up next the following day and me with a tahr tag burning a hole in my pocket, we hit the rifle range to assess the true damage we had done to the rifle and the Bushnell Forge. I settled in prone from 200 yards, got good and cozy across my daypack, and I tucked two bullets within a half-inch of one another just an inch high of center.
Jake took a few more rounds to settle in, but when he did, it held beautifully. And, quite frankly, expecting a scope to hold zero after getting walloped hard enough to leave a dent is like firing a round and expecting it to never drop. But a scope that can come bouncing back after a blow like that is a true traveling companion in my book.
A Final Look
I beat the crap out of my Bushnell Forge — unintentionally, granted — for the next few days. It turns out that tahr country is no less forgiving than chamois country. Maybe a little less steep but with a whole lot more rocks. And you'll have to forgive the pun, but my optics and I forged on, no worse for the wear.
This entire experience taught me a few things. First: You can't price-profile optics. Don't think that you have to spend an uncomfortable amount of money to get top-tier performance. Those days are gone. And second: Bushnell is no longer just a "blue-collar" brand. Stigmas are challenging to overcome, but I've watched the product lines evolve these past few years, starting with the Engage line and now the Forge Line. They challenged their gear to perform for me on the hunt of a lifetime halfway around the world, and perform it did.
For more information on the Bushnell Forge line, please visit: www.bushnell.com.
Editor's Note: This article originally appeared in the 2018 Shooter's Guide issue of Gun Digest the Magazine.
---
NEXT STEP: Download Your Free Storm Tactical Printable Target Pack
62 Printable MOA Targets with DOT Drills - Rifle Range in YARDS
This impressive target pack from our friends at Storm Tactical contains
62 printable targets
for rifle and handgun range use. Target grids and bullseye sizes are in MOA. Ideal for long-range shooting!
Subscribe to the Gun Digest email newsletter and we'll send your print-at-home target pack right away.
Just enter your email address below.
---