Vastly improving on the old methods to leveling a scope, Real Avid's Level-Right Pro ensures everything is squared up and ready to hit the mark.
Properly mounting a scope is a skill of with every shooter should strive to add to their arsenal. Not relying on a gunsmith to do the work will save you considerably in the long run, as well as foster a more intimate knowledge of your shooting systems. That said, it does take some know-how, beyond drilling down the right set of rings.
Perhaps one of the most common and fundamental mistakes of the process is getting an optic on at a cant—that is the reticle sloped one direction or another. Even going slightly off-kilter can cost you, especially if you stretch your rifle's legs. Though, Real Avid has done its bit to ensure your optics are precisely squared up and ready to get dialed in with its Level-Right Pro.
Instead of leveling the action, barrel and scope independently, the Level-Right Pro indexes the entire firearm-optic system. It does so rather ingeniously, situating the bubble level off the gun and optic, then using light projection to get everything lined up. Sounds a bit complicated. It's anything but.
A flashlight mounted to the Level-Right Pro shines through the object lens of the scope, projecting the reticle on to a gridded board. Also leveled, this board gives you a reference point to perfectly align the X and Y axis of your reticle so it doesn't slant either way. Given these components are independently leveled from the gun/optic proper, it off a much more certain scope mounting process than the old way of putting a bubble level on a turret.
Howard Tripp, Chief Innovation Officer at Real Avid said, "Until now, there have only been complicated old school methods that aren't capable of the kind of precision modern shooters demand. We eliminated fumbling with small levels and went right to the heart of the problem and created a Master Grade tool that quickly levels the reticle, not the turret. Our Gun DIY customers want to do the job themselves, and they want the best tool for that job."
The Level-Right Pro system has an MSRP of $69.99 and comes with Level-Right Pro, alignment grid barrel and Picatinny attachments, and rechargeable light. The system certainly costs more than a simple bubble level, but pays shooters back in accuracy and un-frayed nerves.
For more information on the Real Avid Level-Right Pro, please visit realavid.com.
---
Scope Out More Optics Info: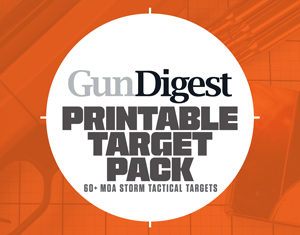 Next Step: Get your FREE Printable Target Pack
Enhance your shooting precision with our 62 MOA Targets, perfect for rifles and handguns. Crafted in collaboration with Storm Tactical for accuracy and versatility.
Subscribe to the Gun Digest email newsletter and get your downloadable target pack sent straight to your inbox. Stay updated with the latest firearms info in the industry.