Vanguard has been busy in 2017, expanding its Endeavor RS riflescope line to offer shooters an ample selection of optics for any occasion and budget.
Vanguard has long been a part of the hunting and outdoors world, producing a wide spectrum of gear and accessories. But for 2017, the company has squarely set its sights on one particular facet — riflescopes.
Vanguard has released 13 new Endeavor RS scope models this year, giving shooters aiming solutions for nearly any occasion. Gun Digest editor Luke Hartle was on hand at the 2017 NRA Annual Meetings and Exhibits to get a first-hand gander at this budget-friendly, hunting-oriented glass. And as he discovered, Vanguard is offering shooters a lot of perks with the expansion of its Endeavor RS line for just a little bit of coin.
Perhaps one of the more intriguing aspects of the scopes, Vanguard's Bob Kaleta points out, is the company's use of ED, or extra-low dispersion, glass across all of its models. Opting for ED glass means shooters have a sharper, more precise sight picture, with the lens material vastly reducing the fuzziness of chromatic aberration common to ordinary lenses.
Another exciting point touched upon is the low-light potential of the scopes — particularly Vanguard's most powerful new addition: the RS-7. Outfitted with an industry-leading 44mm objective lens, the 7x magnification scope is engineered to gobble up light and thrive at dawn and dusk — when game species are most active.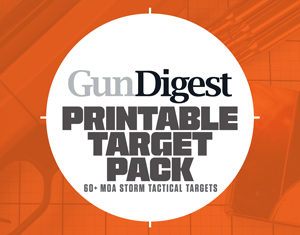 Next Step: Get your FREE Printable Target Pack
Enhance your shooting precision with our 62 MOA Targets, perfect for rifles and handguns. Crafted in collaboration with Storm Tactical for accuracy and versatility.
Subscribe to the Gun Digest email newsletter and get your downloadable target pack sent straight to your inbox. Stay updated with the latest firearms info in the industry.