Sponsored Content
Monitoring your gun safe's environmentals and security, the Puck is the serious gun owner's best friend.
There are some obvious and not-so-obvious investments you need to make in becoming a gun owner. In the patently apparent category goes a gun … and ammo wouldn't hurt, either.
Less intuitively, you need somewhere to store your soon-to-be favorite tool when it's not in use. And no, the corner of the guest bedroom closet or the utility draw won't cut it.
At the top of the must-have list for any gun owner should be a high-quality gun-storage system, whether it's a gun safe, gun locker or otherwise. To ensure your new, beloved pistol or class-act shotgun doesn't end up in some criminal jack-a-ninny's possession, these systems give you peace of mind and show a serious commitment to your investment.
Unfortunately, you aren't done by simply putting your gun under lock and key. As is the case with so many solutions, a gun safe only opens up another set of problems.
Counterintuitive as it might sound, gun storage puts your firearms in as much peril as if they were left in the wide-open. However, it's not a sticky-fingered malcontent you have to worry about. Instead, the march of time, humidity and the environment in general chip away at your gun's finely machined parts. Unchecked, this could potentially leave you with a pile of rust.
It needn't be this way. As those paying attention know, there's a wealth of gun-safe accessories designed to keep your firearms in the same shape they were when they rolled off the assembly line.
Few accessories have proven as innovative or accessible as Lockdown. In essence, it's helping redefine how you store and care for your firearms. You've undoubtedly heard of the term "smart house." Well, it's time to add the phrase "smart vault" to your vocabulary … and to your home.
Locking Down Gun Safe Technology
Lockdown is a new(ish) company, which began in 2010 and has evolved to become one of the leaders in vault accessories since 2018. Lockdown has its roots deep in the more traditional gun vault tools and accessories, although the company's efforts have paralleled the technological advancements and now focuses heavily on smart-vault products.
The cornerstone to the company's catalog is a rather unassuming— a little device simply known as the "Puck." As is typical with anything tech-oriented, don't let its humble looks fool you. Under the hood, this innovative device has everything you need to keep tabs on your guns and ensure the best possible environment when they're stored.
In essence, the Puck is a gun safe monitor that reports back to your smartphone via a free app, monitoring three important factors:
Motion
Temperature
Humidity
Let's touch on all three and why it's a good idea to keep tabs on them.
A sturdy safe is going to take some sort of forceful entry to defeat its generally thick-gauge steel. Motion detection alerts you to potential break-ins. Humidity is your gun's worst enemy and is common in gun safes. If it gets too high, you need to mitigate it in a hurry. Walking hand in hand, temperature can be an early warning to humidity, particularly with some dehumidifiers. Furthermore, this factor can warn you of something much more catastrophic—such as a fire.
---
Locking Down Gun Safe Knowledge:
---
Temperature and motion detection are insurance policies for worst-case scenarios. Only a fool wouldn't want to know if someone was knocking around their gun safe or if the heat was rising around their cherished firearms. But, those are relatively rare events. Humidity is an ever-lurking threat, especially if you've done your due diligence and invested in a gun safe dehumidifier.
"But those solve the issue of humidity!" Right you are, but they also breed complacency. Either they need a constant power source or must have hydrophilic crystals dried out from time to time to function properly. Talk about easy to forget or not take notice! That is until the Puck buzzes your phone to let you know the air humidity has gone up 10 percent in the past day. It's a gun-saver, to say the least.
Convenient Measure
Every gun safe has room for the Puck. Measuring in at 3.25×3.25x1inches (length, width and height), it takes up a minuscule amount of space. In addition, the mounting options are legion. The mounting plate can be screwed in place but also includes an adhesive pad to keep it in place. Or, you can simply set it on a shelf.
Equally as easy to operate is the Logic app. The Puck links up to your WiFi, giving you constant contact through the Logic monitoring app. From there, you simply set up the alerts you're most concerned about and let your smart device keep you updated. And, you don't have to treat all the alerts equally.
Let's say humidity is your main concern, not temperature. You can turn off the latter notification and set the exact percentage of the former you're willing to tolerate. If the humidity goes above that, the app will send you an audio or vibrating alert. If you happen be a worrywart, you can check in on the stats anytime you want—unalerted.
One Flexible Puck
Lockdown's main thrust is gun safes, but the Puck has more potential than just guarding your guns.
Have a prized collection of tools? How about a pristine assortment of rookie baseball cards? The Puck has you covered on those fronts as well. The Puck will keep you updated on anything for which you need to monitor the environment and security.
Parting Shot
A gun safe is a solid investment and a vital part of keeping your favorite firearms where they belong—in your possession. But, that's only one facet to keeping your guns safe. Protecting against corrosion and other perils caused by the climate is also key. The Puck by Lockdown makes this end of gun care and security as easy as picking up your phone.
For more information on the Lockdown Puck, please visit lockdown.com.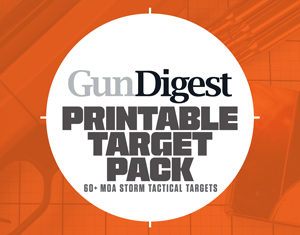 Next Step: Get your FREE Printable Target Pack
Enhance your shooting precision with our 62 MOA Targets, perfect for rifles and handguns. Crafted in collaboration with Storm Tactical for accuracy and versatility.
Subscribe to the Gun Digest email newsletter and get your downloadable target pack sent straight to your inbox. Stay updated with the latest firearms info in the industry.