There's no missing the XS Sights DXT2 Big Dot Night Sights, which is a good thing when it comes to fast target acquisition.
How XS Sights DXT2 Big Dot Night Sights Get You On Target Fast:
Large front sight paired with V-notch rear
Optic Yellow or Orage outline on front sight draws the eye to its proper focal point
Tritium vial in both front and rear sights to enhance low-light aiming
Increased visibility and brightness from convex dot on the front
If you know anything about shooting a handgun at all, you know that in order to hit your target you need to be able to see your sights. This is of course why we've seen so much advancement in sights over the years, and why aftermarket sights have become so popular. XS Sights has been at the forefront of this movement.
Starting with a Texas Deputy Sherriff's notion that sights similar to those that work on dangerous game rifles could be useful in situations defensive handguns are most commonly employed, XS Sights has continued to innovate on that concept. Their newest offering is the DXT2 Big Dot Night Sights (MSRP: $176).
The driving force behind these new sights was to increase front sight visibility in all lighting conditions. At its inception, the XS Big Dot Sight was simply a large white circle. Gunsite Academy founder Jeff Cooper, who laid the foundation on which all modern defensive handgun training has been founded, liked them so much he had them installed on his every day carry Colt's Commander. He clearly believed in sights you could see. Later, the addition of a tritium vial to the center of the Big Dot was available and quickly became one of the most trusted defensive handgun sights.
Of course, there are many so-called experts who believe a large — 0.180 inch — front sight is too big to allow for precise shooting. Admittedly, if you are accustomed to conventional defensive handgun sights, there is a learning curve. But it's short. When I took my first 250 Pistol Course at Gunsite Academy, I used a 1911 fitted with XS Big Dot Sights. I used that gun to win the class shoot off. Additionally, when my wife was first starting to learn to shoot a handgun, we found the Big Dot sights seemed to instinctively direct her to focus on the front sight, which is a helpful thing for beginners.
The Evolution Of Aiming
The new DXT2 version sight is identical to the old, except instead of a large white outline of the Tritium vial, you have the option of choosing one in Optic Yellow or Optic Orange. Paired with the V-notch rear sight, you get a sight system that drives your focus to the front sight and the downrange threat, with an unobstructed view to either side.
---
Get More Self-Defense Information:
---
Additionally, the new patent-pending colored glow dot — in yellow or orange — absorbs light, causing the front sight to glow before it's dark enough to see the tritium center. The glow dot even stores energy enabling it's radiance to last. You simply place the glowing big dot above the vertical white/tritium stripe in the rear V-notch — dotting the "i" — for a super-fast-to-acquire sight picture you can see in any light.
Optic Yellow is the most visible color in low light and is a direct replacement for the first-generation white Big Dot sight. In bright light, Optic Yellow outperforms white because it doesn't wash out on light backgrounds. Optic Orange is the best for bright light settings such as shooting outside in daylight and offers a high-glow intensity that maintains visibility in decreasing light levels. The DXT2 Big Dots are four times as bright in low light as the originals, thanks to the XS Sights patent-pending glow dot.
The improved visibility and increased brightness is due to pairing the convex dot with patented photo luminescent properties. The outward curve of the dot increases the amount of surface area, exposing it to more light, and the optical clarity amplifies light absorption, which increases the excitement of the yellow or orange glow dot properties. In hillbilly terms, that means the new DXT2 sights are just a hell of a lot easier to see all the time. But most importantly, they're so bright they seemingly pull your eye to them.
DXT2 Big Dot Night Sights are backed by a 10-year, no-questions-asked warranty and will be initially available for all Glocks; S&W M&P full-size and compact pistols; the M&P Shield; Sig Sauer P320, P226 and P229 pistols; Springfield XDs and the FNH FN509 in early 2019. They retail for only $132, and short of buying lots of practice ammunition and investing in a class at Gunsite Academy, they might represent the best money you can spend with regard to your defensive handgun.
I asked XS Sights to send me handgun outfitted with these new sights. The first thing I did with this pistol was to stand in a semi-dark room — with varying light sources from all angles — and rotate 360 degrees while looking at the sights. The view varied as the light changed but the sights were brilliantly visible at all times. The only situation you could be in where you could not see these sights is one in which you have your eyes closed.
I'll not be so bold as to declare these new DXT2 sights from XS Sights are the best sights for everyone. We're all different. Some of us have very good vision, others not so much. And, some folks just simply shoot better with different types of sights. But, what I will suggest — and argue with anyone — is that no matter what sight you choose for your defensive handgun, you best choose one that you can see in any situation. The easier that sight is to see, the faster you can get it on target.
Editor's Note: This article originally appeared in the February 2019 issue of Gun Digest the Magazine.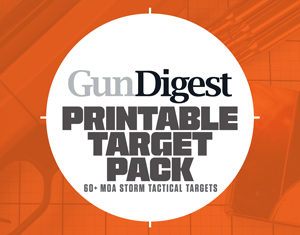 Next Step: Get your FREE Printable Target Pack
Enhance your shooting precision with our 62 MOA Targets, perfect for rifles and handguns. Crafted in collaboration with Storm Tactical for accuracy and versatility.
Subscribe to the Gun Digest email newsletter and get your downloadable target pack sent straight to your inbox. Stay updated with the latest firearms info in the industry.