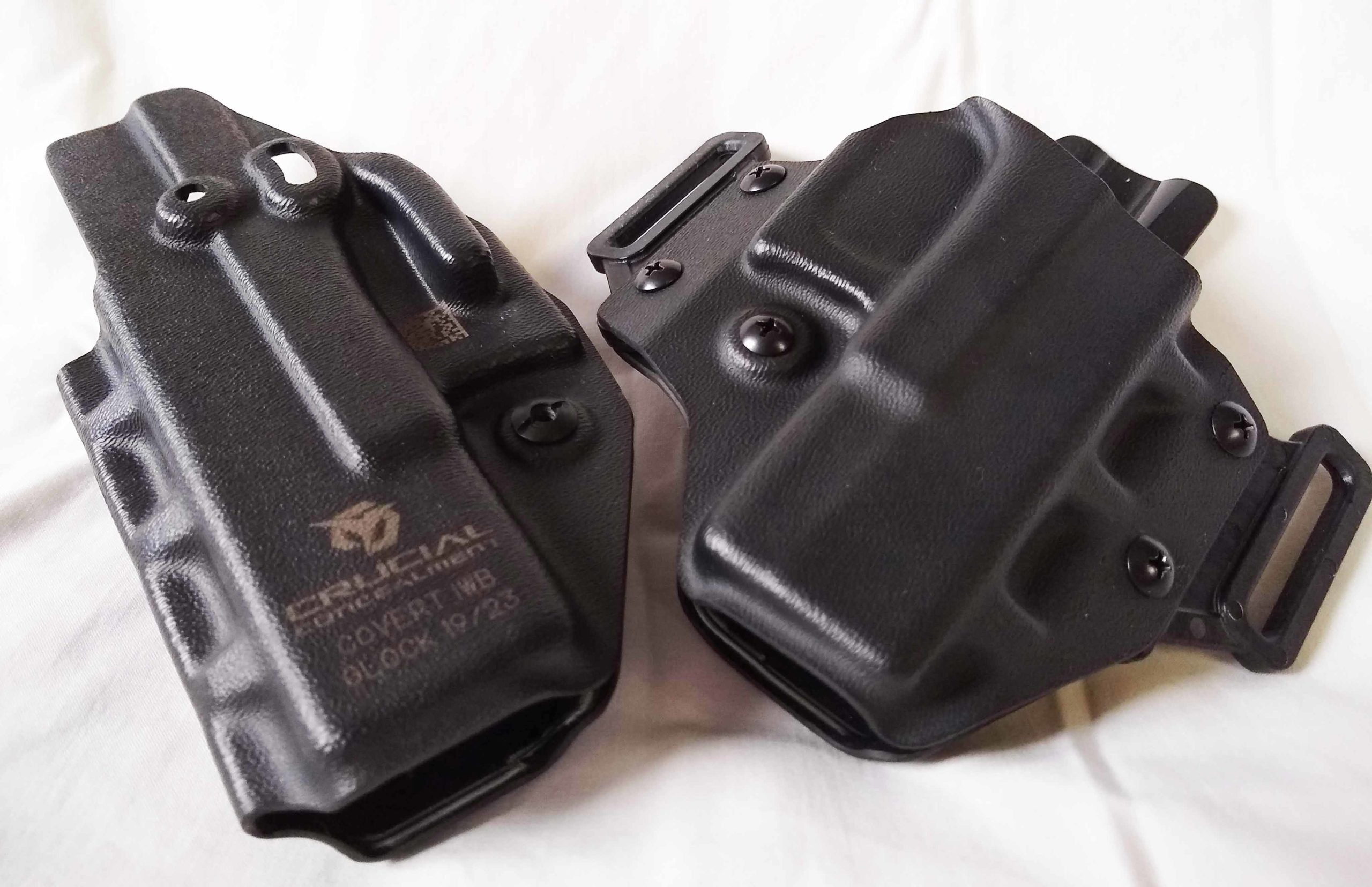 Editor's Note: Gun Digest is supported by readers, and when you buy something we recommend, we may get an affiliate commission. However, this never affects the price you pay or the gear we pick.
Simple, effective and affordable, Crucial Concealment hits the right notes with its Covert OWB and IWB holsters.
It seems everybody and their second cousin is in the holster-making game. On the good side of the saturation, there's been genuine innovation in this niche of the gun world, more than there's been in a long time. On the bad, some of these advancements have led to hangers long on bells and whistles and short on what really counts. What really counts is a rig that's consistent, comfortable and you're willing to bet your life on.
It's a pretty simple formula, but it's amazing how many miss tallying up all those variables. Not the folks at Crucial Concealment, however.
A relatively new player in the Kydex holster game—an affiliate brand of BlackPoint Tactical—the company has whipped up a pair of hangers that hit the right notes. At the same time, they haven't gone off the reservation with the Covert IWB (inside the waistband) and Covert OWB (outside the waistband) holsters. Both are elegantly simple, effective and have you covered for a majority of carry positions on the hip. Perhaps best of all, they don't break the bank along the way.
Crucial Concealment System
Before we get into the specifics of the Covert IWB and Covert OWB holsters, it's worth talking a bit about the ethos behind Crucial Concealment. Why does it exist? After all, BlackPoint Tactical already has a solid foothold in the holster market.
Economy, for the most part.
Yes, Crucial Concealment comes in at a much lower price than its sister brand, yet it's not a corner-cutting venture. Instead, the brand has taken a new approach to provide something equal in value. Where that really shakes out in its streamlined design.
Rather than bolt on particular features, the company integrates them directly into the Kydex scabbard itself. This simplifies the manufacturing process, while keeping the holster as functional as ever. Additionally, this all-in-one design philosophy makes for a lighter and more minimalistic holster. That equals a system that's as simple as kindergarten math to adjust your personal carry style. Micro tuning is a matter of tightening or loosening screws, which no one can complain about. I couldn't wait to dive into the Covert IWB and Covert OWB holsters (fitted for the Glock 19) the company sent my way.
Covert IWB
Light as a pocketful of feathers and slim as a high-noon shadow, there isn't a ton to the Covert IWB. That's a good thing, given bulk is a killer in this style of holster. The rig is little more than a Kydex scabbard, three screws, three rubber washers and a high-impact plastic belt clip. However, there's a lot happening here.
The key bit, at least for me, is a little bump over the trigger guard that hangs over like a bent finger. On inspection, you might not notice it, but it makes a huge difference in how the holster conceals. Essentially, its function is much like the "hook" found on appendix rigs, meant to push against the belt and cant the grip toward the body. Basically, it ensures your gun doesn't print. It's subtly executed, not going so far as to make the gun dig into your side.
---
For more information on concealed carry holsters check out:
Your midriff is also guarded with the holster, this time from the bite of your gun. On the Glock 19, all but the last couple of cocking serrations are covered, not only protecting you from your gun, but vice versa. Even on hot days, the bulk of your pistol is kept away from your body's moisture—cutting down on how often you have to clean your heater.
The Covert IWB is cant and retention adjustable, though in the former case it doesn't have a huge spectrum. Honestly, it moves just a few degrees off a neutral cant—adjusted via the clip's attachment screws. That isn't ideal if you're used to an FBI cant (15- to 20-degree off neutral), but for those comfortable with a vertical draw, it's more than enough play to dial it in for comfort and concealment. As far as retention is concerned, a single screw below the trigger guard makes setting it a snap.
Finally, the holster is RDS (Red Dot Sight) cut, meaning if you run an optic the Covert IWB is ready for your pistol. This feature also mimics the characteristic of a speed cut, allowing you to clear the holster more quickly, thus get your gun in the fight more quickly.
Overall, carrying it in around the 4 o'clock position, I found the rig comfortable and concealable. A lite T-shirt was enough to keep a gun under wraps in all but the most extreme contortions. The holster kept my pistol in place, but at the same time didn't interfere with my draw stroke or, for that matter, re-holstering. Best of all, it was light—definitely making it an option if you have your self-defense gun on you for long stints.
Covert OWB
Crucial Concealment didn't lose focus moving outside the waistband. The Covert OWB is as minimal as its IWB hoster, making it a snap to keep undercover. Aiding the holster in this is the Covert's well thought out curve, which holds the hanger close to your waist and cuts down on your pistol's profile. It sits well at a traditional 3 o'clock position, but also rides tight further back, giving you some flexibility.
Granted, you don't have a lot of wiggle room in cant, but there's enough play to tune the rig for comfort and ease of draw. You can set the loops for a high ride if your upper garb runs a bit shorter.
The scabbard features an extended back, keeping your pistol's slide from pressing into your side. In addition, it is also forward-looking in design, manufactured with an RDS cut to accommodate a red-dot sight, if you happen to run one.
This rig rode well for me, sticking close to my side and proving an excellent option with a coat on. Like most OWB options, I believe it'd be a tricky system to run in summer gear—shorts and T-shirt. But for cold weather months, it was more than comfortable and effective. The RDS cut was especially nice, keeping the barrel of my pistol unimpeded and draw stroke a tad shorter. And the rig spits up the G19 like it left a bad taste in its mouth. All in all, it's nice.
Points Of Contention
There weren't many bones to pick with what Crucial Concealment puts on the table. The perfect system, right? Not quite.
In design, Crucial Concealment uses plastic belt loops and clips to secure the Covert IWB and Cover OWB to your person. They held tight in my time with each and kept the rigs light as all get out. Plus, the material was flexible enough that it should show resiliency over time. But, in my opinion, steel remains preferable material for these features. It's there for the long haul.
The other area that needs consideration with Crucial Concealment is its selection. In all, the company makes options for five makes—Glock, Ruger, Smith & Wesson, Sig Sauer, Springfield and Taurus. From there it's only a small number of models, generally the most popular from each company. Glock has the most, with Covert OWB holsters for the G17, G19, G43/43X and G48. You'll have to do your research to see if the company's wears are compatible with what you carry.
Parting Shot
Holsters are among the trickiest aspects to nail down in a concealed carry system. Even the best-designed ones won't work for every person, quite simply because no two bodies are identical.
That said, Crucial Concealment has gone a long way in cooking up two systems that a good swath of armed citizens should find efficient, effective and comfortable.
There's little secret about how the company pulled this off. Plain and simple, they kept the Covert IWB and Cover OWB simple and fundamentally sound. For the price Crucial Concealment is asking, both prove true values.
Limited time offer for Gun Digest readers, 10-percent off Crucial Concealment Covert IWB and OWB holsters with the coupon code "GUNDIGEST". Get yours HERE!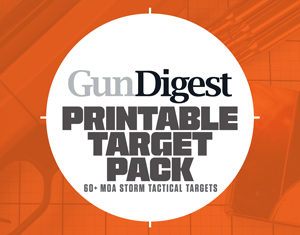 Next Step: Get your FREE Printable Target Pack
Enhance your shooting precision with our 62 MOA Targets, perfect for rifles and handguns. Crafted in collaboration with Storm Tactical for accuracy and versatility.
Subscribe to the Gun Digest email newsletter and get your downloadable target pack sent straight to your inbox. Stay updated with the latest firearms info in the industry.