When it comes to bullet trajectory, flight time is what beats gravity.What You Need To Know About Gravity And Time

Gravity has the same effect on every bullet, regardless of weight or velocity.
Time of flight is the determining factor to gravity's effect, the longer it is the more it effects are felt.
Heavier bullets with high BC can outperform lighter bullets, given they maintain their velocity longer.
I was at the gun shop the other day and a customer was discussing which cartridge might be the best for the extended-range shooting he was planning to do. He made a statement that he did not want to use a big, heavy bullet because they did not resist gravity very well. He was incorrectly under the assumption that gravity pulls harder on heavier bullets.
Gravity has the same pull on everything. If you hold a 100-grain bullet in one hand and a 200-grain bullet on the other hand, and then you drop them at the same time from the same height, guess what? They'll both strike the floor at the same time. Similarly, if you shoot a 100-grain bullet from one rifle and a 200-grain bullet from another rifle, they will both strike the earth at the same time. This is true no matter the muzzle velocity or caliber of either bullet.
This seems impossible, doesn't it? We all know that if we shoot a heavier bullet from our rifles, its trajectory is generally much more pronounced. Note: There is another factor at play here, known as ballistic coefficient (BC) — but we'll address that in a moment.
Here's the thing: Gravity pulls the same on every bullet, and no matter the weight or velocity of the bullet, they will all hit the ground at the same time. What really influences trajectory is the distance each bullet can travel before it hits the ground. This is where muzzle velocity and BC come into play.
With regard to BC, as some bullets get heavier, their BC is increased. This allows these bullets to slice through the air with less resistance. They might start out traveling slower than a lighter bullet, but because they have more resistance to air, at distance they're traveling faster.
---
Smashing Other Ballistic Myths:
---
The result is that a heavier bullet can travel farther — in other words, fly flatter — before it hits the ground. However, no matter the velocity, bullet weight or BC, the time it takes one bullet to strike the ground is the same time it will take another, different bullet to strike the ground.
Gravity and time are the constants that control external ballistics. Velocity and BC are the things that influence the distance a bullet can travel, over a certain time, as gravity pulls on it. When considering bullet trajectory, start with time of flight — it's what matters most.
Editor's Note: This article originally appeared in the May 2019 issue of Gun Digest the Magazine.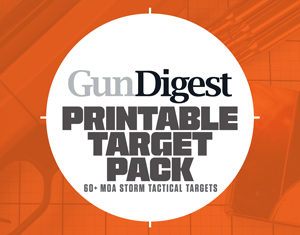 Next Step: Get your FREE Printable Target Pack
Enhance your shooting precision with our 62 MOA Targets, perfect for rifles and handguns. Crafted in collaboration with Storm Tactical for accuracy and versatility.
Subscribe to the Gun Digest email newsletter and get your downloadable target pack sent straight to your inbox. Stay updated with the latest firearms info in the industry.