Every manufactured product–from sports car to toy boat–are held to certain standards. SAAMI sets these for ammunition and keeps them exceedingly high.
The Sporting Arms and Ammunition Manufacturers' Institute (SAAMI) was established in 1926 at the request of the federal government. Driven by safety, the goal of SAAMI was to publish industry standards for interchangeability, reliability and quality in regard to arms and ammunition. SAAMI's current mission statement is, "To create and promulgate technical, performance and safety standards for firearms, ammunition, and components; and to be the preeminent global resource for the safe and responsible transportation, storage, and use of these products."
This all sounds rather bureaucratic, but even though it was created at the behest of elected politicians, SAAMI isn't a government agency. It's the organization that—to put it simply—makes it possible for you to purchase a .270 Winchester rifle and then buy .270 Winchester ammunition that will safely and effectively work in that rifle. Buying ammunition that works in your gun might not seem a big deal, but that's because after almost a century of doing it, we shooters have come to expect it. We expect it with little or no regard as to why it's even possible.
Critical Ammo Specs
To deliver the level of accuracy and safety shooters expect, a bottlenecked rifle cartridge has to fit perfectly inside a rifle's magazine and chamber (actually, it has to be slightly smaller than the chamber). For a cartridge such as the .223 Remington, there are more than 20 different measurements to consider. To complicate the process, some of these measurements have a plus or minus tolerance. This is because even though there are SAAMI specifications on chamber dimensions—another 20-plus measurements—no two chambers end up being absolutely identical.
If you've ever loaded ammunition, you realize how critical it is that the cartridge fit inside your rifle's chamber. And, I'll also bet that if you've loaded ammunition very much at all, you've undoubtedly loaded some rounds that would not fit in your rifle.
However, the handloader has an advantage: He has the rifle he's loading for at hand. Ammunition manufacturers that load for commercial sales have no idea in which brand or model rifle you'll be using their ammunition. MidwayUSA lists 125 loads for the .223 Remington—from 23 different manufacturers. Because all that ammunition is loaded to SAAMI specifications, it'll all fit in any .223 Remington rifle that's built by any manufacturer … as long as the rifle was built to SAAMI specifications.
Specs Are Just the Beginning
But SAAMI specs go beyond only physical measurements. Just like handloaders, who must load ammunition within certain pressure limits so they'll be safe in their rifles, ammunition manufacturers must load ammunition that will be safe in any rifle.
When Remington loads .30-30 Winchester ammunition, it doesn't know if you're going to use it in a brand-new Marlin 336 or a Winchester model 94 built in 1926. The pressure limits established by SAAMI guarantee that the ammo you buy will be safe in your firearm.
---
On-Target Ammunition Information:
---
Here's another way to look at it: SAAMI sets the size and power limits for the manufacture of commercial ammunition. Manufacturers that are SAAMI members build ammunition to these standards. This keeps the playing field level and safe, just like how NASCAR establishes standards for the building of race cars that compete in NASCAR events. There may be slight differences in how two similar factory .223 Remington loads perform, but they'll both be safe and operate at very similar pressures in any .223 Remington rifle.
The size and pressure limits for a particular cartridge are generally established by the designer/submitting manufacturer. SAAMI, for the most part, just confirms their safety. Once the specifications are approved by SAAMI, those are the specifications that all future ammunition and rifles will be built to. This is the reason modern .30-30 Winchester ammunition works perfectly in a .30-30 Winchester rifle that's 100 years old. This is also the reason the newer 6.5 Creedmoor is ballistically superior to the older .260 Remington … well, at least when factory ammunition and rifles are compared.
Let me explain. When the .260 Remington was submitted to SAAMI by Remington, the company specified a 1:9 twist. This meant that .260 Remington ammunition would have to be loaded to work within a 1:9 twist. When Hornady submitted the 6.5 Creedmoor, it specified a 1:8 twist. This meant that factory 6.5 Creedmoor ammunition could be loaded with bullets that have a higher ballistic coefficient than the .260 Remington and that all factory 6.5 Creedmoor rifles would stabilize those bullets. The 6.5 Creedmoor also has a slight power advantage. Hornady specified, and SAAMI approved, a maximum average chamber pressure (MAP) of 62,000 psi. When Remington submitted the .260 for SAAMI approval, it requested—and SAAMI approved—a 60,000 psi MAP.
Is It Safe?
Handloaders, custom rifle builders, and ammunition and gun manufacturers not members of SAAMI can, of course, build ammunition and rifles to whatever standards they want. They can build a .260 Remington rifle with a 1:7-twist barrel if they like, and they can load .260 Remington ammunition with any bullet to any pressure they want. Will that rifle and ammunition be safe? Who knows? Remember: One of the foundational goals of SAAMI is safety, and its specifications do a damned fine job of establishing it.
In order to sponsor the submission of a new cartridge to SAAMI, a company must be a SAAMI member or partner with a SAAMI member. The sponsoring company must submit a complete submission package, dimensionally defining the cartridge and chamber, as well as the performance of both service and proof ammunition. This also includes the supply of action-proving dummy rounds, proof loads and reference ammunition for the industry marketplace.
This package goes through an extensive review process conducted by every SAAMI member and committee and generally takes about six months. Once approved, the standards are published, and then guns and ammunition can be built to an established standard.
This very involved and technical process is the reason some cartridges you might hear about never become real SAAMI-approved cartridges. It's not uncommon to hear of a new wildcat cartridge that's supposed to be the "next best thing." Well, there's a reason it never becomes the next best thing, and that's because a SAAMI member won't sponsor submission of the cartridge. Another reason is that it can't pass the SAAMI approval process.
Among many other things, this could be because the case shape might allow for unsafe cartridge mismatches or because to achieve the exciting velocities or performance the wildcat cartridge is delivering, it's actually operating at a dangerous MAP.
For instance, I've developed several wildcat cartridges. Most recently (about five years ago), I worked with Hornady's Neal Emery to neck down the 6.5 Creedmoor to 0.257 caliber. I call it the "2Fity-Hillbilly," and Hornady lists the dies for this cartridge as the 25 Hillbilly. The only change we made to the 6.5 Creedmoor cartridge case was a reduction in neck diameter.
This means you can actually load this cartridge with 6.5 Creedmoor brass, dies and a smaller neck bushing. Other wildcatters call a similar version of this cartridge the ".25 Creedmoor," and case dimensions, load data and performance will vary. You could purchase a .25 Creedmoor rifle from some builder and discover that the ammo loaded with Hornady .25 Hillbilly dies won't work in it at all.
Once Approved
This perfectly illustrates exactly why SAAMI is important. Once a cartridge is approved by SAAMI, all rifle manufacturers know how to build rifles to work with it, and all ammunition manufacturers know how to build ammunition for it that will perform well and be safe. Just as importantly, those who manufacture reloading dies, shell holders and anything else that's cartridge-specific have a guide for building their products. This means that when you purchase a set of dies to load your new .224 Valkyrie cartridge, the ammo you load will actually fit inside the rifle's chamber. These standards also guide those who establish handloading data … and this keeps you from blowing up your gun.
Standards, Standards … and More Standards
According to Richard Patterson, safety, reliability and interchangeability (fit, form, function) are really what SAAMI is all about. SAAMI is an American Nation Standards Institute (ANSI—the U.S. representative to ISO) accredited standards developer, and it follows ANSI's rigorous standards development process. These standards ensure that products' characteristics and performance are consistent; that people use the same definitions and terms; and that products are tested the same way. The consensus-driven ANSI process is also designed to eliminate personal bias and prevent creation of standards that give unfair competitive advantage. This builds confidence with the consumer but also provides assurances to the manufacturers. For this reason, almost all firearm manuals include instructions to only use ammunition manufactured in accordance with SAAMI standards.
If you're a fan of the .260 Remington, you probably hate SAAMI, because its standards limit the external ballistic effectiveness of factory ammunition for the cartridge. You shouldn't feel this way: Because of SAAMI, you can actually purchase .260 Remington ammunition that works in your rifle. If you want to use factory ammunition to shoot a little flatter than what factory .260 ammunition is capable of, just buy a 6.5 Creedmoor. Fortunately, the 6.5 Creedmoor is an approved SAAMI cartridge too. And, you can choose from a plethora of 6.5 Creedmoor loads built to the SAAMI standard.
For more information on SAAMI, please visit saami.org.
The article originally appeared in the January 2020 issue of Gun Digest the Magazine.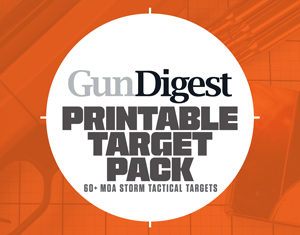 Next Step: Get your FREE Printable Target Pack
Enhance your shooting precision with our 62 MOA Targets, perfect for rifles and handguns. Crafted in collaboration with Storm Tactical for accuracy and versatility.
Subscribe to the Gun Digest email newsletter and get your downloadable target pack sent straight to your inbox. Stay updated with the latest firearms info in the industry.