Topped with a 175-grain Sierra Match King bullet, SIG's .30-06 Elite Match Ammo looks to take the old warhorse the distance.
.30-06 Elite Match Specs:
Weight: 175 grains
Bullet: Serria Match King JHP
Muzzle Velocity: 2,700 fps
Muzzle Energy: 2,833 ft-lb
MSRP: $45.95
Ballistic Coefficient 175-grain Sierra Match King:
.505 @ 2800 fps and above
.496 between 2800 and 1800 fps
.485 @ 1800 fps and below
This is nice to see.
Though it's still among the most shot centerfire rifle cartridges in America, ammunition choices for the .30-06 Springfield are somewhat relegated to hunting and general range fodder. You can find match ammo, but it's not exactly overflowing your local gun store's shelves. Yeah, I get the reason – .308 Win. That said, there are still some pretty slick shooters that would benefit munching on SIG's .30-06 Springfield Elite Match. No reason why you shouldn't stretch the legs of your M1 Garand, 1903 Springfield or top-end hunting rifle chambered for the old warhorse.
SIG's choice in bullet weight is also intriguing. With 150-, 165- and 180-grain factory loads dominating the market, a 175-grain Serria Match King is well out of the norm. It will be interesting to see if SIG is on to something. I certainly plan on finding out first hand.
From SIG Sauer:
NEWINGTON, N.H. – SIG SAUER, Inc. adds to its Elite Match ammunition line with the addition of a 30-06 Springfield round. Featuring a 175gr Sierra MatchKing® bullet, the SIG SAUER 30-06 Win Open Tip Match (OTM) round has a muzzle velocity of 2,700 fps with a muzzle energy of 2,833 ft-lbs.

"Our 30-06 Springfield Elite Match load is designed to excel in today's modern firearms as well as older rifles such as the M1 Garand and delivers the accuracy and reliability shooters have come to expect from SIG SAUER Elite Ammunition," said Brad Criner, Senior Director, Brand Management and Business Development, SIG SAUER Ammunition. "Given the resurgence in popularity of the M1 Garand and numerous vintage rifle matches being held across the country, there is significant demand for this cartridge."

SIG SAUER Elite Match ammunition features a temperature-stable propellant that delivers consistent muzzle velocity in all weather conditions. Premium-quality primers ensure minimum velocity variations, and the shell case metallurgy is optimized in the SIG Elite Match OTM cartridge to yield consistent bullet retention round to round. All SIG SAUER rifle ammunition is precision loaded on state-of-the-art equipment that is 100% electromechanically monitored to ensure geometric conformity and charge weight consistency.
For more information on SIG Elite Match Ammo, please visit www.sigsauer.com.
---
More Ammunition Information: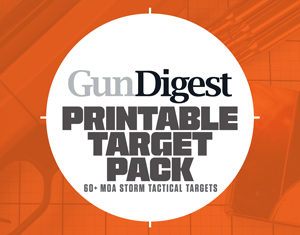 Next Step: Get your FREE Printable Target Pack
Enhance your shooting precision with our 62 MOA Targets, perfect for rifles and handguns. Crafted in collaboration with Storm Tactical for accuracy and versatility.
Subscribe to the Gun Digest email newsletter and get your downloadable target pack sent straight to your inbox. Stay updated with the latest firearms info in the industry.