Nosler has introduced its first proprietary rifle cartridge — a smokin' hot little number called the 26 Nosler.
The company set out to push the limits with this thing, designing it as a flat-shooting 6.5mm cartridge with performance capable of taking full advantage of the newest long-range shooting reticles used in today's scopes.
The 26 Nosler cartridge was designed with the high ballistic coefficient (B.C.) inherent in 6.5mm (.264) caliber bullets. It spits out the Nosler 129 grain AccuBond Long Range bullet at a blazing 3400 fps out of the muzzle.
What does that mean? Zeroed at 350 yards, the 26 Nosler has a Point Blank Range of 0-415 yards.  Loaded with the 129 grain ABLR, the 26 Nosler retains as much velocity at 400 yards as the 260 Remington produces at the muzzle.
The 26 Nosler case is non-belted, thus headspaced off of the shoulder to further enhance accuracy. The "26" also utilizes a standard (30-06) length action meaning shorter bolt-throw and lighter weight than magnum length actions.
"I really feel the 26 Nosler has great value amongst the large family of 6.5mm cartridges," said Bob Nosler, President of Nosler, Inc.  "With minimal recoil, tremendous velocity, energy and the ability to point and shoot at the intended target up to a quarter mile away, this is the quintessential deer, antelope and long-range target cartridge available on the market today." 
The cartridge was submitted to SAAMI in June, 2013. The formal launch took place at the 2014 SHOT Show in addition to Nosler's new platform rifle, the Patriot, which is chambered in 26 Nosler and built on the company's well-reputed M48 action.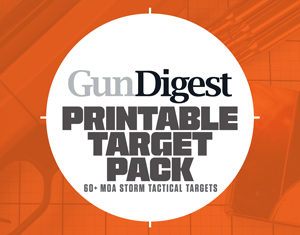 Next Step: Get your FREE Printable Target Pack
Enhance your shooting precision with our 62 MOA Targets, perfect for rifles and handguns. Crafted in collaboration with Storm Tactical for accuracy and versatility.
Subscribe to the Gun Digest email newsletter and get your downloadable target pack sent straight to your inbox. Stay updated with the latest firearms info in the industry.