As usual, Hornady Manufacturing has been busy rolling out a number of new lines of ammunition and expanding existing offerings to gear up for 2018.
What's New With Hornady?
As always, when it comes to ammunition, there's plenty cooking in Grand Island, Nebraska. Home of Hornady Manufacturing, the corn-swept plains is an epicenter of ammo, reloading and security innovation each year. And 2018 is shaping up no different.
Hornady recently released a sneak peek at its new product lineup for the impending year. And there is enough rolling off the company's manufacturing floor to foul an entire brigade's rifles.
So, as to keep everything straight, we'll give a look at each of Hornady's new categories in turn. Of course, we'll save the best for first and jump headlong into the company's mountain of new ammunition.
---
Critical Defense Rifle

Up to now, Hornady's Critical Defense line of ammunition has been strictly a handgun affair (with the exception of a .30 Carbine load that has been around for a while). But with more shooters turning to tactical rifles for personal and home defense, Hornady saw the opportunity to arm long gun shooters with premium ammunition.
The heart of the round is the Critical Defense FTX bullet that boasts Hornady's patented Flex Tip. The polymer tip not only helps the bullet expand quickly even at low velocity, but it also keeps the cavity free from clogging.
The bullet's quick expansion makes the round ideal for short-range engagements, reducing the potential of over-penetration. Hornady has even turned an eye to modern gun designs, with the Critical Defense Rifle line engineered to deliver top performance even out of shorter barrels, which are becoming more and more common.
Available Loads:
.223 Rem. 55-gr. FTX
.223 Rem. 73-gr. FTX
.308 Win. 155-gr. FTX
---
Hornady Subsonic Ammunition

The .300 Blackout has become one of the most popular chamberings for the AR-15, due to, among other things, the fact that the round is eminently capable of being suppressed. With its Subsonic Ammunition, Hornady has attempted to arm Blackout shooters with a stealthy round that still provides accuracy and power.
Hornady has loaded these rounds hot for subsonic, with its data listing the muzzle velocity out of a 16-inch barrel at 1,050 fps. But this allows top performance from the 190-grain Sub-X bullet, especially at close range.
At 1,020 fps, the Flex Tip round meets or exceeds FBI Protocol terminal ballistics test requirements. Optimized for subsonic performance, the Sub-X's flat polymer Flex Tip and serrated jacket ensure the hollow point expands quickly and violently.
Hornady even went as far as to enhance the powder in its Subsonic Ammunition. The propellant is not only engineered for optimal performance below the speed of sound, it also reduces the flash signature.
---
6.5 PRC

Hornady is, in part, responsible for the surge in popularity of 6.5mm chamberings. The company did, after all, cook up the 6.5 Creedmoor. Now it's shooting to push the ballistically gifted caliber even further.
The 6.5 PRC (Precision Rifle Cartridge) offers shooters a stepped-up option for long-range hunting or precision shooting. Designed to operate in short or medium actions with standard magnum bolt faces, the cartridge offers a flat trajectory and minimal recoil. Its case has been tweaked for maximum performance as well, with a long neck and 30-degree shoulders. Hornady has initially offered a Precision Hunter load tipped with a 143-grain ELD-X bullet and a Match offering with a 147-grain ELD Match bullet.
At this point, there are just a handful of rifle makers offering 6.5 PRC chamberings: GA Precision, Gunwerks, Horizon Firearms, PROOF Research, Stuteville Precision and Seekins Precision. But if it follows its little brother's footsteps, expect many more to come out of the woodwork as time wears on.
---
Frontier Cartridge

Hornady has teamed up with the manufacturing prowess of the Lake City Army Ammunition plant to offer military-grade ammunition at an economical price. Frontier Cartridges are manufactured at the Missouri facility and are tipped with Hornady bullets.
This is not the first time Lake City and the Nebraska manufacture have come together to produce ammunition. The original Frontier Ammuntion, launched by Hornady in 1964, utilized Lake City brass.
Hornady is offering 11 different rounds in its launch of Frontier Cartridges, all in .223 Rem., and 5.56 NATO. The company touts the line as ideal for everything from plinking to target shooting to hunting to law enforcement training.
Available Loads:
.223 Rem 55-gr. FMJ
.223 Rem 55-gr. Spire Point
.223 Rem 55-gr. Hollow Point Match
.223 Rem 68-gr. BTHP Match
5.56 NATO 55-gr. FMJ M193
5.56 NATO 55-gr. Hollow Point Match
5.56 NATO 62-gr. FMJ
5.56 NATO 62-gr. Spire Point
5.56 NATO 62-gr. BTHP Match
5.56 NATO 68-gr. BTHP Match
5.56 NATO 75-gr. BTHP Match
---
Dangerous Game Series

Hornady has deep roots in big and dangerous game hunting. And it has tweaked its renowned Dangerous Game Series to be all the more potent.
The premium hunting ammunition is now being loaded with either DGS (Dangerous Game Solid) or DGX Bonded bullets, providing utterly devastating terminal ballistics. The lead cores of the DGX Bonded bullets, boned to the jackets, expand predictably, while retaining a high amount of mass once traveling through the target.
15 new loads available:
9.3X74R 300 gr. DGS
.375 H&H Mag 300 gr. DGX Bonded
.375 Ruger 300 gr. DGX Bonded
.450-400 Nitro Express 3″ 400 gr. DGX Bonded
.404 Jeffery 400 gr. DGX Bonded
.416 Ruger 400 gr. DGX Bonded
.416 Rem 400 gr. DGX Bonded
.416 Rigby 400 gr. DGX Bonded
.500-416 Nitro Express 400 gr. DGX Bonded
.450 Rigby 480 gr. DGX Bonded
.450 Nitro Express 31⁄4″ 480 gr. DGX Bonded
.458 Win 500 gr. DGX Bonded
.458 Lott 500 gr. DGX Bonded
.470 Nitro Express 500 gr. DGX Bonded
.500 Nitro Express 3″ 570 gr. DGX Bonded
---
Expanded Existing Ammunition Lines
Precision Hunter
6mm Creedmoor 103-gr. ELD-X
.25-06 Rem 110-gr. ELD-X
.257 Wby Mag 110-gr. ELD-X
6.5 PRC 143-gr. ELD-X
.270 WSM 145-gr. ELD-X
.280 Ackley Improved 162-gr. ELD-X
7mm WSM 162-gr. ELD-X
.338 Win Mag 230-gr. ELD-X
.338 Lapua Mag 270-gr. ELD-X
Superformance Match Ammunition
.223 Rem 73-gr. ELD Match
5.56 NATO 73-gr. ELD Match
Custom Rifle
.243 Win 87-gr. V-MAX
.30-40 Krag 180-gr. SP
Match
6.5 PRC 147-gr. ELD Match
.300 Win Mag 195-gr. ELD Match
.300 Norma Mag 225-gr. ELD Match
Varmint Express
6mm Creedmoor 87-gr. V-MAX
LEVERevolution
American Whitetail
.300 WSM 165-gr. InterLock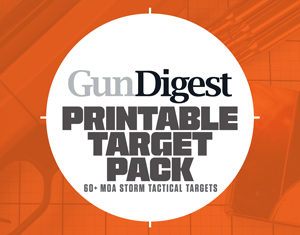 Next Step: Get your FREE Printable Target Pack
Enhance your shooting precision with our 62 MOA Targets, perfect for rifles and handguns. Crafted in collaboration with Storm Tactical for accuracy and versatility.
Subscribe to the Gun Digest email newsletter and get your downloadable target pack sent straight to your inbox. Stay updated with the latest firearms info in the industry.