Designed to pitch heavy-for-caliber bullets, the 6.8 Western aims to extend the rifleman's reach.
Somewhere Jack O'Connor is smiling. Long an advocate of the .270, the iconic gun writer and outdoorsman used the caliber to great effect around the globe. Now it's getting another look of sorts in the hunting world. Last year it was the 27 Nosler and Sig Sauer's .277 Fury, for 2021 it's Winchester/Browning's 6.8 Western.
Freshly accepted by the Sporting Arms and Ammunition Manufacturers' Institute, the cartridge looks to up the ante for the caliber, giving shooters heavy-for-caliber bullet options. As some might have guessed, the revolution with the 6.8 Western isn't so much the cartridge itself as it is twist rate. With a 1:7.5 and 1:8 twist rates, it's faster than what's typically found in the realm of .270, which by and large is a 1:10" twist. Though not exclusively. Nosler recommends a 1:8" twist for its heavier offering in the 27 Nosler, and short-barrel 6.8 SPC IIs are found as fast as 1:7".
Kicking things off, Winchester and Browning are offering three loads ranging in weight from 165 grains to 175 grains. On Browning's end, it's serving up a 175-grain Sierra Tipped GameKing Long Range Pro Hunter, and Winchester is offering a 170-grain Ballistic Silvertip, a 170-grain match boattail hollow point and 165-grain Accubond Long Range. In all cases, the ammo is loaded in the lower 2,800 fps to upper 2,000 fps muzzle velocity range and boast ballistic coefficients as high as .620 (G1). Mainly, the cartridge is billed as a hunting round playing into the trend of long-range hunting. Though the match ammo for Winchester does suggest the bands see precision shooters—perhaps not dyed-in-the-wool competitors, who are much more recoil conscious—embracing the beltless magnum.
Complimenting the cartridge, both brands have released rifles chambered for the Western, complete with appropriate twist rate. Winchester offers five models of its storied Model 70 and seven models of its XPR, while Browning has eight iterations of its X-Bolt chambered for the cartridge. The majority of the rifles are sizable, boasting 24- to 26-inch barrels. Though there are exceptions with a Sporter Model 70 and two suppressor-ready XPRs with 20-inch barrels and shorter.
As to the need for the 6.8 Western, Winchester/Browning name a few advantages, including:
Heavier bullet weights than 6.5 Creedmoor, 6.5 PRC & 270 WSM
More energy than 6.5 Creedmoor, 6.5 PRC & 7mm Rem Mag than 300 WSM, 300 Win Mag & 300 PRC
Long, heavy bullets ideal for Big Game Hunting & Long-Range Precision Shooting
Short action for fast cycling, high accuracy & reduced rifle weight
For more information on the 6.8 Western, please visit winchester.com and browningammo.com.
---
Take Aim At Hunting Content: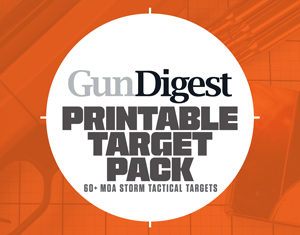 Next Step: Get your FREE Printable Target Pack
Enhance your shooting precision with our 62 MOA Targets, perfect for rifles and handguns. Crafted in collaboration with Storm Tactical for accuracy and versatility.
Subscribe to the Gun Digest email newsletter and get your downloadable target pack sent straight to your inbox. Stay updated with the latest firearms info in the industry.