A relatively new ammunition maker, HPR has shaken up the shooting world producing affordable, high-quality ammo to send down range.
While packing up after an extended range session, I turned to my friend and said, "It looks like I'll be spending the week reloading; I'm getting low." Not my favorite activity but a necessary evil for the high-volume shooter.
Over a decade ago, I turned to handloading because, first, I needed clean, accurate ammo, and second, I couldn't afford the ammo that complimented my ability. Ten years ago, these were my only options. Today, however, we have better options — we have HPR.
With the manufacturer's first rounds rolling off the line in 2010, HPR has shaken up the industry with quality, affordable ammo. We set out to evaluate the company's entire line, which has grown vastly since its initial offerings of ball ammo in 9mm, .40 S&W and .45 ACP.
To understand HPR, one needs to understand their roots. In 2008, after the market crashed, the Antich family set out for a new business venture, and, lucky for us, they decided on ammo. After acquiring a small production plant in Payson, Arizona, the High Precision Range (HPR) ammo brand was born.
Utilizing the decades of experience that aeronautical engineer Jeff Antich acquired through his work with Lockheed Martin on projects such as the F22 Raptor, precision and repeatability are built into every round.
There are three cornerstones of the HPR brand: It's all-American, load-specific and performance driven.
All American
HPR ammo is made from the best American components and is inspected by U.S. citizens. Right down to the packaging, this ammo doesn't have to travel very far to hit your shelves. Not only is HPR's quality control paramount, the company is committed to American-made quality.
Load Specific
Each offering is made for its target application. HPR didn't buy into the one-size-fits-all theory of making factory ammo. Rather than just splitting the difference, HPR has optimized each and every powder charge.
Let's start with a look at its basic JHP line. The .380 ACP JHP round is developed to produce reliable expansion at a low velocity to allow fast follow-up shots on the tiny pocket pistols that dominate that market. The .357 Magnum is designed to be among the hottest loads on the market, ensuring ethical harvests on game.
For our friends concerned with their hearing, the Emcon line was created specifically for suppressor use. Rather than poke and pray, HPR created this line with not only their own ballisticians but the engineers at SilencerCo as well. Each load is developed for a purpose.
Performance Driven
The manufacturer's newest line, Black Ops, highlights this final aspect of the HPR business model. The Black Ops line consists of the company's proprietary OTF bullet. The OTF, or open-tipped frangible bullet, is loaded into a nickel-plated case and charged with the correct power charge to reduce muzzle flash and flip.
All components ensure that you come out ahead in low-light situations. The nickel plating makes nighttime chamber checks a breeze, while the powder produces little flash that would damage night vision or cause temporary blindness. However, nothing can steal the show from the projectile that is designed to separate on impact and transfer 100 percent of its energy into the target, while minimizing the chance of overpenetration.
Range Day
Having worked with OTF rounds, we requested some of HPR's new .300 BLK ammo, ball 9mm and .45 ACP JHP. After opening the UPS box and looking down at some of the most elaborate packaging that I have ever seen ammo in, range day wasn't far behind.
The first round tested was the 230-grain JHP in .45 ACP. The chosen test gun was Colt's new Competition pistol (Colt.com, $899). The ammo functioned flawlessly with the absence of the common failure to feed issue that this combination of pistol and ammo is commonly plagued with. Accuracy was impressive, with the best 15-yard group coming in at just .75 inches.
After the success of the .45 ACP test, we turned over to the 115-grain TMJ in 9mm. Satisfied with the performance from a match-grade pistol, we utilized a Canik TP9 (Canik55.com, $399). The Canik has a well-earned reputation as the best value in poly striker-fired pistols, and this test only further proved that testament, as our first group downrange measured .83 inches. This wasn't far off from every other group sent downrange that day.
On the same day, we tested the .300 BLK rounds. For the rifle, we utilized the revolutionary WAR LOCK system from Frontier Tactical (FrontierTactical.com, $1,200). This new modular design allows you to simply swap barrels without changing the entire upper. This system saves you money on optics, bolt carrier groups, charging handles and anything else that you might have to buy two of when changing the entire upper.
Using the company's 18-inch .300 BLK barrel, we topped our test rifle with a Meopta ZD 6-24×56 tactical scope (MeoptaSportsOptics.com, $2,070) set into a Warne LRSKEL30TG one piece mount (WarneScopeMounts.com, $140). The 24x optic ensures perfect sight picture, while the mount ensures position repeatability. At 100 yards our rifle rested in "The Rock" shooting rest, courtesy of Caldwell (BTIBrands.com, $110).
The first rounds downrange were the 110-grain TAC-TX loading. Flawless cycling and astonishing accuracy were the byproduct of these carefully selected and blended components. These rounds rivaled my best handloads with groups as small as .63 inches on the 100-yard target. There was no questioning that the 110-grain bullet is a perfect match for the 1:8.5-in. twist barrel.
Our final test round was the 150-grain soft point. The group on these opened up a bit but was still a respectable 1.71 inches. The intended purpose of this round is deer and hog hunting, which makes that minute of accuracy trade-off for a faster follow-up shot a no brainer.
Final Analysis
The HPR rounds fired and functioned very well in many different firearms and platforms. At just a few dollars more a box, it isn't a substantial price difference for match-grade ammo. It is very clean burning, making life easier when you get home and dig in for cleaning and maintenance.
Be sure to pick up a box or case next time you hit the range. On the range and on the cleaning bench, HPR simply provides a better shooting experience.
Editor's Note: This article is from the Fall 2016 issue of Gun Digest the Magazine.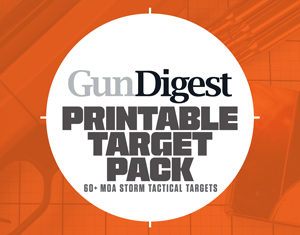 Next Step: Get your FREE Printable Target Pack
Enhance your shooting precision with our 62 MOA Targets, perfect for rifles and handguns. Crafted in collaboration with Storm Tactical for accuracy and versatility.
Subscribe to the Gun Digest email newsletter and get your downloadable target pack sent straight to your inbox. Stay updated with the latest firearms info in the industry.