The legendary .375 Holland & Holland Magnum is the grandfather of nearly all belted magnum cartridges.
Originated by the British firm Holland & Holland in 1912, this is one of the original belted, rimless, magnum-type cartridges. It has been used as the basis for numerous wildcats and most of the Weatherby cartridges. Holland & Holland furnished it in a magnum Mauser action, and Griffin & Howe chambered rifles for it, beginning about 1926. The Western Cartridge Co. first offered it in 1925.
At present, Federal, Remington and Winchester load the .375, in addition to a few others. The first commercial rifle of American make to chamber the round was the Model 70 Winchester, in 1937. Weatherby rifles were at one time available in .375 H&H, as was the Remington Model 725 Kodiak. At present, several American manufacturers list the .375 H&H as standard including Ruger, Winchester and Remington.
General Comments
Long considered the best all-round African caliber, the .375 H&H is overpowered for North American big game. However, many Alaskan hunters and guides prefer it for moose and grizzly bear. It isn't a very flexible cartridge for the American hunter unless one expects to hunt the heaviest species and spend time in Africa or Asia.
John Taylor, in his 1948 book African Rifles and Cartridges, rates the .375 H&H as the best of the medium bores for African hunting. It's his candidate for the most effective all-round cartridge. This cartridge was the basis for Holland & Holland's latter .300 H&H Magnum and is therefore the great-grandfather of almost all modern belted magnum chamberings. It can certainly be said that the .375 H&H has inspired the entire genre.
Editor's Note: This article is an excerpt of Gun Digest's Cartridge's Of The World.
---
Raise Your Ammo IQ: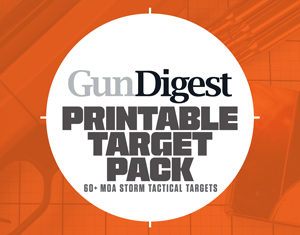 Next Step: Get your FREE Printable Target Pack
Enhance your shooting precision with our 62 MOA Targets, perfect for rifles and handguns. Crafted in collaboration with Storm Tactical for accuracy and versatility.
Subscribe to the Gun Digest email newsletter and get your downloadable target pack sent straight to your inbox. Stay updated with the latest firearms info in the industry.