Viridian's HS1 combination hand stop/laser aiming unit is now night vision-compatible thanks to their new HS1 IR.
Viridian HS1 IR Features:
Battery Life: 1.5-Hours Constant Use
Battery Type: 1/3 n
Mounting Options: M-LOK (Picatinny Adapters Available)
Range: Up To 2 Miles At Night
MSRP: $249
Hand stops are a popular ergonomic accessory that can help the shooter maintain control of their rifle while firing. Viridian Weapon Technologies asked themselves, why waste room inside the hand stop when it could be pulling double duty? This is what led to the development of the original HS1, a combination hand stop and laser aiming unit that was available with either a red or green visible laser. While the tactical world has been hesitant to seriously use laser aiming devices of any kind during daylight operations, their usefulness at nighttime is a different story. Those familiar with night vision know that infrared lasers have proven to be invaluable force multipliers on the battlefield, allowing a soldier equipped with night vision to deliver accurate fire without the use of an optic, cheek weld or any kind of proper sight picture. As the use of night vision grows in popularity and accessibility within the civilian world as well, Viridian has decided to begin offering the HS1 IR.
Own The Night

Now available with an infrared laser, the HS1 IR was designed to simultaneously improve the shooter's control of their weapon while also providing a clear indication of the weapon's point of aim. Unlike visible lasers which can only effectively place a dot on their target during daylight conditions, IR laser aimers used in conjunction with night vision can show a clear beam extending from the end of their emitter to where it is being aimed, up to two miles away in the case of the HS1 IR. Whether you enjoy hunting hogs in complete darkness or just want to be ready to go bump in the night if the need ever arose, the Viridian HS1 IR seems ready for serious use.
The HS1 IR is activated automatically when the hand stop is gripped in a shooting position, instantly assisting with target acquisition as well as recoil control. This combo unit is also lighter, more compact and less expensive than many similar devices in its class, and it's the only one that doubles as a hand stop. It mounts using two slots of M-LOK, but a Picatinny rail adaptor is available as well. The HS1 IR can operate for 1.5 hours while turned on, but the automatic activation and deactivation should preserve the battery for a longer amount of time of real use. It is powered by a single 1/3 n battery.
The hand stop housing is available in either black or FDE, and the IR beam is adjustable for both windage and elevation. The HS1 IR has an MSRP of $249 and includes a 7-year warranty. While the visible laser variants of the HS1 may be more tacticool than genuinely useful, the new HS1 IR has the potential to become a serious piece of night vision kit for users to consider.
For more, please visit viridianweapontech.com.
---
More On Laser Aiming Devices: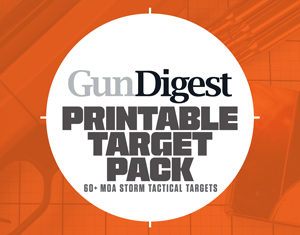 Next Step: Get your FREE Printable Target Pack
Enhance your shooting precision with our 62 MOA Targets, perfect for rifles and handguns. Crafted in collaboration with Storm Tactical for accuracy and versatility.
Subscribe to the Gun Digest email newsletter and get your downloadable target pack sent straight to your inbox. Stay updated with the latest firearms info in the industry.