Springfield Armory's new LevAR charging handle doubles as a stuck case extractor, keeping your gun running without any extra tools.
The current ammo situation in the country is no secret, and it has left many resorting to training with the cheapest ammo possible. Whether it be with the soon-to-be-extinct Russian steel-cased stuff that doesn't agree with your rifle or ammo that's been reloaded with poor QC, most AR users have probably encountered a higher number of stuck cases this past year than ever before. When this happens, shooters in the past have only had two ways to clear it—either by mortaring their rifle against the ground or ramming a rod down the barrel. Now, thanks to Springfield Armory, there is a third more elegant solution. The LevAR charging handle is a simple yet ingenious device that adds the functionality of a stuck case extractor to an AR-15 charging handle with minimal added mass or complexity.
The LevAR charging handle can be dropped into any existing mil-spec AR, and installation is as simple as swapping it out for your old charging handle. Once installed, it works by giving you greater mechanical advantage than a standard charging handle, allowing you to extract a stuck shell with ease. The LevAR charging handle only differs from a mil-spec model in one major way—the lever on the right side of its handle. The lever functions as a cam once deployed by a button, bracing itself against the back of the receiver and giving you enough leverage to pull back the bolt and the stuck case with it.
Besides allowing you to quickly and easily clear jams without the aid of any extra tools or risk of damaging your rifle, the LevAR charging handle has safety benefits as well. Unlike with other malfunction-clearing methods, the LevAR allows you to keep the weapon pointed down range during the entire clearing process. Whether you're training or using your weapon seriously, Springfield's new contraption lets you get back on target without missing a beat.
The LevAR charging handle is available now and has an MSRP of $99.
For more on Springfield Armory, please visit springfield-armory.com.
---
More AR-15 Accessories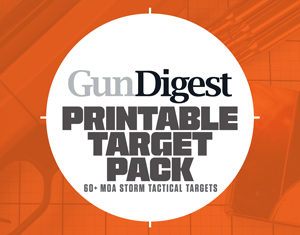 🎯 Exclusive Offer: Get Your FREE Printable Target Pack!
Dive into precision shooting with our 62 Exclusive MOA Targets featuring DOT Drills. Perfect for both rifle and handgun enthusiasts, these targets are designed for accuracy, especially for long-range shots.
Why You'll Love This Pack:
🎯 Expertly Crafted: Brought to you in partnership with the renowned Storm Tactical.
🎯 Versatile Use: Suitable for both rifle and handgun range sessions.
🎯 Precision Design: Target grids and bullseyes meticulously measured in MOA for the best shooting experience.
Bonus: By grabbing this offer, you'll also be subscribing to the Gun Digest email newsletter, keeping you updated with the latest in the world of firearms.
Don't miss out!
Simply enter your email below, and we'll send your downloadable target pack straight to your inbox.