As more and more states have moved to legalize suppressors, more and more companies have expanded their catalogs to include the noise-dampening devices. Ruger is among the latest.
The New Hampshire/Arizona manufacturer kicked off 2016 by releasing its very first suppressor and didn't turn a blind eye to where it would have the greatest impact in its roster of firearms. The Ruger Silent-SR is engineered to hush up every rimfire the company offers.
The 5.37-inch long device is compatible with all pistols and rifles chambered for .22LR, .22WMR and .17HMR. At present time, Ruger has 12 models chambered in those calibers, though, some are not suppressor ready, as they do not have threaded muzzles. But shooter favorites, such as the SR22 pistol and 10/22 rifle, offer versions that can accept the suppressor right out of the box.
Even if a shooter does not have a Ruger, the company has made it simple to utilize the Silent-SR. The suppressor's milled steel muzzle mount is outfitted with a 1/2"-28 thread pattern, which should make it compatible with most rimfires with threaded barrels. A nice twist to the mount itself is it is designed to lock into the tube, thus making the suppressor simple to remove in one piece without stranding the mount on the muzzle.
Ruger has engineered some ruggedness into its suppressor, using stainless steel for the front cap and opting for titanium for the tube material. Going for titanium for the tube, in particular, is ideal for such duty, given its inherent strength, reduced weight and heat and corrosion resistance.
The Silent-SR utilizes six baffles in total, including a conical blast baffle and five primary baffles with a push-cone design. This asymmetrical cone of the primary baffles, according to Ruger, provides the best arrangement for slowing down the speed of expanding gases, thus muffling a firearm's report. As to its primary job, the company lists its suppressor's noise reduction at as much as 40 dB.
Ruger appears to have made the device as low-maintenance as possible, with the company recommending cleaning after 1,000 to 2,000 rounds. One of the ways the gun maker has mitigated house cleaning is by creating a tight fitting baffle stack that does not touch any of the tube's walls. This design keeps residue in the stack proper, instead of distributing it over the entirety of the suppressor.
Ruger has given its suppressor a corrosion-resistant, matte black Cerakote finish and has provided a polymer disassembly tool to ensure the Silent-SR doesn't end up with unwanted bumps and bruises.
Presently, Ruger has a $449 MSRP on the Silent-SR. There is an additional tax stamp – $200 – since suppressors are NFA devices.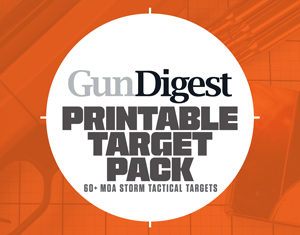 Next Step: Get your FREE Printable Target Pack
Enhance your shooting precision with our 62 MOA Targets, perfect for rifles and handguns. Crafted in collaboration with Storm Tactical for accuracy and versatility.
Subscribe to the Gun Digest email newsletter and get your downloadable target pack sent straight to your inbox. Stay updated with the latest firearms info in the industry.