The new M-LOK Competition Bipod from Sport Ridge is tough, functional, and low-profile.
M-LOK Competition Bipod Specs:
Low-Profile M-LOK Mount
360° Pan, 15° Tilt
45° Or 90° Leg Deployment Capability
Adjustable Leg-Height From 7 To 9 Inches, ½-Inch Increments
MSRP Of $119.99
Bipods may seem simple enough, but anyone who has experience using them will tell you many designs are finicky and uncooperative. They are a tricky thing to get right, and all it takes is a cursory look at the machine guns of WWI to tell you that. Technology has certainly improved since then, but many bipods on the market today are almost as bad as those used in the Great War. Care must be taken when selecting one of these devices.
Sport Ridge's new M-LOK Competition Bipod appears to have been well-designed with functionality and durability in mind for hard, real-world use.
Tough
Because a bipod's legs act as concentrating points for the weight of the rifle, it is imperative that they are strong enough to not bend under the additional weight of the shooter leaning on it.
Constructed from aircraft-grade aluminum and then anodized matte black, the new M-LOK Competition Bipod should be able to withstand typical abuse imparted on it during competition use or in the field.
Functional
The M-LOK Competition Bipod was designed to be versatile, and that means a high level of adjustability. The legs, which are attached via a low-profile M-LOK mount, can pan a full 360 degrees around and 15 degrees of up-and-down tilt. This should provide for a wide range of motion and give the shooter a maximum possible area of coverage.
The legs can also be deployed at either a 45-degree or 90-degree pitch, and have independently adjustable lengths with 3-inches of variation. These features should ensure a stable shooting position regardless of how uneven the ground is.
The new Sports Ridge bipod also has a tension adjustment lever that can be fine-tuned to your preferred tension level.
Available today with an MSRP of $119.99, this rugged bipod is ready for your next competition.
For more information on Sport Ridge, please visit sportridge.com.
---
More Bipod Info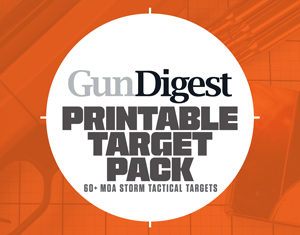 🎯 Exclusive Offer: Get Your FREE Printable Target Pack!
Dive into precision shooting with our 62 Exclusive MOA Targets featuring DOT Drills. Perfect for both rifle and handgun enthusiasts, these targets are designed for accuracy, especially for long-range shots.
Why You'll Love This Pack:
🎯 Expertly Crafted: Brought to you in partnership with the renowned Storm Tactical.
🎯 Versatile Use: Suitable for both rifle and handgun range sessions.
🎯 Precision Design: Target grids and bullseyes meticulously measured in MOA for the best shooting experience.
Bonus: By grabbing this offer, you'll also be subscribing to the Gun Digest email newsletter, keeping you updated with the latest in the world of firearms.
Don't miss out!
Simply enter your email below, and we'll send your downloadable target pack straight to your inbox.