F.A.B Defense's newest AR stock, the GL-CORE M, was designed to provide a spare magazine built right into your rifle.
GL-Core M Features:
Adjustable Length
Integrated Magazine Carrier
Included 10-Round Mag
Ambidextrous QD Sling Mounts
Optional Cheek Riser
Three Available Colors
MSRP $122
F.A.B Defense of Israel is one of the leading manufacturers of tactical AR equipment and accessories. Used by law enforcement agencies throughout the world, F.A.B products are typically designed to favor function over form. Their new GL CORE-M achieves this by combining modern features with innovative ideas to bring a stock to market that has more to offer than just good ergonomics.
The core concept behind the GL-CORE M is its ability to carry a spare magazine inside the stock. It was designed specifically with law enforcement in mind, as officers typically do not carry spare rifle magazines on their person. The GL-CORE M stock allows for its user to retrieve the rifle from storage and have at least 40 rounds ready to go. Included with the GL-CORE M is a 10-round Ultimag AR magazine which fits nearly flush within the stock. Mags of any size could theoretically be carried in this stock, but anything larger than 10 rounds is going to be cumbersome. Ammunition also weighs a lot, and anything more than 10 rounds will likely throw the rifle's center of mass rearward. On the other hand, a bit of extra weight from a loaded magazine could help to mitigate recoil as well.
Ten rounds may not seem like a lot, but when your primary magazine is empty or jammed it could mean the difference between life and death.
Like any modern AR-15 stock, the GL-CORE M is adjustable for length of pull. It also includes an adaptor to ensure a tight fit on either commercial or MilSpec buffer tubes. It was intended for use with quick-detach slings as its only sling-mounting provisions are QD sockets on either side of the stock. The GL-CORE M also has a textured rubber butt-pad for additional control while firing.
It can be purchased with or without an optional cheek riser and is available in black, OD green, and FDE.
F.A.B Defense's new GL-CORE M stock may have been designed with law enforcement in mind, but it has plenty of advantages that could be appreciated by anyone. The stock seems well designed in its own right, and its ability to carry a spare magazine acts as a bonus. The GL-CORE M has an MSRP of $122 and is available now.
For more information on F.A.B Defense, please visit fab-defenseus.com.
---
More AR-15 Stocks And Accessories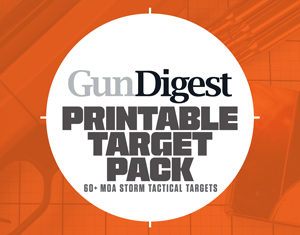 Next Step: Get your FREE Printable Target Pack
Enhance your shooting precision with our 62 MOA Targets, perfect for rifles and handguns. Crafted in collaboration with Storm Tactical for accuracy and versatility.
Subscribe to the Gun Digest email newsletter and get your downloadable target pack sent straight to your inbox. Stay updated with the latest firearms info in the industry.