ERGO has just released the O-Grip, a new zero-angle AR grip designed for precision and bench shooting.
ERGO manufactures a slew of different aftermarket accessories for AR-15s and other common rifles. As the company's name implies, its products are designed to increase the ergonomics of your setup. Usually when you see an ERGO grip in the wild it's one of the more traditionally shaped rubber models intended more for carbines, but the company's new O-Grip is designed for precision and bench shooting instead.
The ERGO O-Grip is a zero-angle grip with a circular, rigid nylon handle. The company describes it as being similar to its TDX-0 grip, but the O-Grip appears to have the benefit of more modularity. While the TDX-0 is rubber and therefore should provide good purchase, some shooters may prefer a larger or smaller diameter. To solve this, the O-Grip is instead made of hard Nylon and features three channels for accepting replaceable rubber grip bands. It's not exactly modular yet, however, as ERGO is yet to offer any other sizes of grip bands for purchase. The grip currently includes a set of three medium-sized bands, but presumably large and small sizes will be sold in the future as well.
The O-Grip is available now and is compatible with any firearm that accepts standard AR-pattern grips. MSRP is $62.99.
For more information, please visit ergogrips.com.
---
Get On Target With The AR: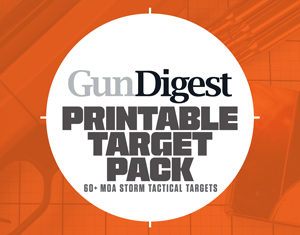 Next Step: Get your FREE Printable Target Pack
Enhance your shooting precision with our 62 MOA Targets, perfect for rifles and handguns. Crafted in collaboration with Storm Tactical for accuracy and versatility.
Subscribe to the Gun Digest email newsletter and get your downloadable target pack sent straight to your inbox. Stay updated with the latest firearms info in the industry.