Focusing on quality and performance, ANR Design has earned a dedicated following in the competitive holster and accessories market.
What Sets ANR Apart From Other Holster Makers:
Alex Costa laid the groundwork for the company in 2013 making his own Kydex holster.
ANR's holsters are known for their superior performance and dash of irreverence.
In addition to hangers, ANR also produces 3D-printed accessories.
The manufacturer has striven to grow, but slowly, as not to compromise the quality of its products.
Most people probably don't think, "pheasants," when they consider their next tactical holster purchase. I do … well, I do now anyway.
You see, last year, I got invited on my first wild pheasant hunt with Zach Hein from CZ-USA. Born and raised in Kansas, Zach wanted me to experience a few of the things that matter the most to him: his Midwestern family, hunting pheasants—and one of his very best hunting buddies, Alex Costa. Costa owns ANR Design, a New Hampshire-based thermoplastic solutions and holsters company.
Zach's family is a living Norman Rockwell experience of Americana: The pheasants of Kansas are glorious, and while I hunted beside Alex, I learned he is exactly the kind of man you want building holsters for you—he's meticulous, pragmatic, painstakingly self-critical, and, above all else, a patriot.
Regardless of how smart or well-trained anyone in the firearms industry might be, at the end of the day, I want to buy a product from a company that cares about what it makes. And, from the way Costa treated strangers to the way he treated Zach, me, and the dogs … I know he gives a damn.
Never Heard of ANR Design?
"In 2013, I started getting interested in firearms classes and needed holsters and equipment for class," Costa said. "At the time, there were only a few reputable Kydex holster makers, and prices were very high compared to today's prices. I decided to make my own, per a suggestion from a roommate at the time. I started with two partners, and we began using a third-party manufacturing company for 3D-printed metal accessories—tie bars, money clips, cuff links, and GoPro mounts, which were selling and bringing in a very small income. This funded the Kydex holster-making side of the business.
"Our brand image is filter-less, rough, honest, hard-use, tattooed, and sometimes crude," Costa pointed out. "We portray our business exactly how we are in real life: We beat the crap out of our gear. We're each putting 50,000-plus rounds downrange a year. We wear our heart on our sleeve and are brutally honest. This attracts some people and pushes others away."
Speaking of customers, clever marketing and a savvy Internet presence certainly helped ANR Design from
the start.
"We are honest—to a fault," Costa explained. "Transparency with the customer, whether they like it or not, is important to us. The customer is not always right. We try to communicate, accommodate, and maintain absolute honesty through every level of the customer experience. This has created a very strong cultlike customer base. They appreciate the quality customer service on top of the social media transparency we have. I personally answer up to 200 questions a day on our Instagram stories. Accessibility is key."
No one is successful alone. Costa's list of friends (such as Zach Hein) and mentors aren't too far from his mind. Costa said Josh Eastman of Beyond the Brand Media certainly started out as a mentor for him when he first launched his business.
"Josh really helped me dial in my website and helped create the brand that is ANR today. Josh is a very close friend. We're both very successful in our industries and spend countless hours bouncing ideas off each other for improvements for our businesses. I can 100 percent attribute a large portion of my digital successes to Josh's hard work."
Catching the Public's Eye
Solid marketing and a reputation for being direct and honest might be desirable, especially in the life-and-death world of the firearms industry. Nevertheless, the bottom line for any business is the success or failure of its products.
"Our 3D printed accessories caught the eye of a few larger companies. This helped bridge some future collaboration opportunities that catapulted the company forward. Locals at classes saw our holsters and started offering cash.
"We registered the business in January 2014 and continued building holsters in my basement workshop for almost two and a half years," Costa added. "My first employee came to work in my basement with me."
Costa's success wasn't the result of some childhood dream or empowered patriotic quest—at least at first. Why did he choose to start a business in the firearms industry?
"I didn't mean to," Costa admitted. "Honestly, I was happy working in the commercial food industry. But the company I worked for had a massive layoff in 2014. I was forced to find work elsewhere. Then, I was a warranty engineer at an automotive parts company but was absolutely miserable. By this time, we were working from 5 p.m. until 2 a.m. (after our regular jobs were finished for the day) every night during the week, pushing holsters through our website."
Slow and Steady: The ANR Way
Like many Americans, especially now, Costa's luck wasn't golden, even with the slow, but steady, success of his new business.
"A series of unfortunate events left me jobless a year later, but ANR was healthy enough to support me," Costa said. "I worked in production molding for a billion-dollar company, so it came as second nature to learn manufacturing and tool production. I graduated in 2010 with a degree in mechanical engineering, so I had the education and experience to do this. My partner, Jon, has a business background, and I was completing my master's degree in business administration. Our goals early on were to build our business organically, never borrow money, never have investors and never grow too fast to bankrupt the business."
No, there were no magic beans, lottery winnings or rich, dead uncles to anchor their dream. Alex and the rest of his employees simply busted their butts. It was this kind of personal investment that made ownership of their company— and their dream—so much more valuable to them than what it was worth financially at the time.
As anyone with the slightest firearms acumen might imagine, the current political climate and our ongoing pandemic have played significant roles in ANR Design's business.
According to Costa, "Politics certainly boost panic buying and sales. Election years always have a small boost to sales. Economic unrest and fear of the government or looting boosts sales. War boosts sales on our military sales side of the business.
"COVID-19 catapulted us into a new tier of customers," he added. "It pushed on-the-fence gun buyers to take the plunge. All those new gun owners need holsters. Eighty percent of our historical business consists of return customers. Between riots and COVID-19, we are at a 278 percent increase of business, year to date. The increased business has helped motivate us to be much more efficient in production. The increased sales have financially opened many doors for us to pursue some very expensive and exciting projects we couldn't afford last year."
No Direct Influence Needed
One thing about Costa and ANR Design is this: Don't bother comparing his gear to anyone else's. He doesn't, and here's his simple reason why:
"Honestly, I spend zero time looking at other people's products. I spend zero time analyzing other goods on the market. The reason is that I want zero inspiration from a competitor. I want zero influence in my goods and services from a competitor. However, I know that it's almost 100 percent unavoidable, especially when a lot of our changes come from customer suggestions. Generally, customer suggestions come from other experiences with other people's products. We make sure to keep an open mind to a lot of these suggestions so that we can create our interpretation of the suggestion for the development of a product."
ANR Design's goals are the same as most companies; they want to grow and be more successful. For ANR Design, the devil's in the details.
"We want to keep growing and keep providing quality goods and services to the marketplace," Costa explained. "We're starting to get very heavy in the military industry, and I find much joy in special project development for special ops units. It feels new and fresh to me. We'll continue to align ourselves with more gun companies and provide OEM support of holsters for new guns."
The ANR Design, Now And In The Future
Despite ANR Design's ever-growing success, Costa seems to never lose sight of his good fortune as a key collaborator in the success of others in the gun industry.
"We're lucky: We get to see, handle, and test-fire new guns all the time—long before press releases. It's truly a privilege to develop a holster for a prototype firearm so there are aftermarket accessories prepared for the firearm's launch. We hope more and more companies choose us. We thrive on innovation and the development of new holsters."
Moving forward, Costa is clear on what he thinks his brand is and will be.
"The brand is exactly what I want it to be, and it's only getting healthier," he said. "We're adapting to the ever-changing landscape. We're changing the way we sell things. We're increasing the capabilities and offerings of our web store. We'd like to be an online one-stop shop."
Editor's Note: This article originally appeared in the September 2020 issue of Gun Digest the Magazine.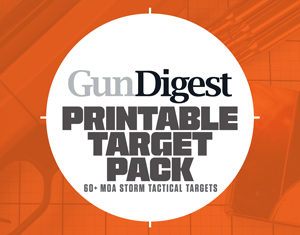 Next Step: Get your FREE Printable Target Pack
Enhance your shooting precision with our 62 MOA Targets, perfect for rifles and handguns. Crafted in collaboration with Storm Tactical for accuracy and versatility.
Subscribe to the Gun Digest email newsletter and get your downloadable target pack sent straight to your inbox. Stay updated with the latest firearms info in the industry.