Think pitching 220-grains of 10mm lead out of a Glock is bone jarring? Massad Ayoob proves otherwise.
Glock has won legions of fans and die-hard enthusiasts over the years for one big reason — their pistols are reliably boring. The polymer-framed pistols can be ridden hard, put away wet, and still be rearing for more action.
That's exactly what you want to hear about a semi-automatic primarily designed as a self-defense arm. And is the reason why a great many duty and concealed carry holsters have a piece of "Perfection" hanging in them. But in recent years, another clan of shooters, one known for their exacting standards when it comes to handguns, has woken up to the advantages the company's handguns offer.
Increasing numbers of hunters have given the company's 10mm options the nod for deer, hogs and other medium to large game. And it's not just the capacity and fast reloads that has them enraptured. It's the pioneering ergonomics Glock brings to the table that makes their guns more manageable to shoot, thus potentially more accurate. Massad Ayoob gives a fairly good example of this in the above video in a side-by-side comparison with a Gen 4 Glock 20.
First the iconic self-defense expert runs defensive rounds through the gun — PMC Bronze 170-grain JHP. They're snappy, to be sure, but nothing most shooters can't handle. He then loads a magazine full of red-hot hunting rounds — Buffalo Bore 220-grain hard lead bullets, the heaviest a 10mm can pitch. The rounds leave the muzzle at around 1,200 fps and deliver more than 700 ft/lbs to a target, so they're smok'n. Yet, coming out of the Glock 20, they don't prove much more punishing than the PMC ammo.
It's amazing how the little things, such as the pistol's replaceable backstraps, RTF grip treatment and double-captive recoil spring guide rod add up to tame the gun.
But also makes it understandable why more sportsmen are lining up to give Glock a crack on their next hunt.
For more information on Glock please check out: www.glock.com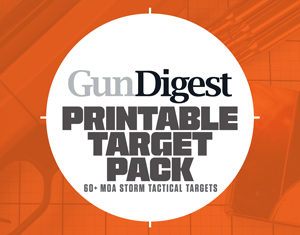 Next Step: Get your FREE Printable Target Pack
Enhance your shooting precision with our 62 MOA Targets, perfect for rifles and handguns. Crafted in collaboration with Storm Tactical for accuracy and versatility.
Subscribe to the Gun Digest email newsletter and get your downloadable target pack sent straight to your inbox. Stay updated with the latest firearms info in the industry.