Reliability is an important aspect, or should be, with regard to pretty much any firearm. You want it to work when you need it to, regardless of which category of the shooting sports you fall into – whether that's big-game hunting, plinking at the range or busting clays for competition. It's certainly true of firearms intended for 3-Gun Competition use.
In the video above, renowned competitive shooter and Colt Competition Team member Maggie Reese discusses the importance of having equipment that is utterly reliable in 3-Gun Competition. Watch the video to learn more.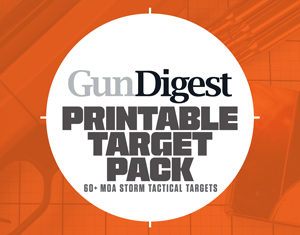 Next Step: Get your FREE Printable Target Pack
Enhance your shooting precision with our 62 MOA Targets, perfect for rifles and handguns. Crafted in collaboration with Storm Tactical for accuracy and versatility.
Subscribe to the Gun Digest email newsletter and get your downloadable target pack sent straight to your inbox. Stay updated with the latest firearms info in the industry.