Reliability is an important aspect, or should be, with regard to pretty much any firearm. You want it to work when you need it to, regardless of which category of the shooting sports you fall into – whether that's big-game hunting, plinking at the range or busting clays for competition. It's certainly true of firearms intended for 3-Gun Competition use.
In the video above, renowned competitive shooter and Colt Competition Team member Maggie Reese discusses the importance of having equipment that is utterly reliable in 3-Gun Competition. Watch the video to learn more.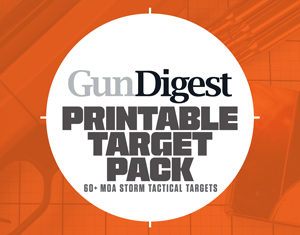 🎯 Exclusive Offer: Get Your FREE Printable Target Pack!
Dive into precision shooting with our 62 Exclusive MOA Targets featuring DOT Drills. Perfect for both rifle and handgun enthusiasts, these targets are designed for accuracy, especially for long-range shots.
Why You'll Love This Pack:
🎯 Expertly Crafted: Brought to you in partnership with the renowned Storm Tactical.
🎯 Versatile Use: Suitable for both rifle and handgun range sessions.
🎯 Precision Design: Target grids and bullseyes meticulously measured in MOA for the best shooting experience.
Bonus: By grabbing this offer, you'll also be subscribing to the Gun Digest email newsletter, keeping you updated with the latest in the world of firearms.
Don't miss out!
Simply enter your email below, and we'll send your downloadable target pack straight to your inbox.