Thompson/Center Arms has always marched to the beat of its own drummer. After all, it was the firearms company founded on a single-shot, break-action pistol. And despite turning its attention to more mainstream styles of firearms, little has changed for the 52-year-old gunmaker with an eye for the unique.
Look no further than Thompson/Center's new Compass bolt-action rifle for proof. For the price point — $399 MSRP — there are few other rifles that are as feature rich.
Gun Digest Editor-in-Chief Eric Conn had the opportunity to discover the over engineering of the Thompson/Center Compass firsthand in his trip to Smith & Wessons' facilities in Springfield, Mass. What caught Conn's attention right off the bat was the rifle's smooth and responsive trigger. The adjustable trigger is preset at the factory to the lowest possible pull weight, but can be customized to any shooter's needs.
But that isn't the only trick up the rifle's sleeve. The Compass, which comes in 11 calibers, has a rock-solid 3-lug bolt, threaded muzzle just crying for the addition of a suppressor and a built in cheek piece — the only firearm in its price range that can boast the feature.
Check out the entire video to catch all the goodies Thompson/Center has integrated into its new bolt-action rifle. It appears shooters have a lot of reasons to set a course for the Compass.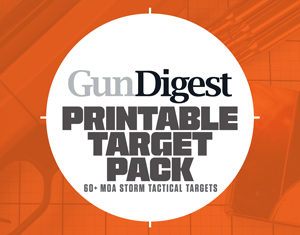 Next Step: Get your FREE Printable Target Pack
Enhance your shooting precision with our 62 MOA Targets, perfect for rifles and handguns. Crafted in collaboration with Storm Tactical for accuracy and versatility.
Subscribe to the Gun Digest email newsletter and get your downloadable target pack sent straight to your inbox. Stay updated with the latest firearms info in the industry.