As would be expected, Glock's recent venture into single-stack pistols has spurred a ton of new accessories.
From holsters to night sights, nearly every conceivable doodad has hit the shelves to outfit the G42 (.380 ACP) and G43 (9mm). And recently, Streamlight has gotten into the action with a device certain to shed some light on the petite pistols.
The Pennsylvania company added a combination weapons light/laser sight tailored for Glock's new single-stack handguns. The Streamlight TLR-6 appears to offer shooters a solid light source and aiming solution in a package that shouldn't weight down the compact platforms.
To that end, the light/laser only adds 1.27 ounces to the relatively light pistols and measures in at 2.3 inches long and .85 inches in width. The size is made all the more manageable, given the device attaches to the trigger guard, thus maintaining the pistols' balance and trimness.
While small, the TLR-6 packs plenty of power.
The device's C4 LED illuminator kicks out 100 lumens of light and has a beam distance of 292 feet. Streamlight boasts the TLR-6's parabolic reflector shoots a trim and intense beam of light, while allowing for some peripheral illumination. As far as the device's sight, it has a 640-660nm red laser, which should prove to be versatile and fit most shooters' needs.
The TLR-6 can operate its weapons light and laser independently or in unison and is controlled by a button located on either side. The ambidextrous control should allow for ease of use, naturally positioned for an indexed finger.
The device operates off two CR1/3N lithium batteries, which provide enough juice to power the LED or LED/laser combo for one hour or the laser only for 11. Streamlight has also included a number of other features that make the power source even handier.
The TLR-6 has an automatic shutoff, that powers down the device after 10 minutes. And its batteries can be changed without removing the device. This is especially nice, given this allows a swap without having to resight afterwards.
The sight itself is fully adjustable, with its windage and elevation screws mounted in brass bushing to help maintain the device's zero. The TLR-6 also boasts a impact-resistant polymer housing, which is rated IPX4 water resistant.
Perhaps the biggest selling point of the TLR-6, however, is its price tag. The American-assemble device won't break the bank with an MSRP of $175 and comes with Streamlight's limited lifetime warranty.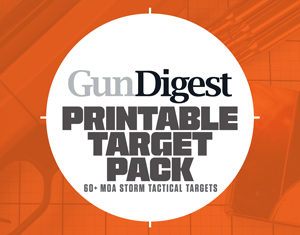 Next Step: Get your FREE Printable Target Pack
Enhance your shooting precision with our 62 MOA Targets, perfect for rifles and handguns. Crafted in collaboration with Storm Tactical for accuracy and versatility.
Subscribe to the Gun Digest email newsletter and get your downloadable target pack sent straight to your inbox. Stay updated with the latest firearms info in the industry.