From Ruger single actions and the latest big bore .44, to European-styled No.1 rifles, here's a few new dandies from the Ruger stable.
At the 2015 SHOT Show, there was no doubt as to which gun company won the award for most new products. Despite incredible sales and production demands over the last few years, Ruger's product development guys steadfastly manned their stations and showed up in Vegas with lots of cool new stuff for shooters. Perhaps best of all is that when Ruger announces new guns, the company has production items in stock and ready to ship. Gone are the days when a new product announcement was simply a promise of something good to come at an undetermined future date. Having something new means they have some boxed and ready to travel. If you end up having to wait for product, it's because you were slow to react and initial stocks were gobbled up.
Ruger Redhawk .44
As a longtime handgunner, I have to start with the short-barrel products, and being a big-bore believer, I'm homing in on the new compact Redhawk in .44 Magnum. The stainless steel revolver sports a 2.75-inch barrel, weighs in at just under 3 pounds and holds six rounds of whatever brand and power level of .44 you'd care to load and think you can control. It has the small, fitted wood grips that I remember on the first Redhawks introduced around 1980. It's good looking and compatible with smaller hands (unlike some other magnums,) but with recoil that can become quite unpleasant as the power level of the ammo increases.
Sharp edges have been rounded, or dehorned if you prefer, to minimize any damage the Redhawk may inflict on your hands in recoil, but as is the case with all magnums, you will still need to determine what level of performance you can handle.
With .44 Special ammo at 800-900 feet per second, the Redhawk rivals the .45 ACP for fight-stopping potential, at least for the first 6 rounds, and it doesn't get much better than that. Should you want more power or penetration, Buffalo Bore, Corbon and Double Tap offer higher velocity .44 Special ammo loaded with jacketed hollowpoints or heavyweight hard cast bullets. For me, the "lightest load" from Garret Cartridges of Texas featuring a 310-grain hard cast lead bullet that generates around 1,000 fps was about all I wanted to handle, but it will still penetrate anything you might encounter.
When a group of writers attended a seminar at Ruger to fire a pre-production model of the compact Redhawk, the only guy "tough enough" to shoot more than a cylinder of full-power 240-grain .44 Magnum factory ammo was a strapping young Border Patrol agent. While I liked the gun on sight and knew it would make a great general-purpose revolver, my happy quotient was fully satisfied after six rounds of the heavy ammo. If you want to flatten the trajectory with higher velocity, you might look at some Magnum loads with the lighter 180-grain bullets and determine at what velocity your tolerance for recoil is reached. Given the Redhawk's short sight radius and limited range, I'm more interested in maximizing power with heavier bullets at lower velocities inside 50 yards.
The rear sight is fully adjustable with a white outline surrounding the notch. The front sight has a red plastic insert for enhanced visibility and is mounted in a slot cut into the heavy rib on top of the barrel.
It can be replaced by a different sight simply by pushing in the spring-loaded pin and lifting the sight off. The red plastic insert is nicely visible against a dark background as long as there is adequate ambient light. The red becomes dramatically less visible as light diminishes. I find the factory red insert quite serviceable for general use and as a field gun.
Capable of both single- and double-action firing (with a very smooth double-action pull) the Redhawk is better than many magnums in the event things deteriorate and you find yourself in a defensive situation. Mounted in a Galco D.A.O. belt holster, the compact .44 is readily accessible and can be carried for long periods of time with little or no discomfort.
Ruger Single Seven .327 Fed Mag
A few years back, Ruger chambered its classic Single Six revolver in .32 H&R Magnum. This year, the Single Six is again available in a magnum caliber, only now it holds seven rounds of Federal's .327 Magnum. While the power output is increased by 50 percent over the original .32 Mag., you can still shoot the original .32s for small game and a quieter field trip. Since this is the same size gun as your first Ruger .22 single action, there's no learning curve; you're as good a man as you were when you got that first Ruger .22 at age 16!
Except for its stainless steel, the .327 Fed. Mag. Single Seven is the classic .22 Ruger with larger holes in the barrel and cylinder. Good news is that all three of the "classic" single-action barrel lengths are available: 4.75, 5.5 and 7.5 inches. During some very brief range time, I was able to shoot all three. My quick conclusion is that the 7.5-inch barrel had slightly more muzzle flip with the more powerful .327 loads, while the 4.75-inch was easiest to carry. The 5.5-inch was a compromise but felt more like the 4.75-inch barrel. Advantage of sight radius goes to the longest barrel, although all of the models have the adjustable, black Ruger single-action revolver sights that are quite good for daylight hunting.
The variety of factory ammunition available for the .327 is excellent. Cast and jacketed hollowpoint .32 Mag loads are available from Black Hills and Double Tap, while Hornady offers their Critical Defense FTX bullet load. More powerful .327 Magnum loads come from Federal (jacketed hollowpoints) and Double Tap (both JHPs and heavier 115-grain hard cast solids). Depending on barrel length, you can get anywhere from 800-1,600 fps. This may be the ideal small- or medium-game gun and caliber combination, and if I don't get a chance at jack rabbits and javelina this spring, the .327 and I will go after prairie dogs this summer at the SPUR Ranch in Wyoming.
Ruger Bearcat .22
Also in the Lilliputian category, Ruger has introduced a long awaited variation of the Bearcat, this one with adjustable sights. Slightly smaller than the Single Six, the Bearcat is all steel (either blue or stainless), sports a 4.2-inch barrel, weighs 24 ounces and holds six rounds of .22 Long Rifle ammo. The front and rear sight look like the adjustable sight system on the Single Six with a wide ramp front blade and fully adjustable rear blade with a wide notch. Given enough ambient light, even I can get a good sight picture without glasses. I'm not sure whether the Bearcat is intended as a first gun for young kids or the final plinking revolver for older guys with fading vision. If this Bearcat had been available when I was young, I would have purchased it as my first handgun, then given it to my kids and taught them how to shoot with it, and finally tried to borrow it back in my "golden years."
Like Ruger's other modern revolvers, the new Bearcat has the two-screw frame and transfer-bar system and also a half-cock position for the hammer. Opening the loading gate does not release the cylinder to turn freely; only putting the hammer at half cock allows you to rotate the cylinder for loading and unloading. Cylinder chambers align perfectly with the ejector rod at the cylinder stop points. Despite the gun's petite size, the hammer is quite wide – much like the Super Blackhawk. With serrations on the spur, it was extremely easy to operate with the thumb of either hand. What a dandy gun for an afternoon walkabout in the country!
Ruger No. 1 European
For years Ruger has offered a limited selection of their No. 1 single-shot rifles with Mannlicher (full length) wood stocks in a few calibers. This is the Model RSI-International, and production lines do not run year-round, so availability of the different calibers can be restricted. Last year, Ruger introduced a new caliber in the rifle, the .257 Roberts. What a great American caliber choice for a European-style rifle! New this year is the 6.5×55, truly a European caliber for a European/International-type rifle.
Guns are an exclusive through Lipsey's Wholesale Firearms Distributor. Lacking an action behind the barrel, these rifles are incredibly compact and handy with their 20-inch barrels. If your shooting objectives are to maximize the number of rounds downrange in the minimum amount of time, this is not the gun for you. But for those of you who like precise shooting and also suffer from my "long stock" affliction, they are irresistible, and Ruger seems interested in making them available in additional calibers. I have the .257 in my vault but have not yet scoped and fired it. If I can obtain a 6.5 and a writing assignment, perhaps a handful of fellow cultists will have some interesting reading next year.
Worthy of mention is that the Red Label over/under shotgun has been taken out of production. It was put on hiatus for a couple of years recently and then made a brief comeback, but this may be the end of the line for the Ruger scattergun. Although, the company has made no official announcement as of this writing.
Other surprises will be forthcoming from Ruger as the year moves ahead, but in keeping with their "No production quantities, no announcements" policy, we'll have to wait and see. Meanwhile, keep an eye on the Ruger website; if you see it there, it's available.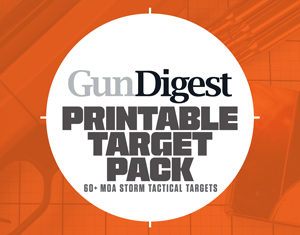 Next Step: Get your FREE Printable Target Pack
Enhance your shooting precision with our 62 MOA Targets, perfect for rifles and handguns. Crafted in collaboration with Storm Tactical for accuracy and versatility.
Subscribe to the Gun Digest email newsletter and get your downloadable target pack sent straight to your inbox. Stay updated with the latest firearms info in the industry.