Don't put off enrollment in concealed carry classes and self-defense training. The time to do it is right now.
After a recent move to Colorado, I procrastinated for several weeks before enrolling in a local concealed carry course. Like anything else that involves interacting with and forking over money to state or federal governments—whether that's the DMV, county clerk or DNR equivalent—I'm usually less than enthusiastic about the ordeal.
What finally got me off the schnide was, a bit unexpectedly, my wife. "If our Second Amendment right is the responsibility you say it is," she graciously reminded me, "then we've got to take that seriously. I signed us up for a concealed carry class this Saturday." Well, how do you like them apples? She'd done her own independent research on state laws, found a certified class and signed us up. This is from the woman who, until recently, had never fired a gun in her life.
We turned the class and following afternoon into a date. We went out for lunch and talked at length about training, firearm selection and practical solutions for everyday carry. Finally, I asked her where her interest in firearms and self defense had come from. "You know," she said, with a smile, "I do read your magazine. It's not that I was ever against concealed carry, I was just never exposed to it. I didn't know anything about guns, so I was afraid of them."
In most places in America, we have a tremendous right and responsibility to self defense. But it means we have to take advantage of the opportunity, make the most of state laws and take ownership for our training. Sign up for a carry course, fill out the paperwork, and get the training you need to be a well informed, well trained and armed citizen.
Our concealed carry section on this website is filled with expert advice and reviews on the best guns and gear to help you effectively defend yourself. There's never been a better time to build your skill, add to your gun collection or sign up for a training course near you.
This article appeared in the November 2015 issue of Gun Digest the Magazine. Click here to download the full issue.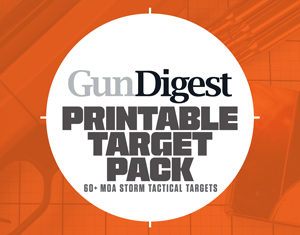 Next Step: Get your FREE Printable Target Pack
Enhance your shooting precision with our 62 MOA Targets, perfect for rifles and handguns. Crafted in collaboration with Storm Tactical for accuracy and versatility.
Subscribe to the Gun Digest email newsletter and get your downloadable target pack sent straight to your inbox. Stay updated with the latest firearms info in the industry.