The Ruger LCR
The space-age LCR is Ruger's latest revolver, one that's a marvel in design and modern material. The letters LCR stands for "Lightweight Compact Revolver."
Introduced in 2009, the polymer-framed (that's plastic!) LCR is chambered in .38 Special +P, .357 Magnum, .22 LR, and .22 WMR.
It features a five-shot stainless steel cylinder in the two larger rounds, while the .22 LR is an eight-shot and the .22 WMR is a six-shot.
The stainless steel barrel is a short 1.875 inches, keeping with the compact theme, the LCR has fixed sights, and it's available with rubber Hogue grips or Crimson Trace laser grips. The frame is finished in a matte black. The little LCR tips the scales at a whopping 13 ounces!
The LCR is unique in a number of ways. In a more conventional revolver design, the hammer and trigger assemblies are located in two separate housings (e.g. in single-action revolvers, a cylinder frame and a grip frame).
In the case of the LCR, the hammer and trigger—the "fire control center," as Ruger calls it—are located in the same housing (the fire control housing), eliminating the increase to the tolerance stack common in conventional revolver configurations and their separate housings.
By locating the entire assembly in one housing, Ruger gets a rigid, repeatable fire control system that requires no fitting or gunsmithing to achieve a best-in-class trigger pull.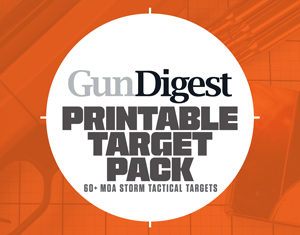 Next Step: Get your FREE Printable Target Pack
Enhance your shooting precision with our 62 MOA Targets, perfect for rifles and handguns. Crafted in collaboration with Storm Tactical for accuracy and versatility.
Subscribe to the Gun Digest email newsletter and get your downloadable target pack sent straight to your inbox. Stay updated with the latest firearms info in the industry.