When it comes to striker-fired pistols, Heckler & Koch has moved at its own pace.
The German manufacturer was at the forefront in producing the style of pistol when it was gaining steam in the early 1980s. But since the introduction of its VP70- and P7-series, H&K has been quite when it comes to striker-fired.
That is until recently. Heckler & Koch has gotten back into the striker-fired pistol market in a big way with the recent introduction of the VP9.
The striking feature of the new 9mm pistol is the amount of time Heckler & Koch dedicated to the product. It has been reported, the company invested four years in designing the handgun, integrating a number features H&K has become known for including on its guns.
Some of those features include interchangeable grip panels to help the pistol comfortably adjust to nearly any hand, ambidextrous controls for the magazine release and slide lever, and Picatinny rails to simplify the addition of accessories.
The VP9 accepts the same 10- and 15-round magazines as the P30, while still cutting a slim profile. The pistol is 7.34 inches in length, 5.41 inches in height and weighs 26.56 ounces empty.
The VP9 boasts a 4.09 cold hammer-forged barrel, which is outfitted with a six-groove 1:9 twist polygonal bore profile. The handgun has a carbon-nitride finished steel slide that is cut with aggressive fore and aft cocking serrations.
The pistol's trigger is tuned for a snappy 5.4-pound pull and has been designed to reduce pre-travel. Like most striker-fired handguns, the VP9 has a blade safety on its trigger.
Other safety features include a firing-pin block, a passive system that helps prevent a negligent discharge if the gun is dropped. It also has a cocking indicator on the rear of the slide and its extractor also functions as a loaded chamber indicator.
Heckler & Koch as put the MSRP of the VP9 at $719, placing it near the high end of many striker fire pistols already on the market.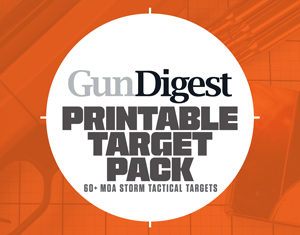 Next Step: Get your FREE Printable Target Pack
Enhance your shooting precision with our 62 MOA Targets, perfect for rifles and handguns. Crafted in collaboration with Storm Tactical for accuracy and versatility.
Subscribe to the Gun Digest email newsletter and get your downloadable target pack sent straight to your inbox. Stay updated with the latest firearms info in the industry.