The Gun Digest editorial staff caught up with Colt Pro Shooter Maggie Reese at the Safariland Booth during the 2016 SHOT Show in Las Vegas to get a first look at the Model 086 Shotgun Shell Holder.
Safariland is a well-respected name in the firearms industry, and this year the company is poised to further build on its reputation with a host of new products. One of the most interesting, particularly for those who shoot competitively, is Safariland's new Model 086 Shotgun Shell Holder.
Capable of holding eight shells comfortably and securely, this new accessory is sure to speed up the reloading process. The Model 086 utilizes unique retaining plates to keep shells from dislodging, while also allowing for quick and easy removal—and the device is adjustable in terms of cant, ride-height and shell length.
Watch the video to learn more and to see Maggie demonstrate how to properly use the Model 086.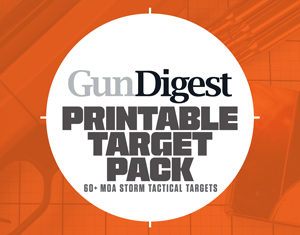 🎯 Exclusive Offer: Get Your FREE Printable Target Pack!
Dive into precision shooting with our 62 Exclusive MOA Targets featuring DOT Drills. Perfect for both rifle and handgun enthusiasts, these targets are designed for accuracy, especially for long-range shots.
Why You'll Love This Pack:
🎯 Expertly Crafted: Brought to you in partnership with the renowned Storm Tactical.
🎯 Versatile Use: Suitable for both rifle and handgun range sessions.
🎯 Precision Design: Target grids and bullseyes meticulously measured in MOA for the best shooting experience.
Bonus: By grabbing this offer, you'll also be subscribing to the Gun Digest email newsletter, keeping you updated with the latest in the world of firearms.
Don't miss out!
Simply enter your email below, and we'll send your downloadable target pack straight to your inbox.