Few handguns are as unique as the ones rolling out of Blaine, Minn. For decades now, Coonan has enthralled shooters by marrying the venerable .357 Magnum cartridge with the classic 1911 pistol.
Those who have handled or even taken a gander at theses beasts know they are a handful. But this year, the company has taken a crack at taming the size of their distinctive side arm.
The Coonan Compact Limited Edition is a trimmed down version of the company's original design, making it a bit friendlier to toting around. Perhaps in this arena the most notable modification is the shorter 4-inch barrel, which has a full inch cutoff from the company's standard model.
The removal of this material, along with some on the slide, makes the model a bit lighter (39 ounces empty) than the original. But at the same time it leaves enough length for the .357 round to live up to its full ballistic potential.
The recoil wary are certain to start rubbing their wrists at the thought of a magnum with a shorter-barreled and lighter platform. But, in all likelihood, they need not be so head shy. Given it is a recoil-operated pistol, its kick is somewhat muted, compared to a revolver.
The Coonan Compact is also a bit shorter than the Classic, which does impact its capacity. The new pistol holds 6+1, one less than the original. But given the 1911 still shoots .357 cartridges, it does still have the thicker overall grip of all Coonan guns.
The pistol's other features include linkless barrel and pivoting trigger. A slide catch and thumb safety situated on the left side of the gun. And the choice of stainless steel or with a black DuraCoat finish.
The pistol comes with a custom carry case and two magazines. Presently, the Coonan Compact has an MSRP ranging from $1,535-$1,975 depending on features.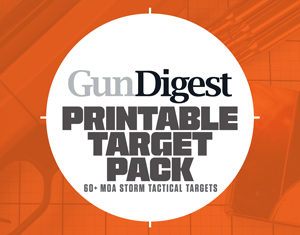 Next Step: Get your FREE Printable Target Pack
Enhance your shooting precision with our 62 MOA Targets, perfect for rifles and handguns. Crafted in collaboration with Storm Tactical for accuracy and versatility.
Subscribe to the Gun Digest email newsletter and get your downloadable target pack sent straight to your inbox. Stay updated with the latest firearms info in the industry.